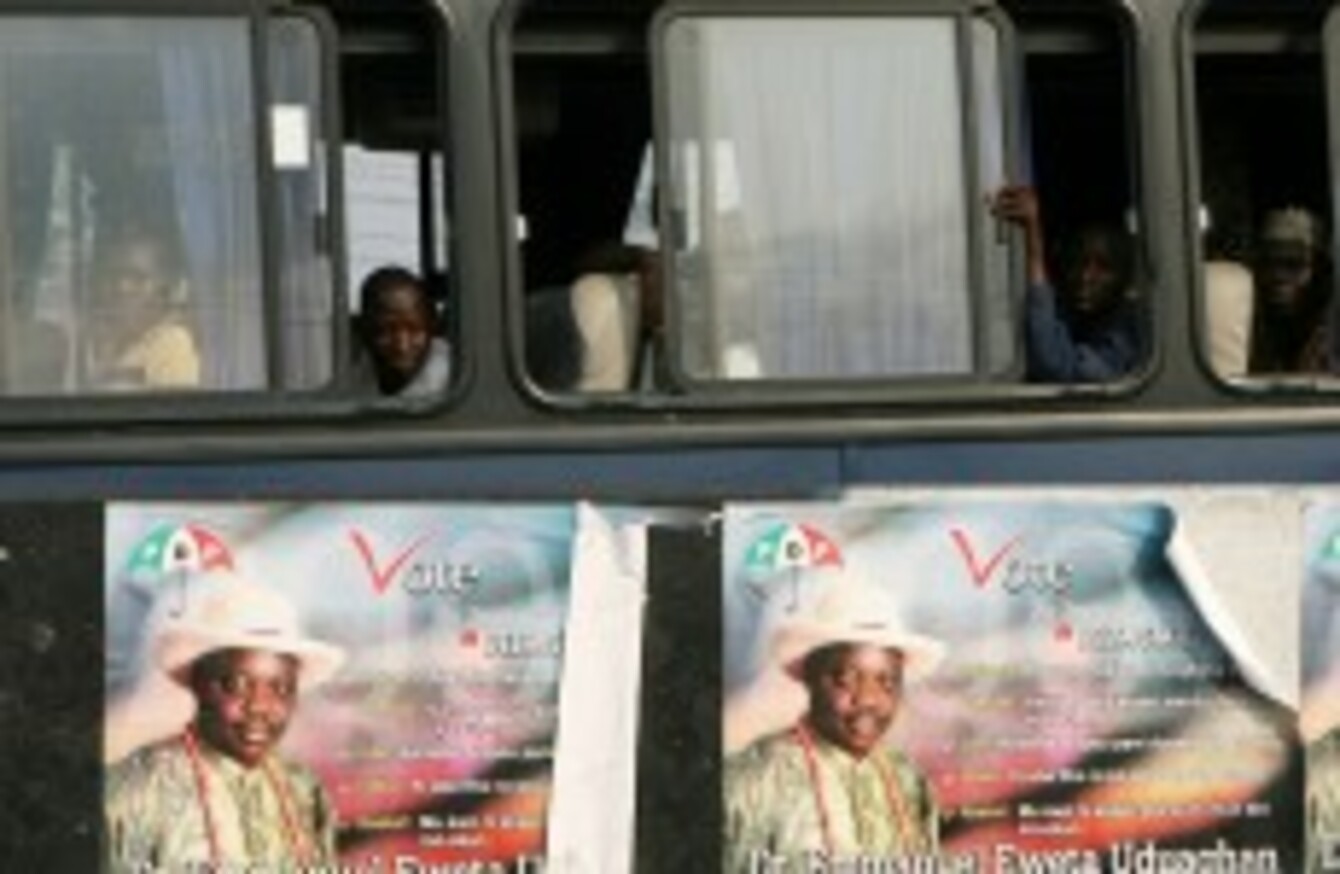 Commuters peer from a bus showing campaign posters of Dr Emmanuel Eweta Uduaghan a candidate for state governor in Port Harcourt Nigeria,
Image: AP Photo/George Osodi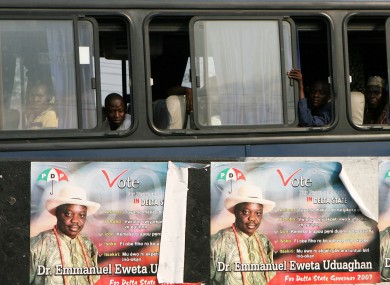 Commuters peer from a bus showing campaign posters of Dr Emmanuel Eweta Uduaghan a candidate for state governor in Port Harcourt Nigeria,
Image: AP Photo/George Osodi
THE NATIONAL UNION of journalists has written to the Nigerian Ambassador to Ireland to protest against the "tone and content" of a speech given by a Nigerian state governor at a recent awards ceremony.
The Irish NUJ secretary, Séamus Dooley, received an award two weeks ago at the Metro Éireann awards, and during his speech commented on the recent Nigerian laws regarding homosexuality.
It is already illegal to have gay sex in Nigeria, and the new laws ban same-sex marriages and shows of same-sex affection.
Dr Emmanuel Eweta Uduaghan, who is Governor of the Delta State in Nigeria, was also given a special award at the event.
Dooley told TheJournal.ie that while accepting the award he said he wanted "to take the opportunity to ask the [Nigerian] ambassador and the [Delta State] governor to take back our concerns [to Nigeria] in relation to right of assembly and right of gays and lesbians to enjoy human rights in Nigeria".
He said Governor Uduaghan took to the stage after this, and "the first point he made was that in this country sex between a man and a 10-year-old girl is a taboo and that in Nigeria they regard homosexuality in exactly the same way and the same thing".
He said that Governor Uduaghan said that if people "wanted to practice homosexuality they can do it somewhere else".
Dooley described the comments as "unacceptable".
The NUJ has also written to the Tánaiste and Minister for Foreign Affairs and Trade Eamon Gilmore seeking Irish government support for the campaign against Nigeria's laws on homosexuality.
Dooley said that he "wants the Irish government to use its influence, whatever influence it has, to seek to change Nigerian policy both at a domestic level and [at] European level".
"I would like to see if Ireland does continue aid programmes with Nigeria that it should be with organisations who recognise human rights," said Dooley.
Metro Éireann response
A statement from Metro Éireann said:
Delta State Governor, Dr Emmanuel Eweta Uduaghan's comment about gay people after receiving a special award at the 2013 Metro Éireann International Leadership Award held on Saturday 18 January 2014 is entirely his personal opinion and does not represent the views of Metro Éireann. Metro Éireann was absolutely not aware of his views on gay people neither did we see it coming before his acceptance speech.
"We are currently engaging Governor Uduaghan on the issue," continued the statement.
Metro Éireann will continue to create awareness about issues facing gay people in Ireland, Nigeria and anywhere else in the world. We believe this will encourage both the Governor and Nigerian government officials to change their position on the issue.
The paper noted that over the last several years it has published several articles on gay issues from a human rights perspective, by a range of writers.
In a letter to ambassador Felix Y Pwol, Nigeria's ambassador to Ireland, Michelle Stanistreet,  NUJ general secretary, Barry McCall, president, and Gerry Curran, chair of the NUJ's Irish Council, pointed out that the Dooley was reflecting union policy in relation to international human rights when he made his comments.
The Ambassador of Nigeria to Ireland and the office of the Delta State Governor were both contacted on this issue, but as yet we have received no comment.