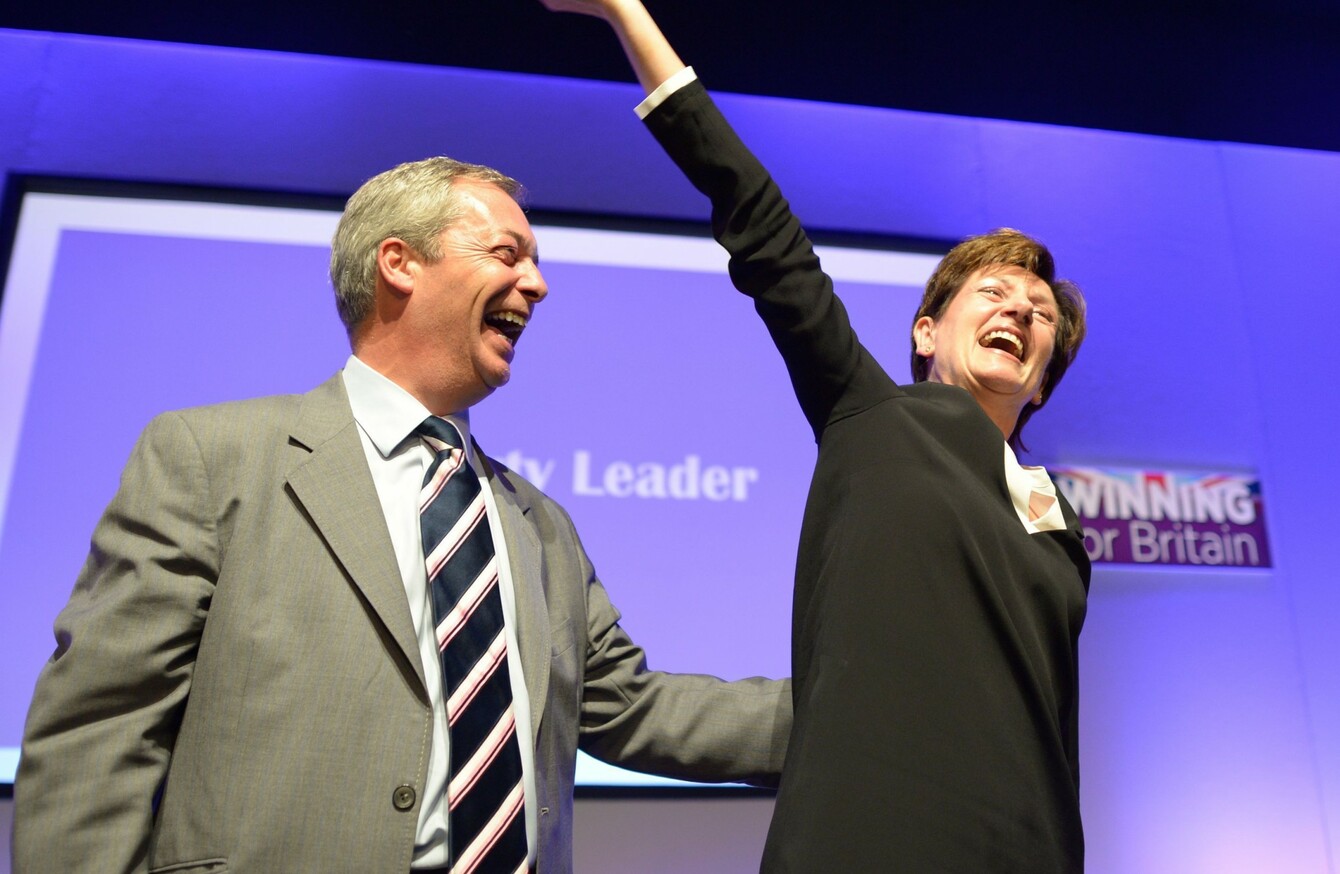 James after being elected leader less than three weeks ago.
Image: Ben Birchall/PA Wir
James after being elected leader less than three weeks ago.
Image: Ben Birchall/PA Wir
BRITAIN'S EUROSCEPTIC UK Independence Party was thrown into turmoil last night as its leader Diane James quit, citing "personal and professional reasons", just 18 days after her election.
"It has become clear that I do not have sufficient authority, nor the full support of all my MEP colleagues and party officers to implement changes I believe necessary and upon which I based my campaign," James said in a statement published on her Twitter account.
"For personal and professional reasons, therefore, I will not take the election process further," she added, explaining she would not formalise the leadership process with the UK Electoral Commission.
James said she would continue her work as a UKIP member of European Parliament, dampening earlier speculation that she would also be resigning from her EU role.
The Times newspaper said James felt shaken after being spat at on a train last week and was additionally reluctant to lead UKIP without assurances about the party's funding.
Media reports had earlier suggested she had decided to step down due to her husband's ill health.
UKIP Chairman Paul Oakden said he received confirmation of James' resignation "with regret", adding he would call an emergency meeting of the party's ruling National Executive Committee (NEC) to make preparations for a new leadership contest.
"Whilst the decision is unfortunate, it is one that Diane is entitled to make. We thank her for all her work as leader, and as a hard working MEP, a role she will continue with her customary vigour," Oakden said.
Conservative MEP Sajjad Karim tweeted that he had spoken to James before news of her resignation and "could sense unease".
The media reaction in Britain focused on the brevity of James' reign, with The Telegraph running a clock counting the time, to the second, since the UKIP leadership election.
Farage rules out a comeback
James, 56, was elected leader on 16 September to replace Nigel Farage — one of the best-known faces of the "Brexit" campaign — who quit following Britain's shock vote to leave the EU, saying his life's ambition had been achieved.
Farage co-founded the party in 1993, growing it into Britain's third biggest party by the number of votes cast at last year's general election.
The anti-EU party won 12.6% of the vote in the 2015 election, though it only has one MP to show for it under Britain's first-past-the-post system.
James won the leadership with 8,451 of the 17,970 votes cast.
In her acceptance speech at UKIP's conference in September, James said the party would confound its critics.
"We are going to outwit our opponents, we are going to build on our election success that we have achieved to date and do more," she said.
She previously served as the party's home affairs spokeswoman and is a former pharmaceutical industry executive.
#Open journalism No news is bad news Support The Journal

Your contributions will help us continue to deliver the stories that are important to you

Support us now
Ahead of her election as UKIP leader a September poll by YouGov found just 8% of respondents knew who she was.
Her departure raises the prospect that Farage could make a comeback, although he has ruled out such a move.
"Not for ten million dollars," he told the Press Association.
Another possible replacement could be MEP Steven Woolfe, UKIP's migration and financial affairs spokesman.
Bookmakers named the duo among the favourites to replace James, with Ladbrokes listing odds of 10/1 for Farage and 1/2 for Woolfe.
Woolfe was controversially barred from the recent leadership battle for submitting his application 17 minutes late. He blamed computer problems for the delay.
Speaking following the decision in August, Woolfe said he was "extremely disappointed" and branded the NEC "not fit for purpose".
Three members of the NEC resigned in protest at the exclusion of Woolfe.