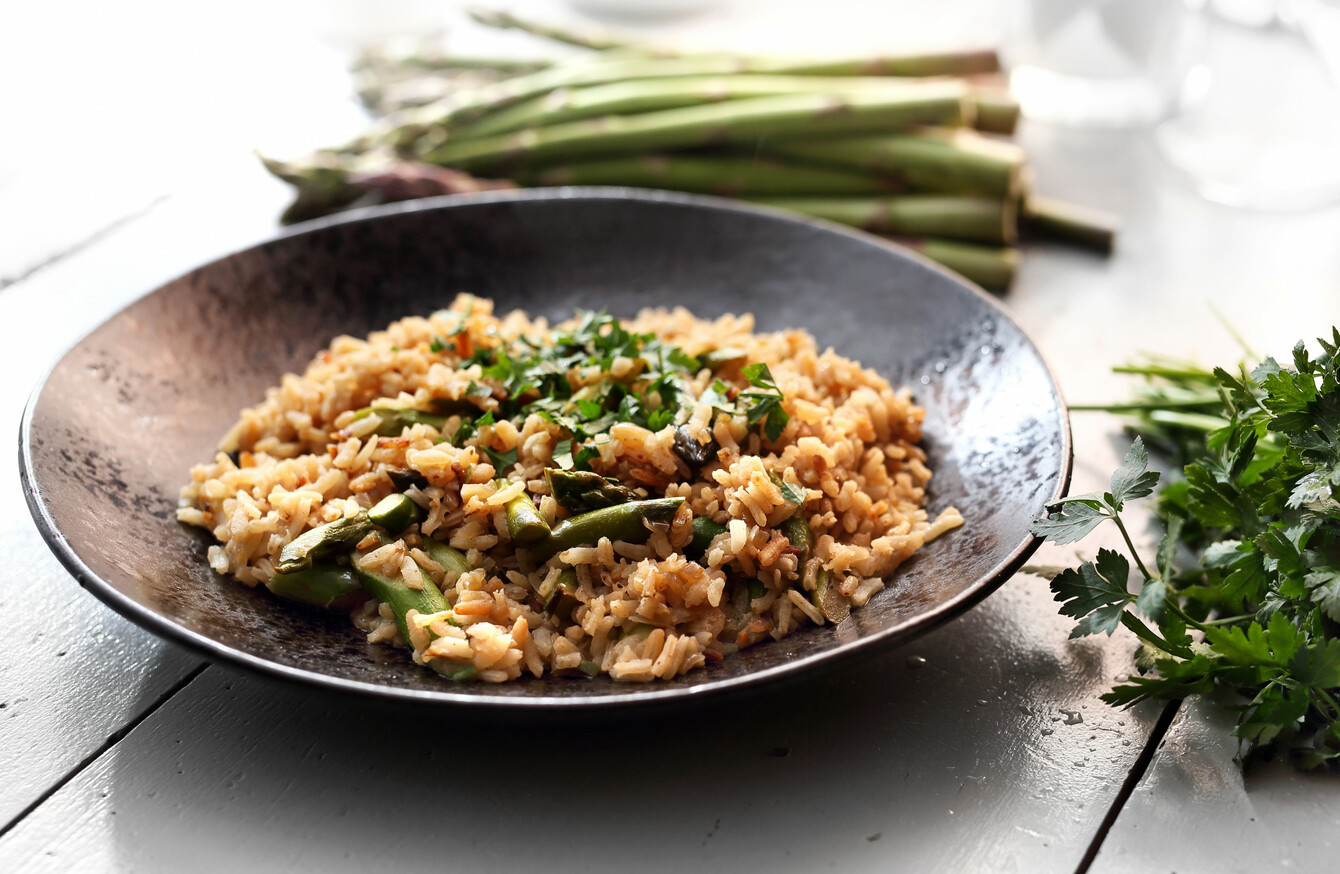 Image: Shutterstock/Robert Przybysz
Image: Shutterstock/Robert Przybysz
THERE IS A special kind of panic that sets in when you've last minute guests coming for dinner, and no time to spend getting ready.
But don't fear – there are many meals that can be whipped up in less than an hour from scratch, and will still impress your guests.
Having veg in the freezer can really speed up a last minute meal (and perhaps even more importantly, save on the washing up). Frozen peppers can be used to make a quick ratatouille, and a bag of frozen chopped onion can also save time.
Whether you've been sprung with some last minute guests for dinner, or just want to spend less time in the kitchen while you're entertaining, we've rounded up five recipes that require minimal prep and cooking time.
Baked hake with a parmesan crust: To make the crust, mix together a handful of breadcrumbs with olive oil, seasoning, dried herbs and grated parmesan. Place the hake fillets on some tinfoil on a baking tray and top with the breadcrumb mixture.
Bake for 20 minutes until the fish is just cooked, and serve on a bed of spinach with boiled baby potatoes. Almost any type of fish would work well in this recipe – The Resourceful Cook uses salmon and some extra herbs in her version.
Baked chicken with Mediterranean sauce: This is a beautiful recipe for summer time, and using frozen vegetables can really speed up prep time if you're in a hurry. Heat some oil in a frying pan to brown a few chicken thighs and once browned, set aside. In the same pan, fry peppers, onions and garlic until soft, then add in a tin of chopped tomatoes and a handful of olives (and a splash of white wine if you've a bottle open).
Simmer for 10 minutes and remove from the heat. Place the chicken thighs in an ovenproof dish, pour over the sauce, and bake in a preheated oven for 30 minutes at 200°C. Serve with a side salad and some garlic bread.
Spicy prawn linguine: Cook linguine according to pack instructions (or use any other pasta you have in the press). While your linguine is boiling, heat some olive oil in a pan and fry off crush garlic and sliced chilli. Fry for a minute, then add in king prawns, cooking until they turn pink. Squeeze in the juice of half a lemon, add a handful of halved cherry tomatoes and some baby spinach, and stir through the drained linguini.
If you're a seafood fan, any shellfish would make a great addition – we love how Hey Modest Marce uses mussels in her recipe. Season, toss to combine, then finish with some fresh basil and grated parmesan.
Asparagus risotto: Asparagus is in season here from April to July, and a risotto is a fantastic way to enjoy it while at its seasonal best. Steam some asparagus spears for a minute until al dente, then drain and set aside. For the risotto, heat a knob of butter in a saucepan and gently fry finely chopped onion and garlic. Heat some vegetable stock in a separate pan and keep on a low heat.
Start cooking the rice a spoonful at a time, adding a ladleful of stock and stirring until fully absorbed. Continue repeating this process and, when all of the rice is almost cooked, chop the asparagus and stir this through for another 2 minutes. Finish with a generous helping of grated parmesan and a drizzle of olive oil – or why not take inspiration from Eat Like a Girl and top with feta cheese?
Halloumi, courgette and pomegranate salad: This is a really summery meal and full of fresh, fragrant flavours. Start with the salad dressing, by mixing together olive oil, balsamic vinegar, a small squeeze of honey and a drop of orange juice. Add mixed leaves to a large salad bowl along with the pomegranate seeds, and toss through the dressing.
Chargrill sliced halloumi and courgette on a griddle pan, and serve these on a bed of dressed leaves, seasoned with some black pepper. This is delicious served with a few slices of lightly toasted ciabatta.