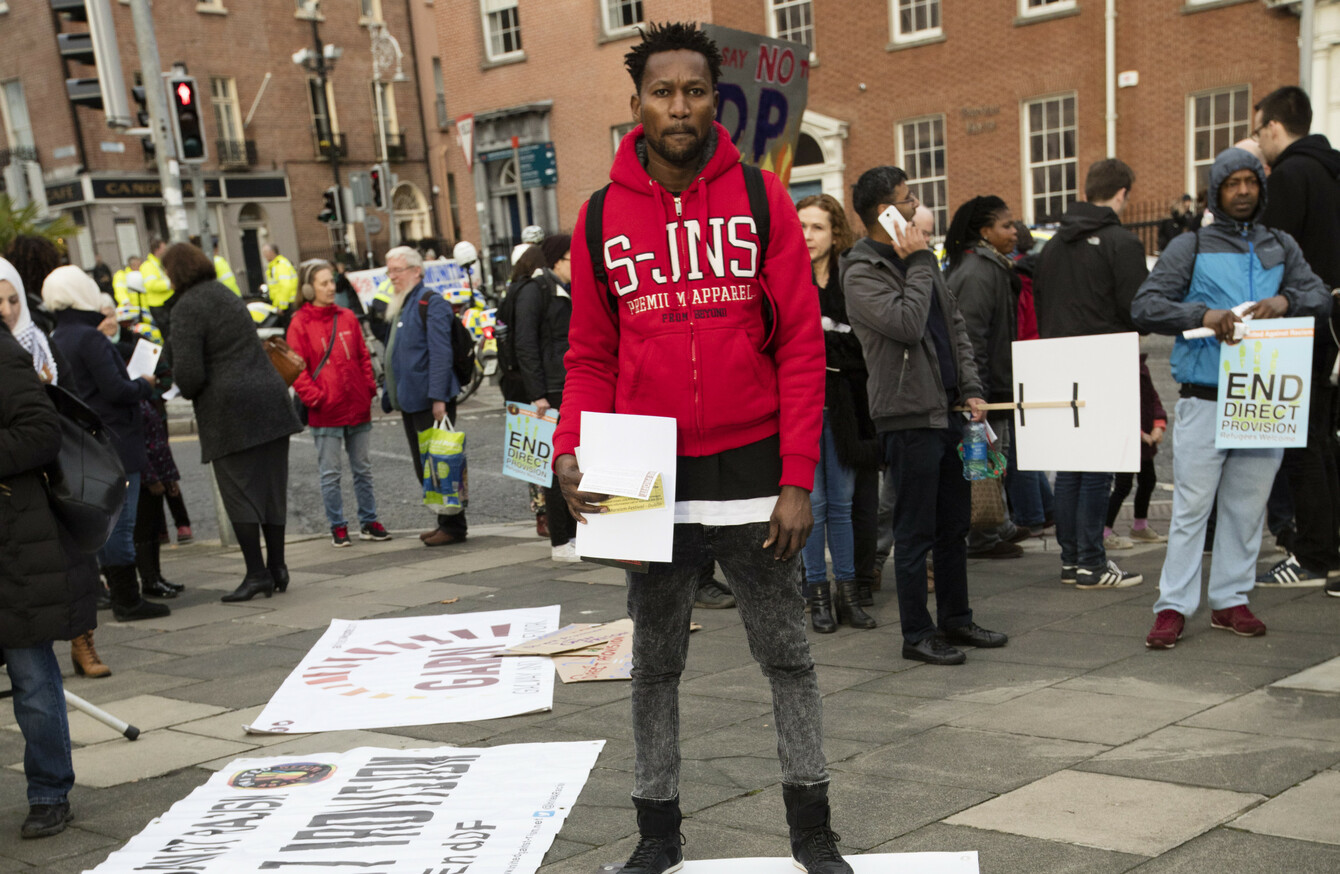 A demonstration against Direct Provision, file photo.
Image: Eamonn Farrell
A demonstration against Direct Provision, file photo.
Image: Eamonn Farrell
THE NUMBERS WHO have been granted asylum here but remain in State funded direct provision centres has soared by almost 50% to 591 in the past 16 months.
The non-Irish nationals are remaining in the 34 strong network of direct provision centres in 17 counties because they have been unable to find suitable or affordable accommodation outside the system.
As a result, the numbers with status at 591 represent 11% of the 5,442 people in direct provision centres currently. The overall numbers in direct provision has increased by 22% from 4,463 since March 2017.
The failure of the 591 to secure accommodation outside the centres along with soaring numbers seeking asylum here is pushing up the cost of funding the direct provision system this year.
Earlier this year, the Minister for Justice, Charlie Flanagan confirmed that the budget for direct provision accommodation will increase to €66 million this year.
This coincided with a 62% increase in people seeking asylum seeker in the first quarter compared to the corresponding period in 2017.
Outlining the difficulties faced by the Reception and Integration Agency (RIA), senior official at the agency, Eugene Banks said last February that "our existing accommodation centres are full across the country, leaving very little bed capacity for new asylum seekers coming to Ireland".
Last year, the private firms operating the countrywide network of direct provision centres for asylum seekers and refugees shared a €50.59 million (including VAT) bonanza.
In a written Dáil reply to Róisín Shortall on the issue of people with asylum remaining within direct provision, Minister for State at the Dept of Justice, David Stanton said: "I am aware that accessing accommodation is an issue for residents in accommodation centres given the current housing market."
Assistance in such matters is readily forthcoming from a number of sources including local authorities, local management in accommodation centres and other support groups.
Minister Stanton added: "My Department has funded a number of projects with NGOs such as the Jesuit Refugee Service and DePaul to assist those persons who are resident in accommodation centres who have been granted a form of status to access their own housing. Discussions are also ongoing with a number of Approved Housing Bodies to provide assistance nationwide."
The figures provided by Minister Stanton show that 97 of the 655 strong population at the Mosney direct provision centre have status with 49 of the 217 Hatch Hall direct provision centre also attaining asylum.
The figures further show that 29 people at the Knockalisheen centre outside Limerick city also have status while 72 of the 230 at The Towers at Clondalkin also securing asylum.
Caroline Reid of the Irish Refugee Council (IRC) said today: "The Irish Refugee Council have been working with people transiting from Direct Provision for a number of years now and are very aware of how difficult securing private rental accommodation can be, especially in the current climate."
Aside from the challenges of moving onto independent living after protracted periods spent in Direct Provision and navigating new and unfamiliar processes, the biggest issue people face is finding landlords or letting agents that are willing to accept Housing Assistance Payments (HAP).
She added: "More awareness needs to be raised amongst landlords and letting agents about this payment and how it works – in essence it guarantees that rent will be paid every month, on time.
"There are also evident cases of discrimination against people in receipt of social welfare payments, an issue that affects a much broader group of people in Irish society.
Ms Reid said: "We would ask that any landlords or letting agents that are open to accepting people in receipt of HAP to get in touch as we are currently working with a number of people across the country with status who are unable to move on from Direct Provision."