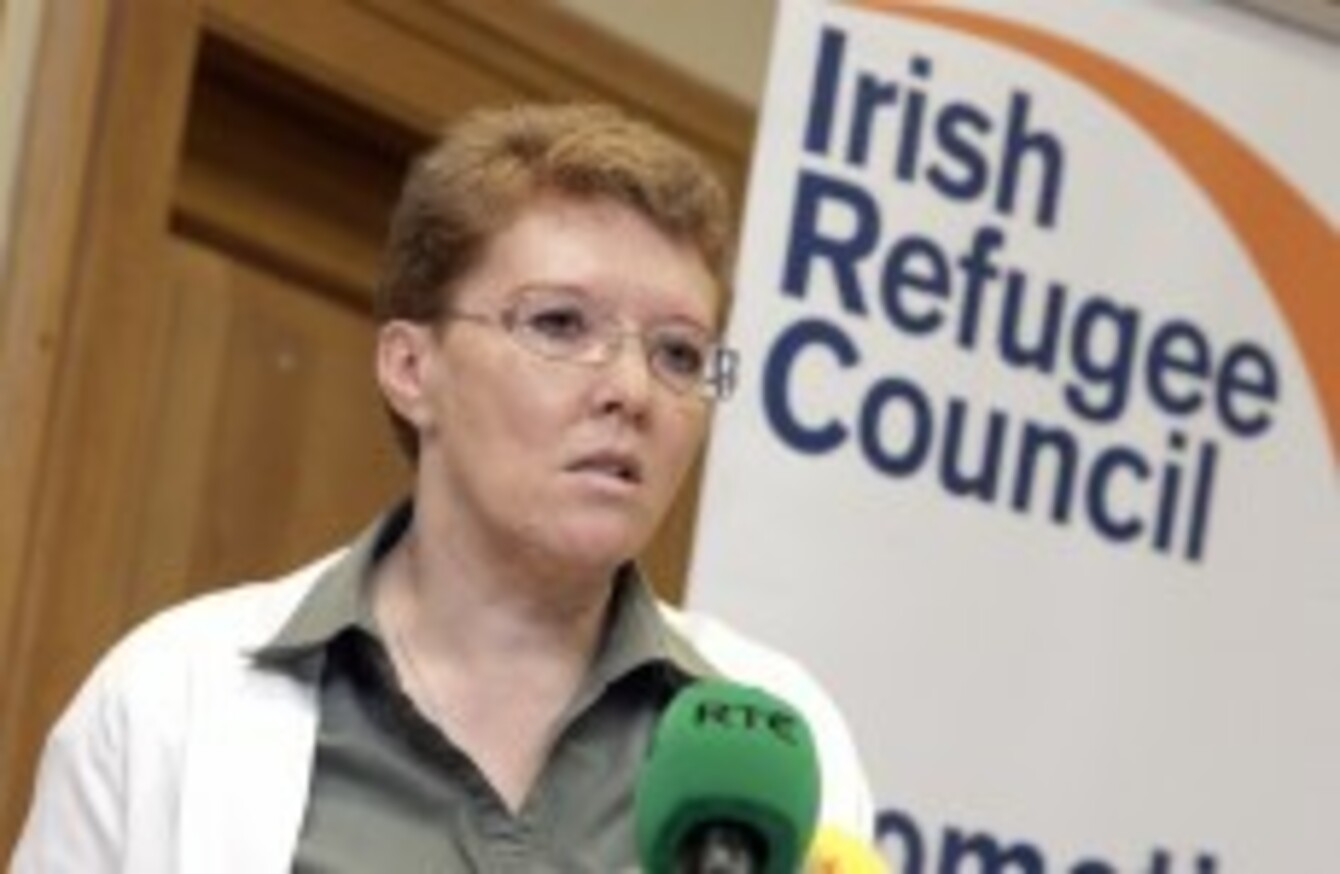 Sue Conlon, the Irish Refugee Council
Image: Mark Stedman/Photocall Ireland
Sue Conlon, the Irish Refugee Council
Image: Mark Stedman/Photocall Ireland
ASYLUM SEEKERS, REFUGEES, and human rights supporters are among those gathering today to send a message to the government that the Direct Provision system needs to be overhauled.
They will gather at events around the country, in Dublin, Cork, Tralee, Limerick, Castlebar and Galway as part of a national day of action to end Direct Provision. The Irish Refugee Council is coordinating the day.
Dependent on the State
Sue Conlan, CEO of the Irish Refugee Council, said that people in Direct Provision are "forced to be dependent on the State, year in year out, with no control over their lives and no opportunity to work or make significant decisions for themselves, let alone their children".
She said that at the end of this, "they are deskilled and demotivated and then face an enormous challenge to integrate and become self-sufficient after so many years of dependency and social exclusion".
It is difficult to understand why the authorities maintain this system when the evidence of the human, financial and social cost is clear.
This afternoon, two current residents and one former resident of Direct Provision will address a gathering outside Leinster House, before marching to the Department of Justice. Five children from Direct Provision centres across the country will present their personal messages to the Minister for Justice.
At the events in Cork, Limerick, Tralee, Galway and Castlebar, messages will also be sent to the Minister.
System
Former Supreme Court Mrs Justice Catherine McGuinness commented:
As a society we cannot allow this system to continue. For years we have been learning about the abuses and harms inflicted on vulnerable people in Ireland's past in unregulated, poorly monitored institutions where profit was valued over humanity. It is unspeakable that this is still happening today to a very vulnerable group of children, men and women.
Conlon told TheJournal.ie that the lead-up to this campaign began last September, when they published a report that questioned if Direct Provision conditions amount to child abuse.
Conlon said that she believes some people think Direct Provision has 'gone away' while others think there aren't issues with it. She said there is a lack of information around DP and what it is really like, and that there could be an alternative to it.
The IRC advocates a model of reception that is based on support for asylum seekers during their initial months in Ireland, including medical assessments, social workers and legal providers. After six months, if people's asylum applications aren't processed, they could then move to self-catered accommodation and be given the right to work.
Conlon said this would give people some control over their lives, so whatever happens to them, they can adapt.
She said that she believes the issue is not on the government's agenda, which is why the IRC is "forcing it onto the agenda".
Conlon said that for the good of all people in Ireland, asylum seekers or not, the government "cannot afford to ignore this".
The IRC held planning days with asylum seekers recently, which it hopes is the start of something new where they will get to work together and speak about about their situation.
The Council is calling on the Government to sign the EU directive on reception conditions, as Ireland is one of only two countries that has opted out of this. It is now the only EU country which does not permit asylum seekers to work after a designated period.