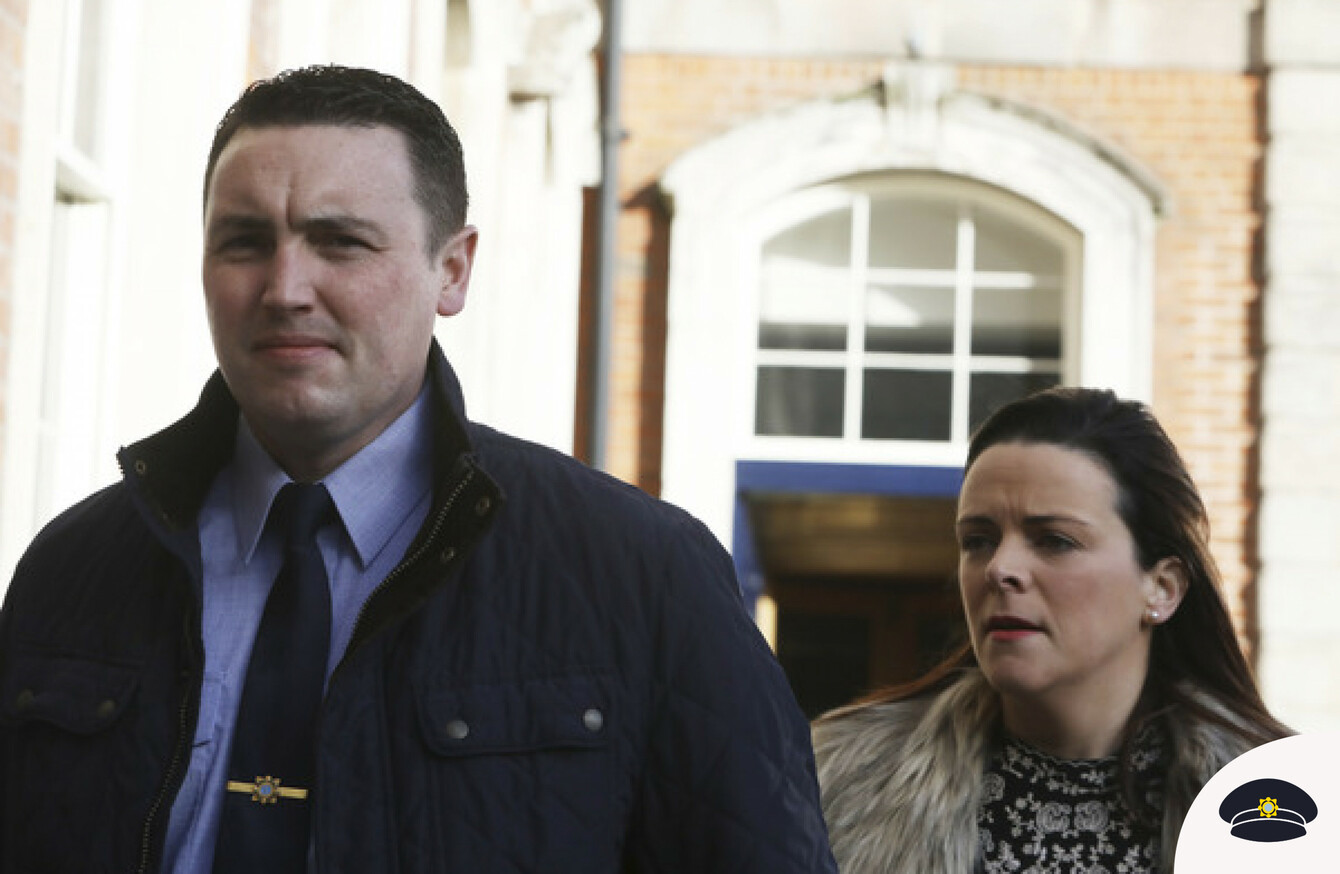 Garda Keith Harrison and Marissa Simms
Image: RollingNews.ie
Garda Keith Harrison and Marissa Simms
Image: RollingNews.ie
DISCLOSURES TRIBUNAL CHAIRMAN Peter Charleton has completely rejected claims made by Garda Keith Harrison against the gardaí and Tusla.
In the second interim report of the tribunal, published this evening, Justice Peter Charleton concludes:
"All of the allegations of Garda Keith Harrison and Marisa Simms examined by the
tribunal are entirely without any validity.
They have claimed to have been the victims of a malicious procession of events. That is not so.
Garda Harrison alleged that harassment of him and his family had been directed by senior garda management, and fought for his case's inclusion in the terms of reference of the Charleton Tribunal.
He and Simms, his partner, claimed that a social worker from child and family agency Tusla visited their home only after the gardaí put pressure on particular social workers at the independent agency.
These allegations "simply collapsed" during the tribunal hearings, Charleton found.
'Claimed to have been victims'
The public inquiry, which was set up earlier this year, has also heard evidence about the alleged smear campaign against Maurice McCabe, but the report released tonight only addresses Harrison's case.
The 97-page report, published shortly before 7pm, concludes that Harrison and Simms "claimed to have been the victims of others".
Justice Peter Charleton continues:
There is another side to this. The allegations which they made must have taken a considerable emotional toll on several of the multiple persons accused by them of very serious misconduct.
It is appropriate here to exonerate everyone in social services and in policing accused by them of discreditable conduct.
That is the only possible conclusion to the tribunal's enquiry. It is also amply corroborated by the supporting evidence analysed in this report.
The Tribunal chairman is critical of Garda Harrison's behaviour and claims throughout the report, describing some of his claims against his garda colleagues as "nonsense".
Charleton notes that while there "is indeed public disquiet arising from other matters, and the treatment of Sergeant Maurice McCabe is the urgent focus of this tribunal," when it came to the functioning of the police force and the response of social services, "that this series of issues raised by Garda Keith Harrison and Marisa Simms has been enquired into in detail and a positive picture has emerged".
The judge completely exonerated the gardaí and Tusla workers and paid tribute to their dedication, concluding:
There have been many committed public servants who gave evidence in this matter and the impression given has been one of devotion to duty and determination to do the right thing.
Thus, in any public discussion of this matter, it should also be remembered that in policing and in social services in Ireland there are plenty of people who diligently turn up for their jobs and do a real day of work with humanity and with skill.
Those serving in the gardaí in Donegal demonstrated seriousness and genuine concern in the context of domestic violence allegations.
There was no breakdown in the garda command structure. Instead, allegations were treated seriously, properly reported up the line
and diligently pursued.
In this section of the tribunal's work, it became apparent that there was no shortage of police officers well capable of leadership and the application of intelligence to their task.
In carrying out the often fraught and difficult duties of social work, the witnesses from TUSLA stood out as paying proper regard to independence, professional standards and pride.
How did we get here? 
Following on from his time serving as a garda in Athlone, where Harrison says he raised concerns about bad practice and arrested a colleague for drink-driving, he was transferred to Buncrana, initially, in March 2011 before being transferred to Donegal town in June of that year.
He had been transferred because it had emerged that the brother of Simms, his partner, had been convicted of the manslaughter of a garda at Buncrana station. Harrison had not disclosed this to management and colleagues when he was initially posted to Buncrana.
He claimed that child and family agency Tusla visited his and Marisa Simms' family home as a result of direction from Garda management.
The Tusla visit in February 2014 came on the back of a statement given by Simms to gardaí in Letterkenny in October 2013.
In it, Simms detailed a number of instances of aggression from Harrison. She also described numerous instances of infidelity and one particular occasion when the garda threatened her in front of her children.
She later retracted the statement, and told the tribunal she was duped by gardaí into giving it. Harrison also said that he felt that the gardaí involved in the affair then directed Tusla to interfere in his family's life.
Harrison managed to win political support for his bid to be included in the terms of reference for the tribunal, with Labour's Alan Kelly among those who spoke publicly in favour of the move.
The tribunal was set up in February of this year to investigate claims that members of the gardaí sought to discredit Sergeant Maurice McCabe because of complaints he made about members of the force.
Harrison and Simms met with Minister for Children Katherine Zappone to discuss their inclusion in February, after earlier writing to the minister to complain of the "upset and distress at their treatment by state agencies including An Garda Síochána and Tusla".
When it came to actually giving evidence at the Tribunal, Simms, however, said that she had "no issue with Tusla" and that she didn't "think they abused their powers". Harrison, meanwhile, said he "may have been mistaken" about the claim that gardaí told Tusla to visit the family home.
Minister for Justice Charlie Flanagan has welcomed the publication of tonight's report. In a statement he said he welcomed the central conclusion that that the allegations
against garda and social services personnel were found to be without any validity.
- With reporting from Sean Murray