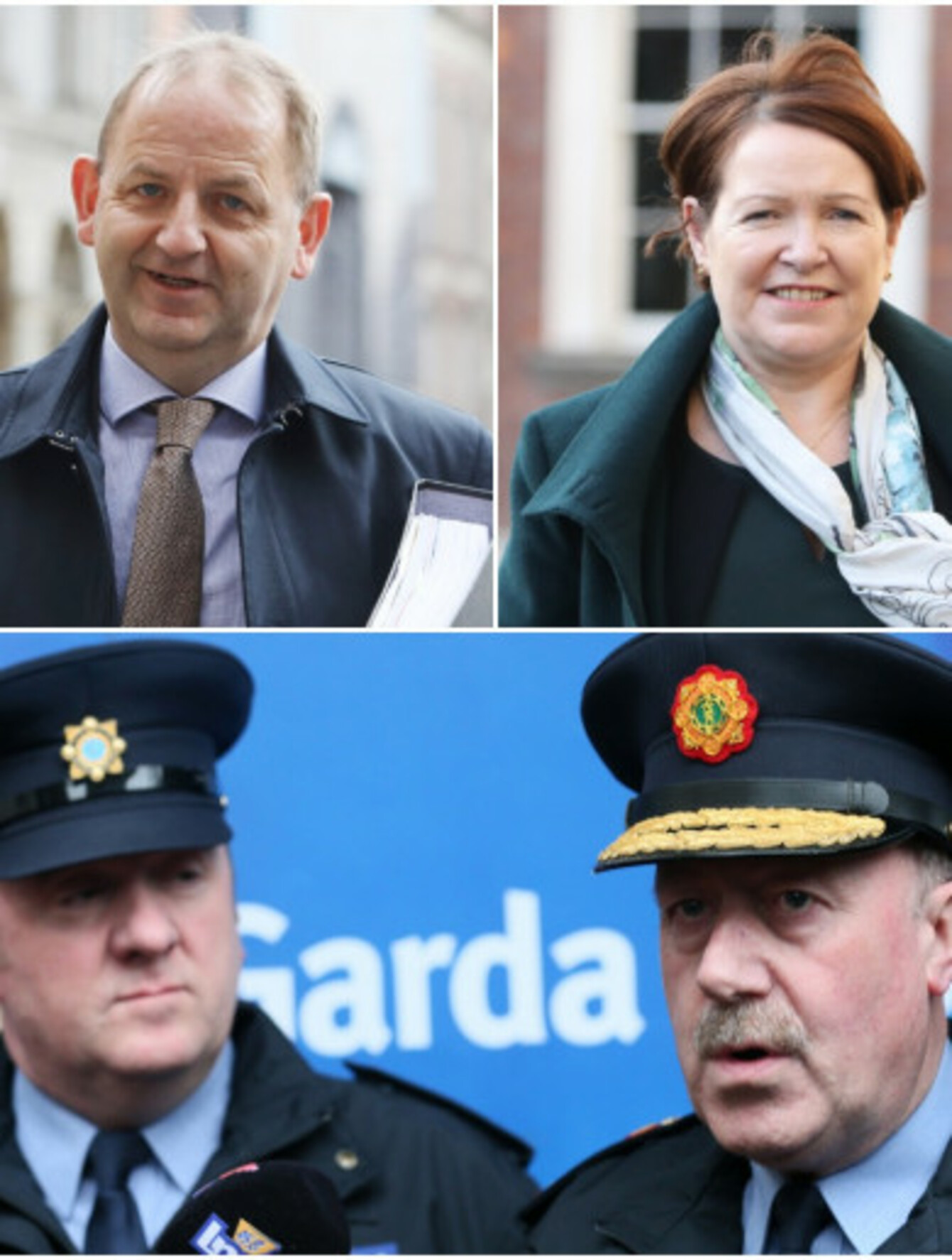 Clockwise from top left: Maurice McCabe, Nóirín O'Sullivan, Martin Callinan, David Taylor
Image: Rollingnews.ie
Clockwise from top left: Maurice McCabe, Nóirín O'Sullivan, Martin Callinan, David Taylor
Image: Rollingnews.ie
IN JUST OVER a year of operation, the Disclosures Tribunal has run up a bill of €1,539,680 to the State, according to figures newly-released to TheJournal.ie.
The Tribunal set up to look into claims made of a smear campaign against garda whistleblower Maurice McCabe has so far racked up over €900,000 in legal costs, and well over a half a million in administration fees.
That €1.5 million figure has almost doubled since November, as the Tribunal has begun to hear some key evidence about the alleged campaign against Maurice McCabe.
This overall cost is expected to significantly rise, however, as third-party legal costs have yet to be factored in.
Senior counsel at the Disclosures Tribunal are paid €1,500 a day, while junior counsel are paid €1,000, but a spokesperson for the Department of Justice told TheJournal.ie that third-party costs arise mainly after the Tribunal has ended.
Many millions will be ultimately spent on the Disclosures Tribunal but, even if aspects of the Tribunal are subject to a court challenge, which could to long delays in its conclusion, it will not ever come close to the cost of the lengthy Mahon Tribunal.
The Dáil Public Accounts Committee heard in March that that particular Tribunal – which looked into, among other things, allegations about Bertie Ahern's finances – is likely to run up a final bill of close to €150 million.
In terms of investigations still going on, the Department of Children said in September 2017 that its Commission of Investigation into Mother and Baby Homes – which was established in 2015 – "is expected to remain within the initial costs estimate of €21.5 million".
It is due to give its final report in February 2019.
The costs of Tribunals vary widely. The Smithwick Tribunal – which looked into the killing of RUC officers by the IRA – ran over at least €19 million. The Morris Tribunal – which looked into garda corruption in Donegal – cost the State at least €68 million.
And the Moriarty Tribunal, which looked into payments allegedly made to Charles Haughey, cost at least €54 million.
We're some way off those figures yet, so let's take a look at what's gone on so far.
How has it cost us this much?
The Disclosures Tribunal was set up in February 2017, to look into a number of claims made against senior gardaí regarding a campaign against Maurice McCabe.
Another garda who also made allegations against gardaí – Keith Harrison – was added to the terms of reference.
Before Tribunal counsel gave their opening statement in June, the Tribunal had already cost €68,000, which increased to €207,000 by the end of that month.
In that opening statement, some rather hopeful estimates on the timeline for when the Tribunal would deal with the matters it had to address were offered.
It was correct with its plan to deal with the infamous copy-and-paste error during July 2017.
That module concerned the allegation of sexual abuse made against Maurice McCabe back in 2006 by the daughter of a colleague, named Ms D. He was exonerated of any wrongdoing by the DPP at the time, who said that even if what alleged had happened, it did not constitute a crime.
However, an error by a counsellor who was treating Ms D years later resulted in a far more serious allegation of digital penetration being put on
The Tribunal heard from over a dozen witnesses, including social workers, counsellors and gardaí at this time.
After the lengthy proceedings, it was accepted by McCabe and his counsel that it was a genuine error which led to false allegation being put on his file.
Keith Harrison
After a break for the month of August, the Tribunal resumed in September with the case of Garda Keith Harrison.
He alleged that gardaí conspired with child and family agency Tusla to directly interfere in his family life in Donegal, as a result of his whistleblowing activities some years previously in Athlone.
Over 19 days at the Tribunal, running into October, it heard evidence from a number of gardaí and social workers again, and also from Harrison and his partner Marisa Simms.
In September and October, the costs of the Tribunal rose significantly. At the end of August, it had cost €321,000. By the end of October, that had risen to €730,000.
In an interim report on the claims of Harrison in November 2017, however, Tribunal chairman Mr Justice Peter Charleton eviscerated his account.
Judge Charleton referred to Harrison's claims as nonsense at several junctures in his report, and said that the account given by Harrison and his partner Simms "simply collapsed". He also said there were a number of instances where Harrison was involved in "tailoring his evidence to what suits his purpose at the time".
Almost bringing down the government
After its hearings in October, the Tribunal did not sit again in 2017 but by the end of the year its expenditure had exceeded €1 million.
At the same time, revelations outside the Tribunal almost brought down the government. It emerged that a number of relevant documents to the Tribunal had not been handed over by the Department of Justice.
Tied up in the scandal was how much Tánaiste Frances Fitzgerald knew about information related to one of the terms of reference of the Tribunal – namely her knowledge of the garda commissioner's legal strategy against McCabe at a previous commission of investigation.
It eventually culminated in the resignation of Frances Fitzgerald, before it had commenced hearings on the matter.
The Tribunal had said it hoped to hear evidence about the O'Higgins Commission in December 2017, but did not begin its hearings on this until January 2018.
Furthermore, the Tribunal counsel's hopes to hear evidence in relation to the infamous car park meeting in October and November 2017 did not actually happen until April of this year.
It also hoped to hear evidence on RTÉ broadcasts about McCabe in October and November of last year, but is so far some way off those hearings.
Escalating costs
In the month of December, the Tribunal incurred its highest cost in a month to date with over €240,000 (€200k of which in legal fees).
Since then, it has cost in excess of €100,000 a month.
This extra expenditure has coincided with a ramping up of the Tribunal's activities, albeit later than originally scheduled.
In January, we had a number of weeks of hearings on the O'Higgins Commission, which took place in 2015.
The term of reference for this part of the Tribunal states: "To investigate whether the false allegations of sexual abuse or any other unjustified grounds were inappropriately relied upon by Commissioner O'Sullivan to discredit Sergeant Maurice McCabe at the Commission of Investigation."
So, did she? We got to hear from Nóirín O'Sullivan herself over three days of testimony at Dublin Castle.
She said that she accepted that McCabe had no bad motives, but gave the go ahead for her legal team to challenge his motives anyway at the commission in 2015, which looked at allegations McCabe had made about garda malpractice and misconduct in the Cavan/Monaghan division.
At the end of it, though, all sides accepted that false allegations of sexual abuse were not relied upon by O'Sullivan to try to discredit McCabe. In January, €184,000 was spent on the Tribunal, with a further €194,00 spent in February.
Interestingly, legal costs dropped dramatically in March and April, right around the time the Tribunal was hearing some of its most explosive testimony to date.
In March, Maurice McCabe took to the witness box and outlined how the alleged smear of him had such a negative effect on his life. And, in April, we had Fianna Fáil TD John McGuinness say how he heard former commissioner Callinan refer to Maurice McCabe as a man who "fiddles with kids".
In March, the Tribunal cost just under €58,000 and cost roughly the same in April, bringing its total to date to over €1.5 million.
Third party
With a long way still to go – with David Taylor's allegations he was ordered by Callinan to smear McCabe, testimony from journalists and the RTÉ broadcasts – the costs of the Tribunal are still set to significantly rise.
This is because the third party legal costs – i.e. the cost of the legal teams representing the other parties involved in the Tribunal – would generally not submit claims for costs until the Tribunal has finished.
A spokesperson for the Department of Justice told TheJournal.ie: "In general, third party costs arise mainly after the Tribunal has ended although it is open to the Chairman to hear applications for costs at any stage depending on the circumstances including those where a witness before the Tribunal has completed his/her evidence.
It is generally the case that the legal costs of third parties appearing before the Tribunal are met by the State, subject to the approval of the Tribunal and determination as to quantum by the State Claims Agency.
With well over a dozen parties represented at the Tribunal, with many such as Maurice McCabe and the former garda commissioners having counsel there on most days the Tribunal sits, the third party legal costs are sure to make the overall cost of the Tribunal rise significantly.
So far, the Disclosures Tribunal has cost a lot less than previous Tribunals and inquiries. But we can expect this to have risen significantly long after the dust settles on Mr Justice Charleton's final report.
One thing is for sure, he certainly wants it done as quickly as possible: