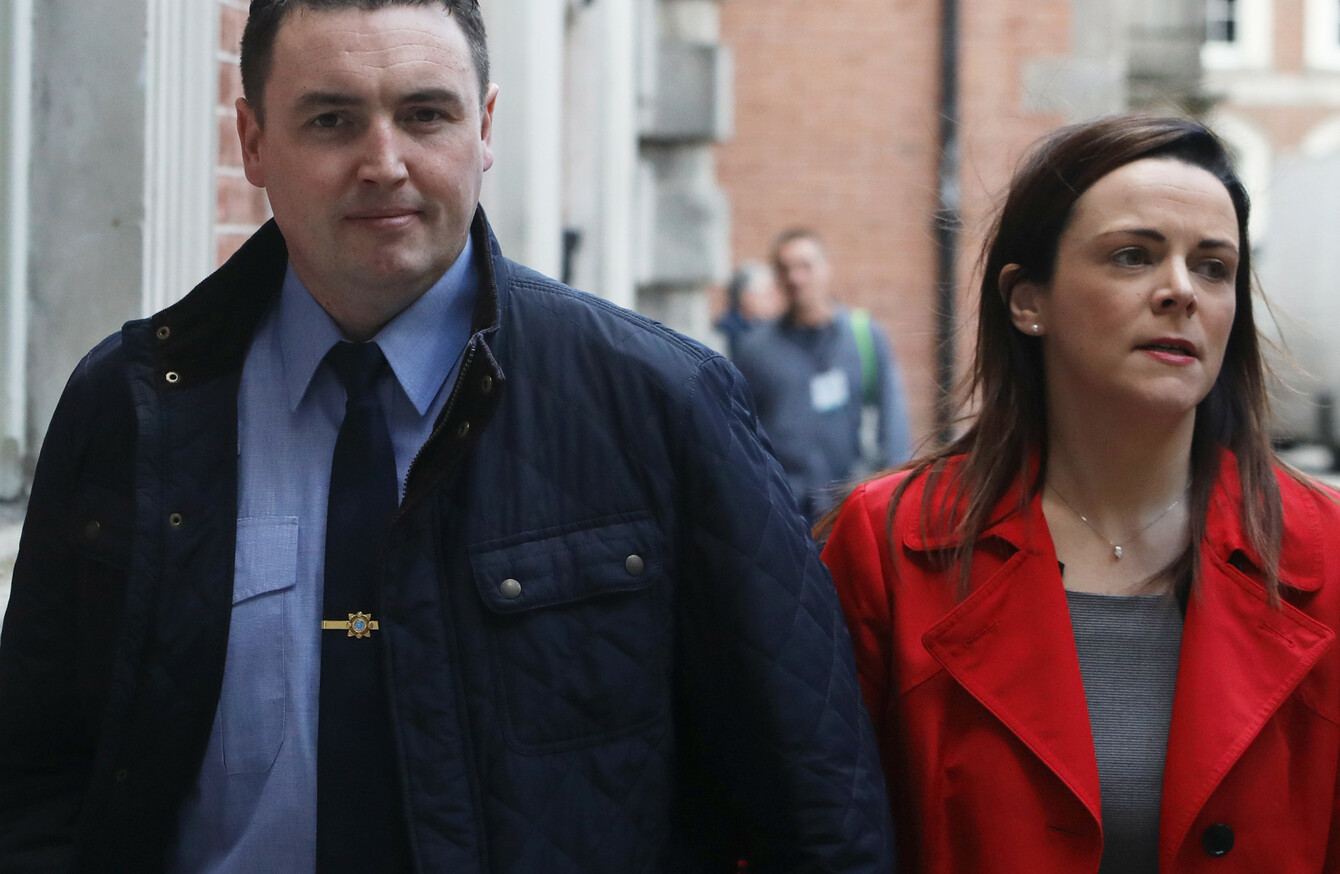 Keith Harrison and his partner Marisa Simms
Image: Leah Farrell/Rollingnews.ie
Keith Harrison and his partner Marisa Simms
Image: Leah Farrell/Rollingnews.ie
THE DISCLOSURES TRIBUNAL is set to publish its report into the allegations made by Garda Keith Harrison next week.
Between 18 September and 23 October, the Tribunal heard from a variety of witnesses on claims from Harrison that gardaí unfairly intervened in the life of him and his family.
The Tribunal has also heard evidence about the alleged smear campaign against Maurice McCabe, but this report will only address Harrison's case.
In a statement on the Tribunal's website, it said that the tribunal is "mindful that it is required to 'inquire urgently into' the issues at hand".
"The tribunal has prepared 'a report' which makes 'such findings and recommendations as it sees fit in relation' to that matter," it said.
This will be delivered at some stage next week.
During the course of those hearings, the Tribunal heard the very personal stories of Harrison and his relationship with his partner Marisa Simms.
Simms had given a statement to gardaí in October 2013 about an argument she had with Harrison in front of their children where she claimed he threatened her. She later withdrew this statement but, in February 2014, the family was visited by a Tusla social worker.
Harrison's legal counsel argued that these events were directly influenced by senior management at garda headquarters.
Over the course of giving evidence, however, Simms said she had didn't think Tusla "abused their powers" and "had absolutely no issue with Tusla".
Next steps
In regards to the case of Maurice McCabe, the Tribunal is not yet in a position to provide a report because "certain findings of fact may depend on evidence to be given".
The Tribunal will resume its sittings on Monday 8 January 2018, when it will examine the protected disclosure made by Superintendent David Taylor, in which he said he was directed by then-Garda Commissioner Martin Callinan to brief the media "negatively about McCabe.
It aims to group the remaining terms of reference for the Tribunal all together in order to complete its hearings "with the utmost expedition".
It will recommence hearings about the O'Higgins Commission issue, which is currently likely to bring down the government.
Here is what the Tribunal said about what else it will then look into:
It necessitates the tribunal enquiring into the allegations of Superintendent David Taylor as to alleged negative briefing against Sergeant Maurice McCabe and the knowledge, if any, Commissioner Callinan and Commissioner O'Sullivan, both now no longer in office, had of same, and whether Sergeant McCabe was subject to any attempt to "entrap or falsely accuse" him of "criminal misconduct".
In that regard, the tribunal is specifically mandated to enquire into any use by "Commissioner O'Sullivan" of "false allegations of sexual abuse or any other unjustified grounds" which may have been "inappropriately relied on … to discredit" him before the Commission of Investigation chaired by Mr Justice Kevin O'Higgins.
It closed by saying that the Tribunal "intends to complete its work as soon as possible".