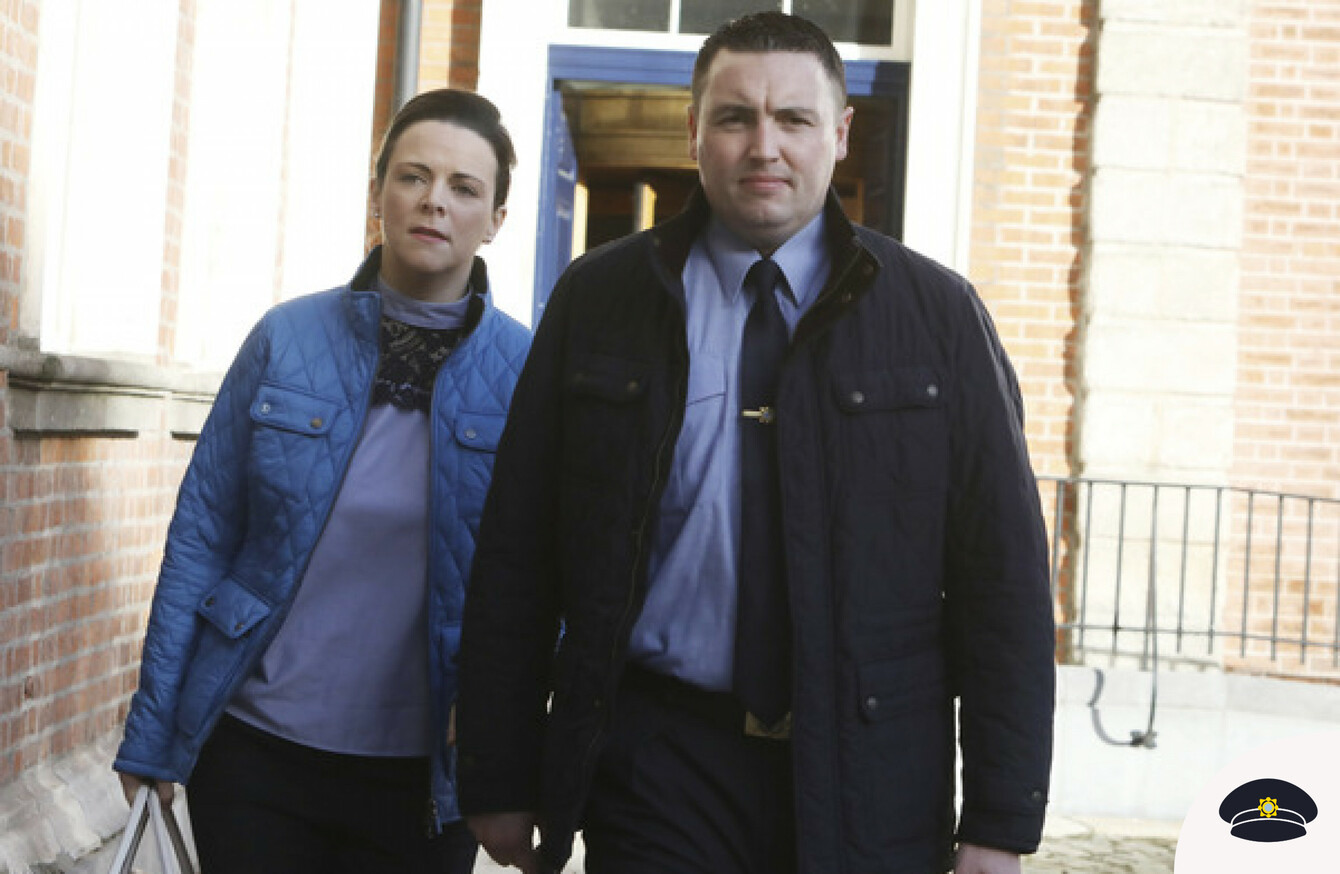 Garda Keith Harrison and his partner Marisa Simms arrive at Dublin Castle.
Image: Leah Farrell/RollingNews.ie
Garda Keith Harrison and his partner Marisa Simms arrive at Dublin Castle.
Image: Leah Farrell/RollingNews.ie
THREE OF FOUR statements requested from senior garda officers yesterday evening were handed into the Charleton Tribunal today.
Tribunal barrister Diarmaid McGuinness SC said that statements from Chief Superintendent Terry McGinn, Chief Superintendent Tony McLoughlin and Superintendent Eugene McGovern were received by the inquiry this morning.
A fourth officer, retired assistant commissioner Kieran Kenny, was "on the far side of the world" and unable to provide a statement at this time, the barrister said.
The Tribunal asked for the statements after it heard about handwritten notes taken by Chief Superintendent McGinn at a garda conference in Letterkenny Station on 8 October 2013.
Justice Peter Charleton, the Tribunal chairman, wanted to know what knowledge each of the officers had about the meeting, which took place two days after a statement of complaint was made about garda whistleblower Keith Harrison by his partner Marisa Simms.
McGuinness said that he understood Kenny had no recollection of the events, but that he was not in a position to check his papers until he returned to Ireland.
McGuinness said that Chief Superintendent McGinn's handwritten notes were handed in to Garda HQ several months ago, but had not been forwarded to the Tribunal.
The Tribunal barrister said that when Garda HQ was reviewing documents relevant to the Tribunal, on its face it appeared that the note did not refer to Tusla or HSE, and so it was not forwarded to the Tribunal.
Error in documentation 
In the current module, the tribunal is looking at contacts between gardaí and the HSE/Tusla relating to Garda Harrison.
Representing the Garda Commissioner, Mícheál P O'Higgins SC said that he regretted the error in documentation provided to the inquiry, and Garda HQ were reviewing their processes to ensure such an error did not occur again in the future, and there was "no question of concealment or anything like that".
"As I said yesterday I am going to go for the chaos theory before the conspiracy theory," Justice Charleton said.
He said Tribunals were often "inundated with documents".
Superintendent Eugene McGovern, cross-examined by Mark Harty SC on behalf of Garda Harrison, said a decision was made to refer Simms' complaint to the Garda Siochana Ombudsman Commission (GSOC) under Section 102 of the Garda Siochana Act.
Section 102 allows for a referral to GSOC where a Garda has caused death or serious harm to another person.
Harty said that distress was not covered by the definition of serious harm, and asked if Donegal gardaí would bring charges of assault causing serious harm where no physical injury occurred.
Superintendent McGovern said that a decision on what charges to bring would be a question for the DPP and he could not decide on hypothetical cases.
He said that gardaí were happy that there was a "substantial risk of death to Ms Simms".
#Open journalism No news is bad news Support The Journal

Your contributions will help us continue to deliver the stories that are important to you

Support us now
Harty said that nobody had given crime prevention advice to Simms, and that if an officer of the calibre of the witness believed there was a serious threat, he would have done something about it.
"We did. The matter was referred to the Garda Ombudsman," Superintendent McGovern said.
Harty said the Garda Ombudsman had no powers of arrest or crime prevention powers.
'Indoor duties'
Harty said that in a letter on 21 October, Chief Superintendent Tony McLaughlin in Garda HQ wrote asking why officers in Donegal felt a Section 102 referral to GSOC was appropriate.
The letter stated that the appropriate action would appear to be "for the member concerned to be confined on indoor duties".
In reply, Chief Superintendent McGinn stated that threats made by Garda Harrison, as outlined in her statement by Simms, constituted "a substantial risk of death".
Superintendent McGovern said that a referral to the HSE was based on the contents of the statement by Ms Simms, and he was more than satisfied that it was a proper referral to the HSE.
The superintendent said that Simms made her statement voluntarily, and "nobody twisted her arm". Simms later withdrew her statement.