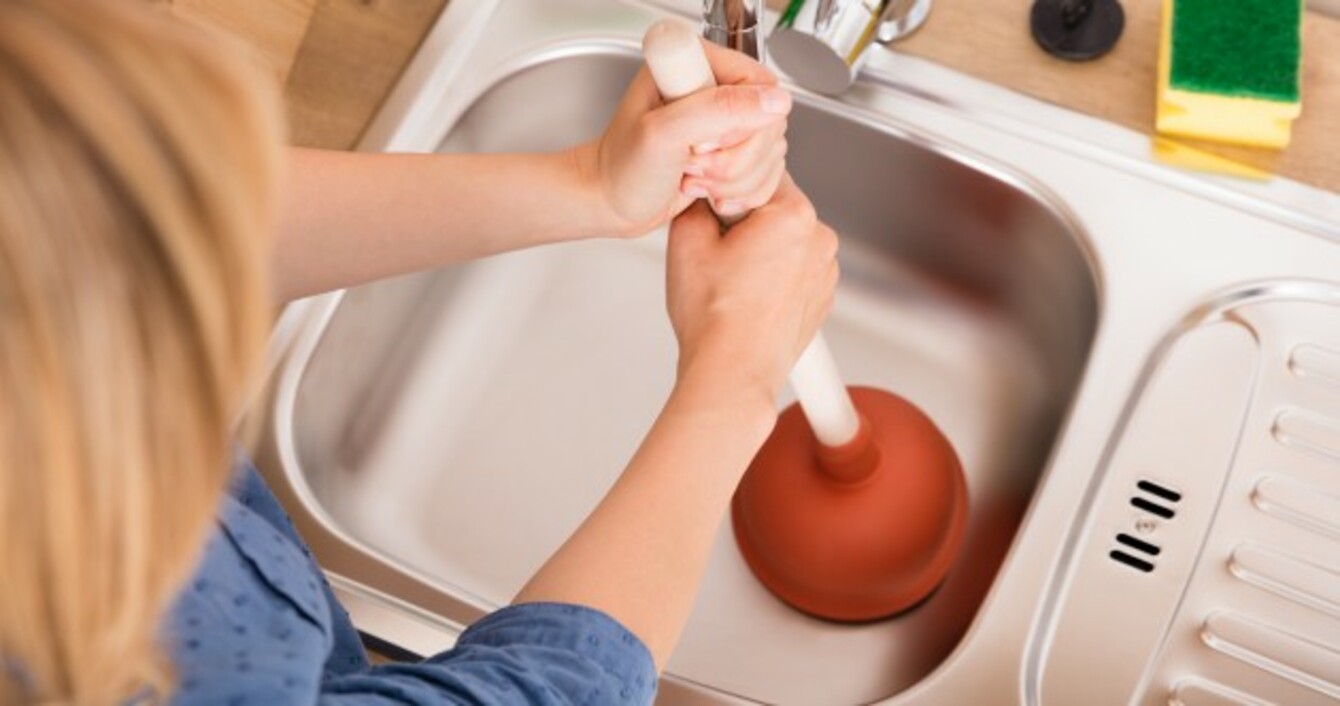 Image: Shutterstock/Andrey_Popov
Image: Shutterstock/Andrey_Popov
MAYBE YOU RELISH the challenge of a leaky tap, or are straight on the phone to the plumber. Whatever your attitude to home improvements and home maintenance, there's always some room for improvement.
Every little job left to a professional can really add up, so it (literally) pays to be wise to the tasks you can take on yourself. 
Knowledge is power here, so we've listed six common issues around the home, and given you some basic information to get you started – plus suggestions of where to find more detailed how-tos should you need them. And for balance, you'll also find a few dilemmas that may be better left to the pros.
The dilemmas you can definitely tackle yourself
1. A dripping tap: If the sound of water dripping throughout the night is doing your head in, the answer may be a faulty washer inside the offending tap. Generally, if you can take the brassware apart and replace the washer, making sure to tighten everything well as you go, you'll have fixed the issue. But before you get the screwdriver out, there are a few things to keep in mind. Topline has a handy step-by-step guide here.
2. Tiles with grotty grouting: Grout can erode and change colour over time through everyday use, no matter how regularly you clean it. It can be a messy affair but re-grouting tiles is a job you can DIY with the right prep; just make sure to set aside enough time because a half done bathroom or splashback is not a great look. Check out this guide from Mira Showers and your bathroom will look like it's had a makeover.
3. Blocked drains: With a build up of dirty water to deal with, a clogged drain in a kitchen or bathroom can get ugly pretty quickly. There are two effective DIY methods to try:
- Grab a wire coat hanger and straighten it out, bending one end into a hook shape. Pop it in the plug hole and see what you can catch. This trick is particularly effective for hair in a bathroom drain. 
- In the kitchen, a mix of baking soda and vinegar will cause a chemical reaction in a drain full of gunk. Leave it in the pipe for at least an hour and then pour a kettle full of boiling water to flush it out. 
4. Mouldy shower caulk: Caulk is the material that keeps your shower, bath and sink watertight – but over time you may find that mould has started to grow in or around it. To do this job correctly, you'll need to take the old caulk off, completely, before you get started with the new product. This is done with caulk remover or with a putty knife if it needs to be stripped. Beware: some caulk does not react to remover – you'll find few more tips on caulk removal in Loctite's tutorial here.
5. Shelves that need hanging: Before you even pick up a spirit level, it's important to understand the time and materials you'll need to do the job right: you want shelves that sit straight (obviously) and are capable of taking weight. Make sure you know what lies behind the wall you're affixing shelves onto – you need to be sure you won't accidentally drill into cabling, or hang heavy shelves on a hollow wall. Stores that specialise in DIY material, like B&Q are here to help – check out this step-by-step guide to hanging them perfectly.
#Open journalism No news is bad news Support The Journal

Your contributions will help us continue to deliver the stories that are important to you

Support us now
6. Curtains that need replacing: Whether you are replacing a curtain pole or installing a brand new one, keeping it straight is the most important step. You'll definitely need a spirit level, a measuring tape and a pencil before you put a single screw in. If you want your windows to appear larger than they are, fix the pole up high to create this illusion. Read more on how to fit a curtain pole over at Home Focus and how to hang the curtains at Blinds To Go. 
And the dilemmas you may want to hand over to an expert…
7. Tiles that need repairing or updating: This task has the potential of giving the phrase 'a night on the tiles' a whole new meaning, and not one that's half as fun. Unless you're fairly confident in your skills, this could be one to call an expert for. It'll beat wasting money on a pile of cracked tiles or effing and blinding because the design won't link up.
8. Wallpaper that needs replacing: Hanging wallpaper is not just a cut and paste task. The wall prep, the measurement, plumb lines and roll numbers are just some of the essential things to consider when planning on revamping a space with wallpaper. Again, unless you have plenty of time and patience on your hands, this might be one to leave to a pro – and plus, it still leaves you with the fun part of choosing which design to go for. Augmented reality (AR) is really taking off in the wallpaper space. Brands like Graham & Brown offer apps that let you visualise designs on your walls, for instance.
9. Outside walls that need painting: With the right weatherproof paint and tools, painting exterior walls is relatively DIYable, but it's a large scale task that could end up taking days – and you'll want to be confident working on a ladder too. From priming to being mindful of the climate, there are many things that could go wrong. Again, unless you're ready to take on the challenge, this one might be better handed over to a pro.