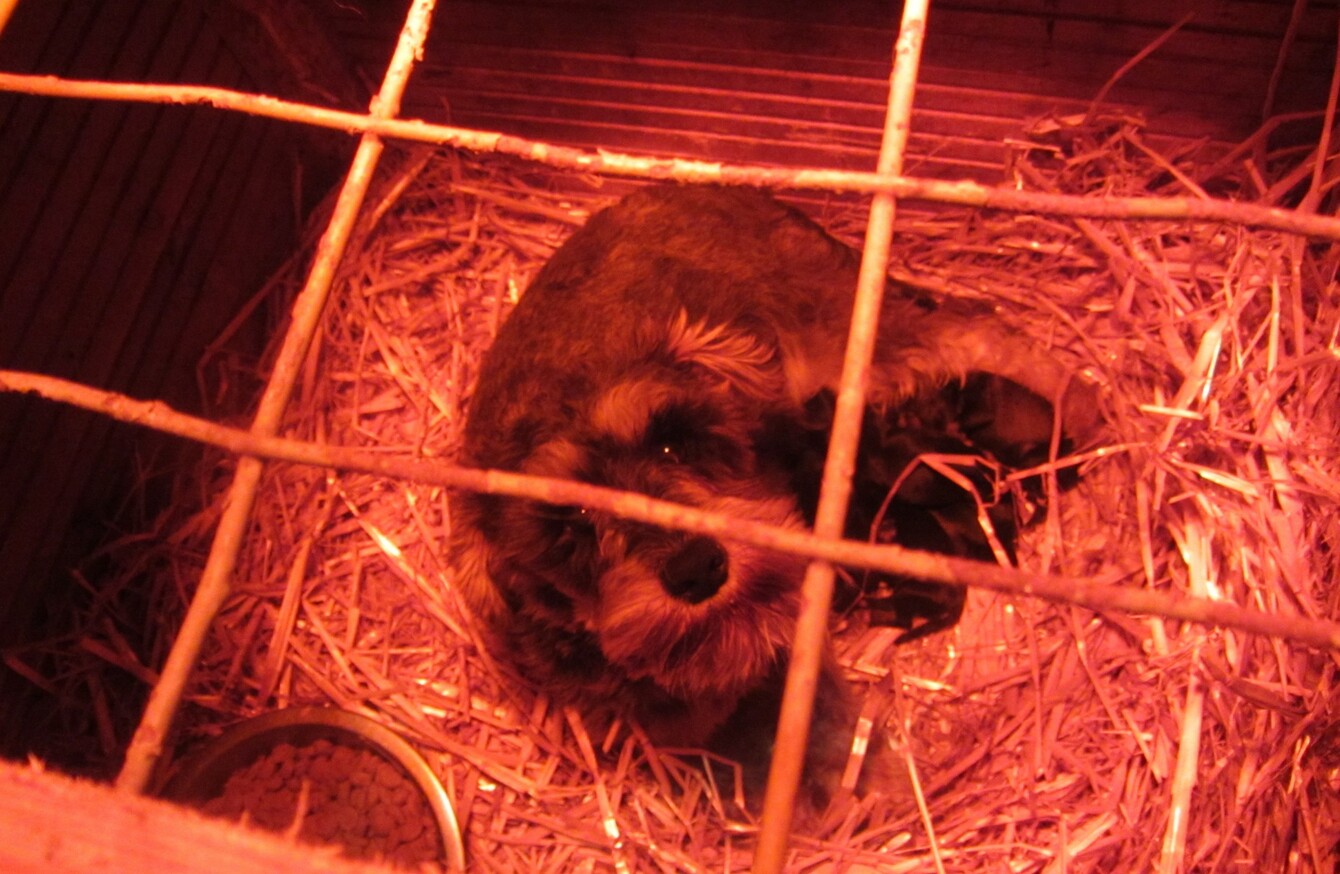 Photo of a dog kep in a crate at a puppy farm.
Image: ISPCA
Photo of a dog kep in a crate at a puppy farm.
Image: ISPCA
AN ANIMAL WELFARE charity has criticised the Government for proposed new guidelines around breeding dogs, which it says doesn't go far enough in protecting animals.
The Minister for Housing, Planning, Community and Local Government, Simon Coveney, today announced a public consultation on proposed new guidelines around breeding dogs.
A review Dog Breeding Establishment (DBE) guidelines was announced in 2015.
Speaking today on RTÉ's Morning Ireland, CEO of the DSPCA Brian Gillen said the new guidelines contained a number of serious omissions.
"We in the animal welfare community we take the view that dogs are not farm animals," said Gillen.
[We think] that dogs should be bred in small numbers, and they do best when they're in a home environment where they're socialised.
Gillen said that big farms with over 100 female breeding dogs were not fair to the animals involved.
"We think there should be a cap of 10 breeding bitches," he said.
"I have yet to find someone who would say it's acceptable to buy a puppy from a farm that has 500 breeding bitches.
We think too that the laws we have in the State should reflect the reality of what people see happening around them.
Guidelines
The proposed new guidelines (which can be viewed here) include a number of updates to the previous ones.
Among these are requirements that dogs have "a comfortable and appropriate resting area".
Dogs must also be in an environment that allows them to express normal behaviour, and in particular provide adequate socialisation and exercise for all dogs.
Whelping beds for newborn puppies must also be provided, as well proper bedding for dogs and food and water bowls.
While Gillen welcomed any improvement to the guidelines, he said more needed to be done to protect animal welfare.
"Any improvement is certainly welcome but it certainly doesn't go far enough," he said.
Submissions on the guidelines can be made by members of the public up until 5.30pm on Tuesday, 28 February of next year.
Full details can be got on the department's website.