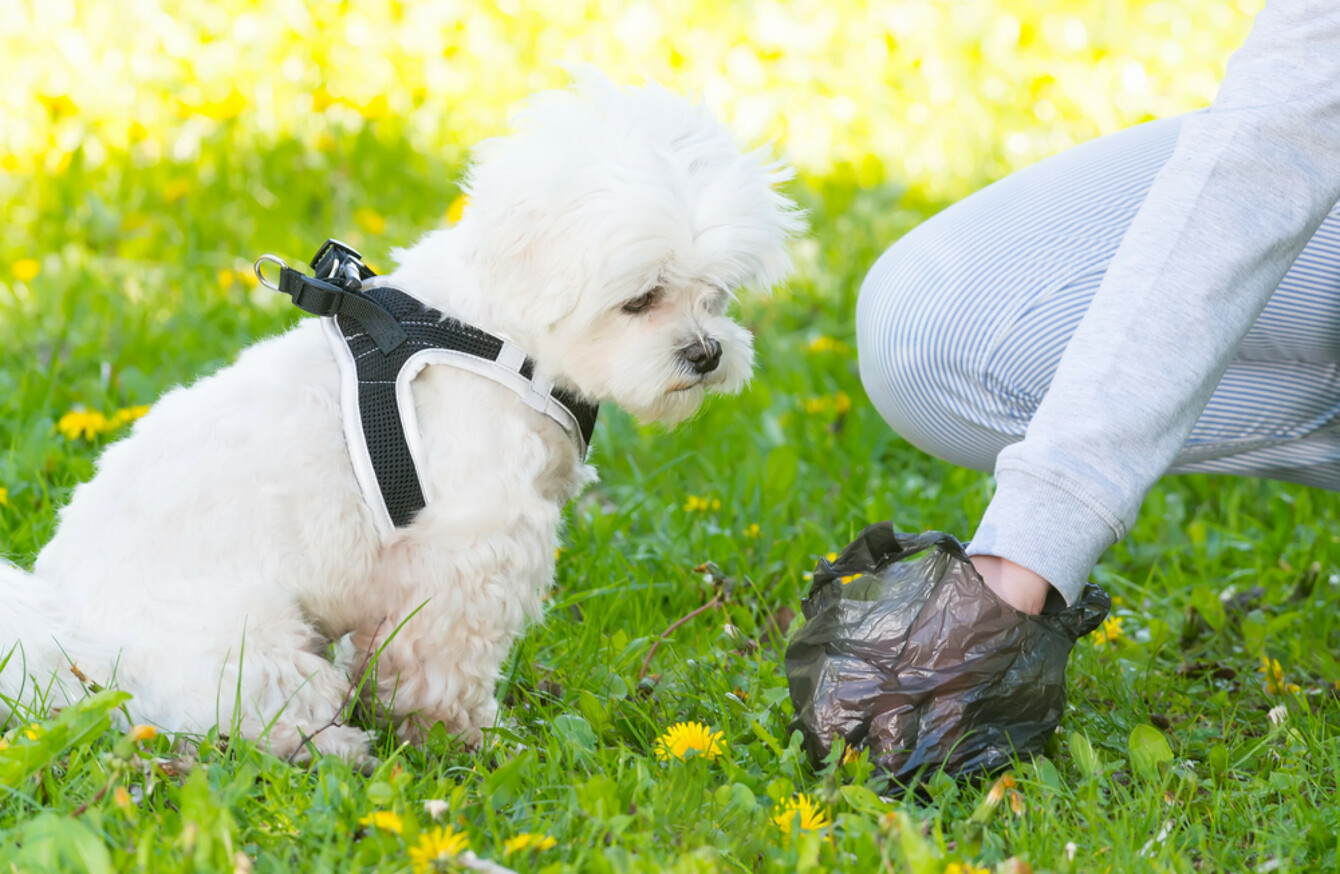 Image: Monika Wisniewska via Shutterstock
Image: Monika Wisniewska via Shutterstock
Updated 5.24pm
NEW FIGURES SHOW that just four dog fouling fines were issued in Dublin City so far this year. 
This figure compared to 23 fines being issued in 2017, 78 being issued in 2016 and 26 being issued in 2015. The figures were released to Councillor Patrick Costello from Dublin City Council. 
All four fines this year were issued in Dublin Central. In previous years, the majority of fines had been issued in Dublin South Central. 
Out of the four fines issued this year, just one was paid. 
When asked whether he thinks the drop in figures this year may be down to people being more vigilant to disposing of their dogs' poo, Costello said: "I think any of us who have walked through a park recently have seen that there's dog [poo] everywhere."
He also added that in previous years, the council had put extra money into the city budget to deal with the issue. 
Costello did, however, note that it can sometimes be difficult to determine who is responsible for the dog poo. 
"If you're … a litter warden, and you're standing in a park and you have a piece of dog [poo] in front of you and four dogs, you know, who did it? It can be hard to pinpoint the culprit," he said. 
€150 fine
Although it is an offence under section 22 of the Litter Pollution Acts not to clean up after your dog has fouled (which can result in an on-the-spot fine of €150 or a summary conviction to a fine up to €4,000) the reality is that many dog owners are not doing so.
Statistically, dog poo represented just 1.22% of overall litter in 2016. Despite this low figure, the minister said he believed it is the most intrusive type of litter.
Toxocariasis is an infection caused by roundworm parasites. It is spread from animals to humans via infected faeces. Young children are particularly at risk of getting toxocariasis because their play habits make them more likely to come into contact with contaminated soil.
Costello suggested that dog fouling fines should be increased.
"We need to look at whether the fine is enough. On the fines issues, if you don't think you're going to get caught, you know, there's pretty low risk. You need to increase the risk by increasing the size of the fine," he said. 
He also suggested that more dog poo bins should be rolled out across the city, along with the distribution of free bags and scoopers. 
"We need more bins. We need more dog poo bins. What drives me bonkers is when you see people who pick up the poo in a little bag and then hang it on a tree or just leave it lying on the road."
Government action
In May 2017, then-Minister for Communications, Climate Action and Environment Denis Naughten said that he was allocating extra resources to tackle the prevalence of dog poo on our streets. 
Speaking before the Seanad, Naughten said he intended to "allocate extra resources to local authorities under the Environment Fund and capital resources to roll-out initiatives to combat the problem".
He said many initiatives to deal with dog fouling have already been introduced around the country.
These include the provision of signage, talking lamp-posts, dog waste bins and bags and awareness campaigns such as The Green Dog Walkers scheme, which the minister said been successful across Roscommon.
Talking lamp posts with audio devices that remind people to clean up after their dog have been installed on poles at locations including Baldoyle, Fingal, Mullingar, Athlone, Lahinch, Kilkee, and Limerick.
However, despite the action that has been taken to date, Costello noted that he has received a large number of complaints from residents in his local area. 
"This is a huge issue and every door you knock on and every resident's association, it comes up."
Dublin City Council says it works with schools and community groups to spread awareness of dog faeces and encourages dog owners to immediately clean-up after their dog.
With reporting by Christina Finn