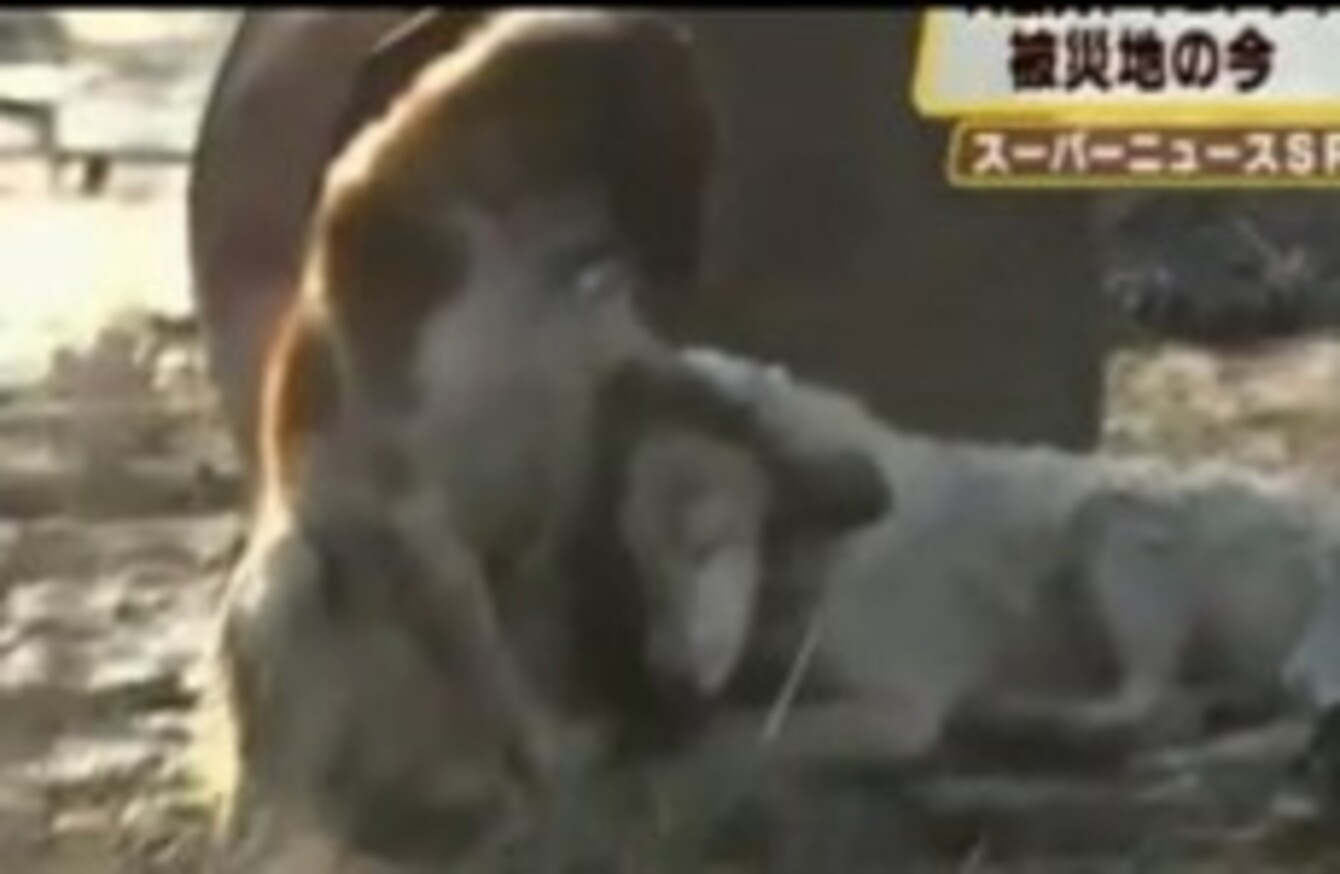 An injured dog is comforted by a fellow dog in Arahama area of Sendai, Japan, which was struck by a tsunami following earthquakes one week ago.
An injured dog is comforted by a fellow dog in Arahama area of Sendai, Japan, which was struck by a tsunami following earthquakes one week ago.
IT'S A TOUCHING moment that gives an insight into not only the devastation caused to human and animal life by the Japanese tsunami, but how animals are banding together at a time of need.
A short video filmed by a Japanese TV crew shows two dogs left stranded, dirty and wet after the earthquakes and tsunami in the Arahama area of Sendai, Japan.
A brown and white dog is seen barking lightly at the film crew before sniffing around and seemingly guiding them down to where he has been taking shelter, beside a metal drum.
Half way through the footage, it becomes clear what the dog is doing – minding a fellow injured canine who is lying behind him in shelter. The white dog wakes up and it is then that the bond between the animals becomes clear – as his companion reaches a paw over to hug his ill friend.
According to a translation posted by the website Life With Dogs on Youtube, the men filming this scene say to each other:
We are in Arahama area. Looks like there is a dog. There is a dog. He looks tired and dirty. He must have been caught in the tsunami. He looks very dirty.

He has a collar. He must be someone's pet. He has a silver collar. He is shaking. He seems very afraid.

Oh, there is another dog. I wonder if he is dead.

Where?

Right there. There is another dog right next to the one sitting down. He is not moving. I wonder. I wonder if he is alright.

The dog is protecting him.

Yes. He is protecting the dog. That is why he did not want us to approach them. He was trying to keep us at bay.

I can't watch this. This is a very difficult to watch.

Oh. Look. He is moving. He is alive. I am so happy to see that he is alive.

Yes! Yes! He is alive.

He looks to be weakened. We need to them to be rescued soon. We really want them rescued soon.

Oh good. He's getting up.

It is amazing how they survived the tremendous earthquake and tsunami. It's just amazing that they survived through this all.
After this touching footage was broadcast on television worldwide, and streamed on Youtube, millions of people wanted to know about the fate of the dogs.
According to Life With Dogs, the two dogs were rescued and are currently in a veterinary clinic, believed to be in Ibaraki.
Care for animals injured or stranded after the events in Japan is coming from organisations such as Japan Earthquake Animal Rescue and Support, which is a coalition of three animal advocacy groups already working to rescue homeless animals in Japan, HEART-Tokushima, Animal Garden Niigata and Japan Cat Network. It is providing updates on its Facebook page.
The American Humane Association, Animal Refuge Kansai, World Society for the Protection of Animals, and World Vets are all also working tirelessly to help animals in affected areas.