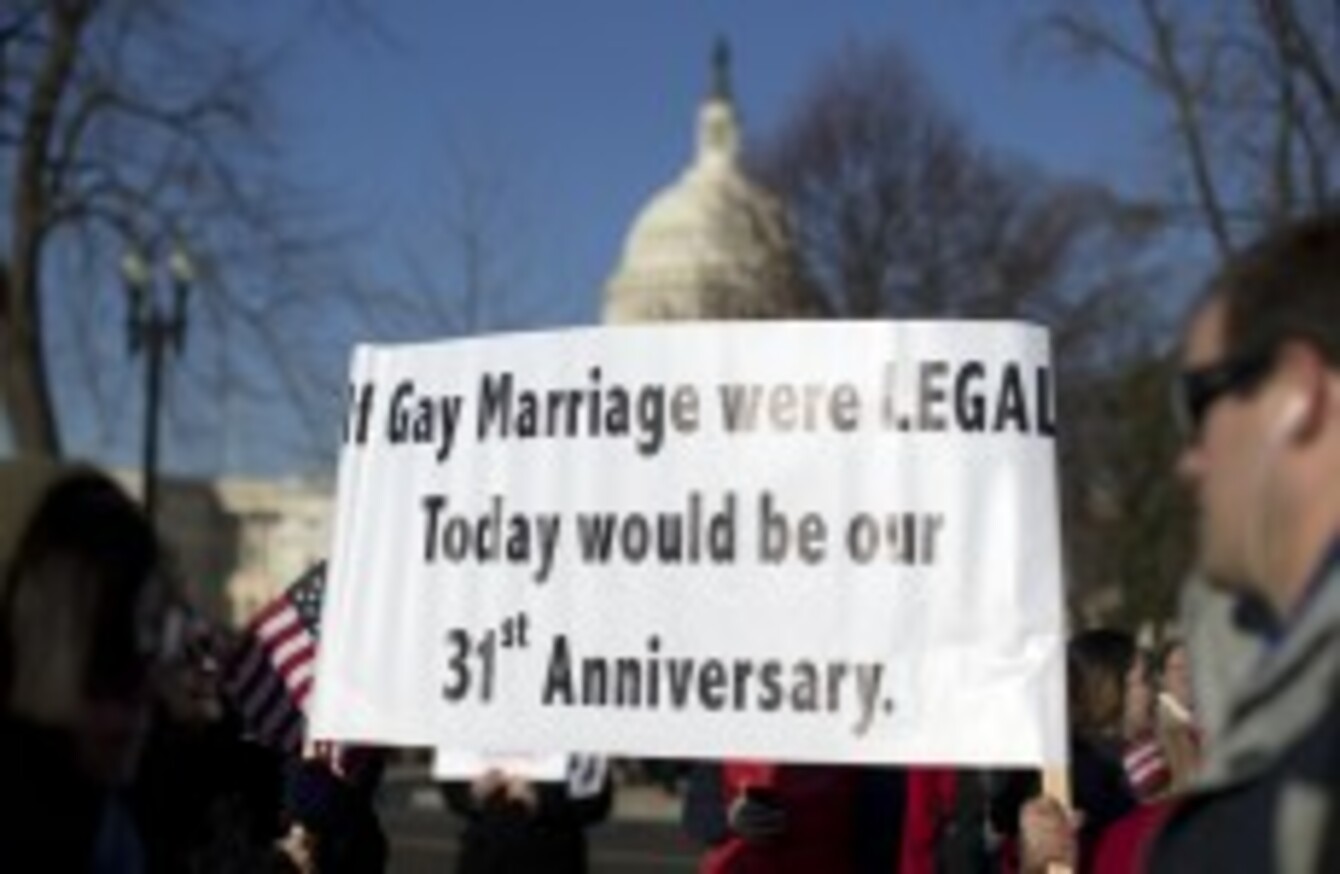 Image: Carolyn Kaster/AP/Press Association Images
Image: Carolyn Kaster/AP/Press Association Images
THE UNITED STATES Supreme Court has struck down a law which defines marriage as between a man and a woman and restricts the payment of federal benefits to couples of opposite sex, denying same-sex couples those same benefits.
In a landmark ruling for same-sex marriage couples, the court has said the Defence of Marriage Act (DOMA) – enacted 17 years ago during the Bill Clinton administration – is unconstitutional.
"DOMA is unconstitutional as a deprivation of the equal liberty of persons that is protected by the Fifth Amendment," the justices said in a 5 to 4 ruling issued today.
Justice Anthony Kennedy wrote the majority opinion which strikes down DOMA, a law that has prevented married gay couples from receiving a range of tax, health and retirement benefits.
Same-sex marriage has been adopted by 12 states and the District of Columbia. Another 18,000 couples were married in California during a brief period when same-sex unions were legal there.
"Under DOMA, same-sex married couples have their lives burdened, by reason of government decree, in visible and public ways," Kennedy said. "DOMA's principal effect is to identify a subset of state-sanctioned marriages and make them unequal."
Proposition 8
He was joined by the court's four liberal justices. Chief Justice John Roberts and Justices Samuel Alito, Antonin Scalia and Clarence Thomas dissented.
Scalia read his dissent aloud. Scalia said the court should not have decided the case. But, given that it did, he said, "we have no power under the Constitution to invalidate this democratically adopted legislation."
The law was passed in 1996 by broad majorities in the House of Representatives and the Senate, and signed into law by Democratic President Bill Clinton. Since then, many lawmakers who voted for the law and Clinton have renounced their support.
In another ruling issued today, the highest court in the US ruled that the state of California's ban on same-sex marriage in that state, so-called Proposition 8, is not a case it is willing to take up.
This means that a US Court of Appeals decision to rescind Proposition 8 – enacted in 2008 – stands and therefore gay marriage is legal in California. The decision was a 5-4 ruling by the court.
In not taking up the case, the court has indicated that there is no scope currently to issue a federal ruling on the legality of same-sex marriage which is explicitly banned in a number of states.
- additional reporting from Associated Press