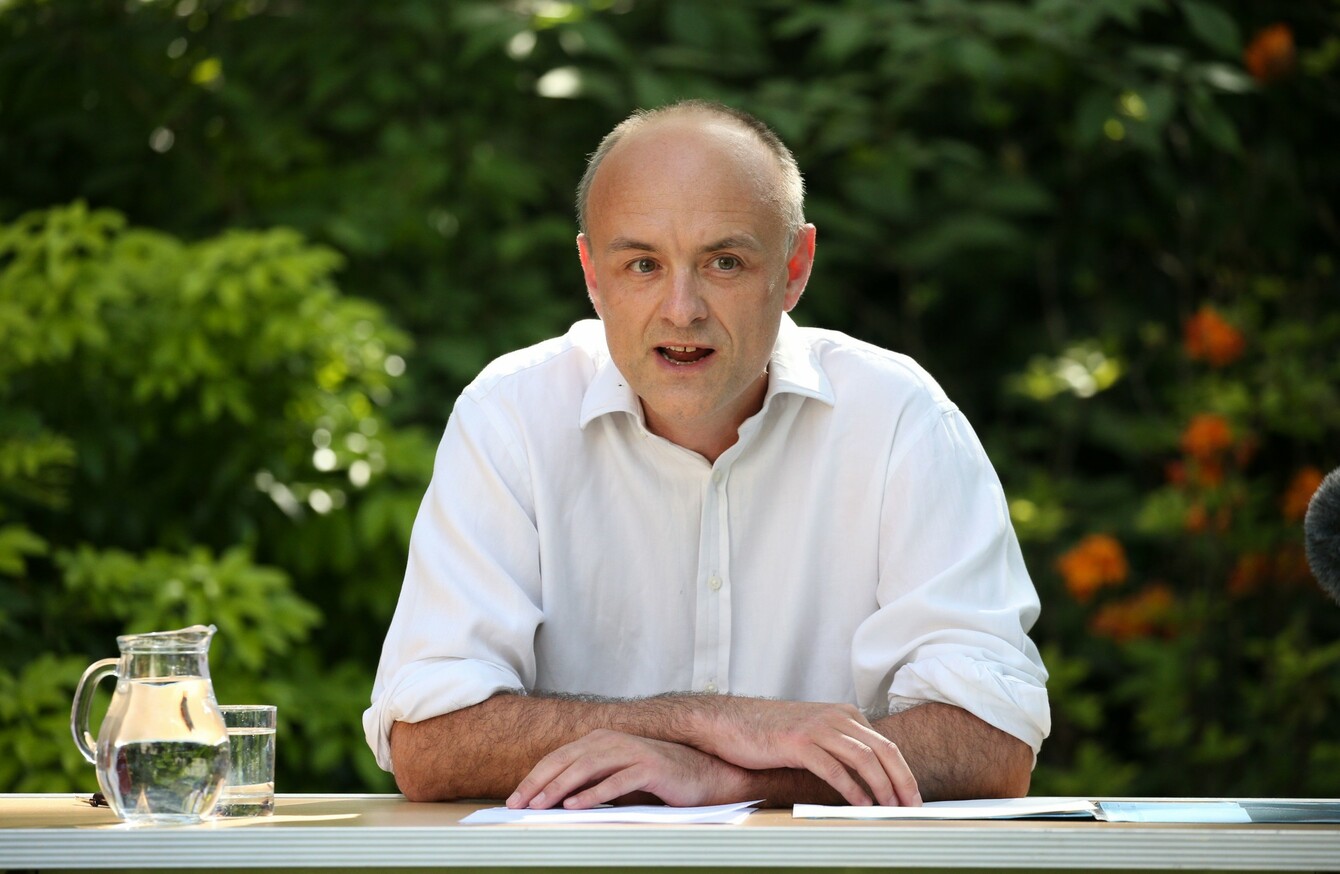 Dominic Cummings speaking today.
Image: Jonathan Brady
Dominic Cummings speaking today.
Image: Jonathan Brady
Updated May 25th 2020, 4:52 PM
BRITISH PRIME MINISTER Boris Johnson's senior aide Dominic Cummings said he drove to Durham in late March due to fears over a lack of childcare in London and concerns about his family's safety.
At an unprecedented press conference in Downing Street's rose garden today, Cummings said he does not regret this decision and added that stories suggesting he had opposed lockdown and "did not care about many deaths" were false.
Cummings said he was worried that there would be nobody to mind his child if he and his wife were left too sick with Covid-19.
He said he was also concerned about "leaving my wife and child at home all day and often into the night" due to threats of violence issued against him. 
"I thought the best thing to do in all the circumstances was to drive to an isolated cottage on my father's farm," he said. 
"I don't regret what I did. I think reasonable people may well disagree about how I thought about what to do in the circumstances, but I think what I did was actually reasonable in these circumstances."
Cummings said he did not tell Boris Johnson before travelling to Durham in late March.
Arguably this was a mistake, and I will understand that some will say I should have spoken to the prime minister before deciding what to do.
He said he has not offered to resign from his position as chief aide, nor has he considered it. 
"The truth is that I had argued for lockdown, I did not oppose it but these stories had created a very bad atmosphere around my home, I was subjected to threats of violence, people came to my house shouting threats, there were posts on social media encouraging attacks."
Boris Johnson issued a statement last night, defending Cummings' actions as "sensible and defensible", legally sound, and carried out "with integrity".
Cummings said that his eyesight had been affected from his Covid-19 symptoms so his wife did not want to risk the long drive from Durham back to London in mid-April.
"We agreed that we should go for a short drive to see if I could drive safely, we drove for roughly half an hour and ended up on the outskirts of Barnard Castle town," Cummings said.
"We did not visit the castle, we did not walk around the town."
Durham Police said today that on 1 April, an officer spoke to Cummings' father who confirmed the family were self-isolating at his property in Durham.
"We can further confirm that our officer gave no specific advice on coronavirus to any members of the family and that Durham Constabulary deemed that no further action was required in that regard."
How things panned out
To contextualise the timeline around these events, it's important to remember the UK was placed into lockdown with strict travel limits on 23 March. 
#Open journalism No news is bad news Support The Journal

Your contributions will help us continue to deliver the stories that are important to you

Support us now
The government guidelines state: "You should not be visiting family members who do not live in your home."
On 26 March, Boris Johnson told Cummings he had tested positive for Covid-19. 
The next morning, Cummings went to work as normal and received a call from his wife to say she was feeling ill.
"None of our usual childcare options were available", Cummings said, adding that he immediately left 10 Downing Street and drove home. He discussed the situation with his wife and they decided to drive to Durham to self-isolate there. 
On 30 March, Downing Street confirmed Cummings was dealing with Covid-19 symptoms and was self-isolating.  
The next day, Durham police are "made aware of reports that an individual had travelled from London to Durham and was present at an address in the city".
The force says officers "made contact with the owners of that address who confirmed that the individual in question was present and was self-isolating in part of the house".
"In line with national policing guidance, officers explained to the family the arrangements around self-isolation guidelines and reiterated the appropriate advice around essential travel." 
- with reporting from Gráinne Ní Aodha and Orla Dwyer