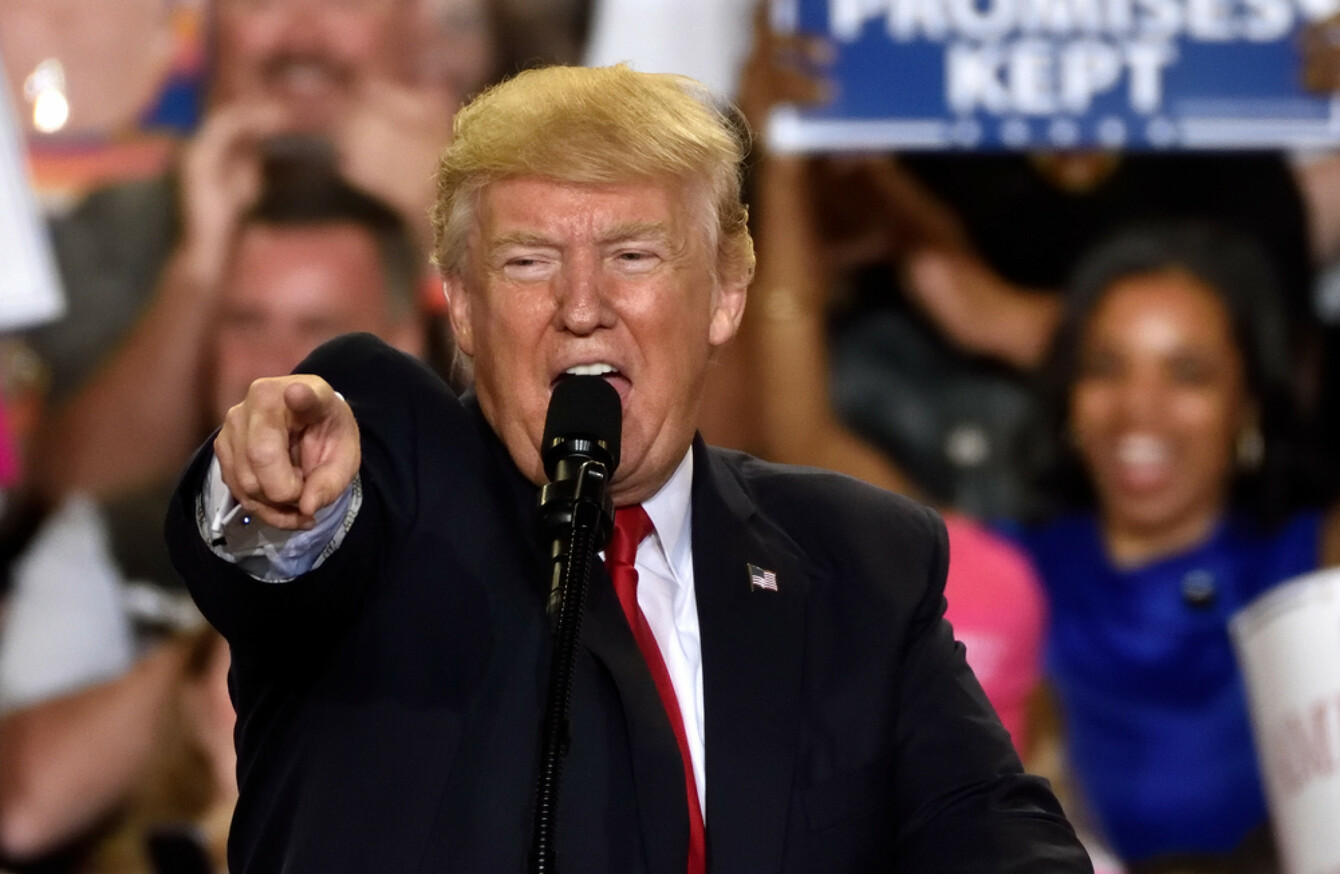 US President Donald Trump
Image: Shutterstock/Evan El-Amin
US President Donald Trump
Image: Shutterstock/Evan El-Amin
DONALD TRUMP HAS issued a warning to Hassan Rouhani after the Iranian President appeared to suggest the two countries are on a path to war.
On Sunday night, the US President hit back at comments made by Rouhani, who said that America needed to understand that "peace with Iran is the mother of all peace and war with Iran is the mother of all wars".
He also warned Trump to stop "playing with the lion's tail" and threatening Iran.
In a highly-charged tweet, Trump responded [his capitals]: "NEVER EVER THREATEN THE UNITED STATES AGAIN OR YOU WILL SUFFER CONSEQUENCES THE LIKE OF WHICH FEW THROUGHOUT HISTORY HAVE EVER SUFFERED BEFORE.
"WE ARE NO LONGER A COUNTRY THAT WILL STAND FOR YOUR DEMENTED WORDS OF VIOLENCE & DEATH. BE CAUTIOUS!"
Earlier this year, Trump pulled the United States out of an international deal to prevent Tehran from developing nuclear weapons, and increased American sanctions on the Middle Eastern country.
He also suggested that Iranian leaders are "going to call me and say 'let's make a deal'", but Iran has rejected talks.
Rouhani previously lashed out at the US President for threatening to re-impose the sanctions, moving the US embassy in Israel to Jerusalem, and banning citizens of a number of Muslim-majority countries from travelling to the US.
US Secretary of State Mike Pompeo also hit back at Rouhani's comments yesterday.
Speaking from California, he called the religious leaders of Iran "hypocritical holy men" who had amassed vast sums of wealth while allowing their people to suffer.
Pompeo also discussed increasing the media outreach to the Iranian people.
He claimed that the US Broadcasting Board of Governors is taking new steps to help Iranians get around internet censorship, and are launching a new 24-hour Farsi-language channel across television, radio, digital, and social media formats, "so that ordinary Iranians inside Iran and around the globe can know America stands with them".
In a speech at the Ronald Reagan Presidential Library and Museum, Pompeo hit out at Iran's political, judicial and military leaders, accusing several by name of participating in widespread corruption.
He also said the Iranian government has "heartlessly repressed its own people's human rights, dignity and fundamental freedoms".
"The proud Iranian people are not staying silent about their government's many abuses," he said.
"And the United States under President Trump will not stay silent either. In light of these protests and 40 years of regime tyranny, I have a message for the people of Iran: The United States hears you.
"The United States supports you. The United States is with you."
Trump has a history of firing off heated tweets that escalate long-standing disputes with leaders of nations at odds with the US.
Last year, he engaged in a public war of words with North Korean leader Kim Jong-Un, which eventually led to a high profile summit and denuclearisation talks earlier this year.