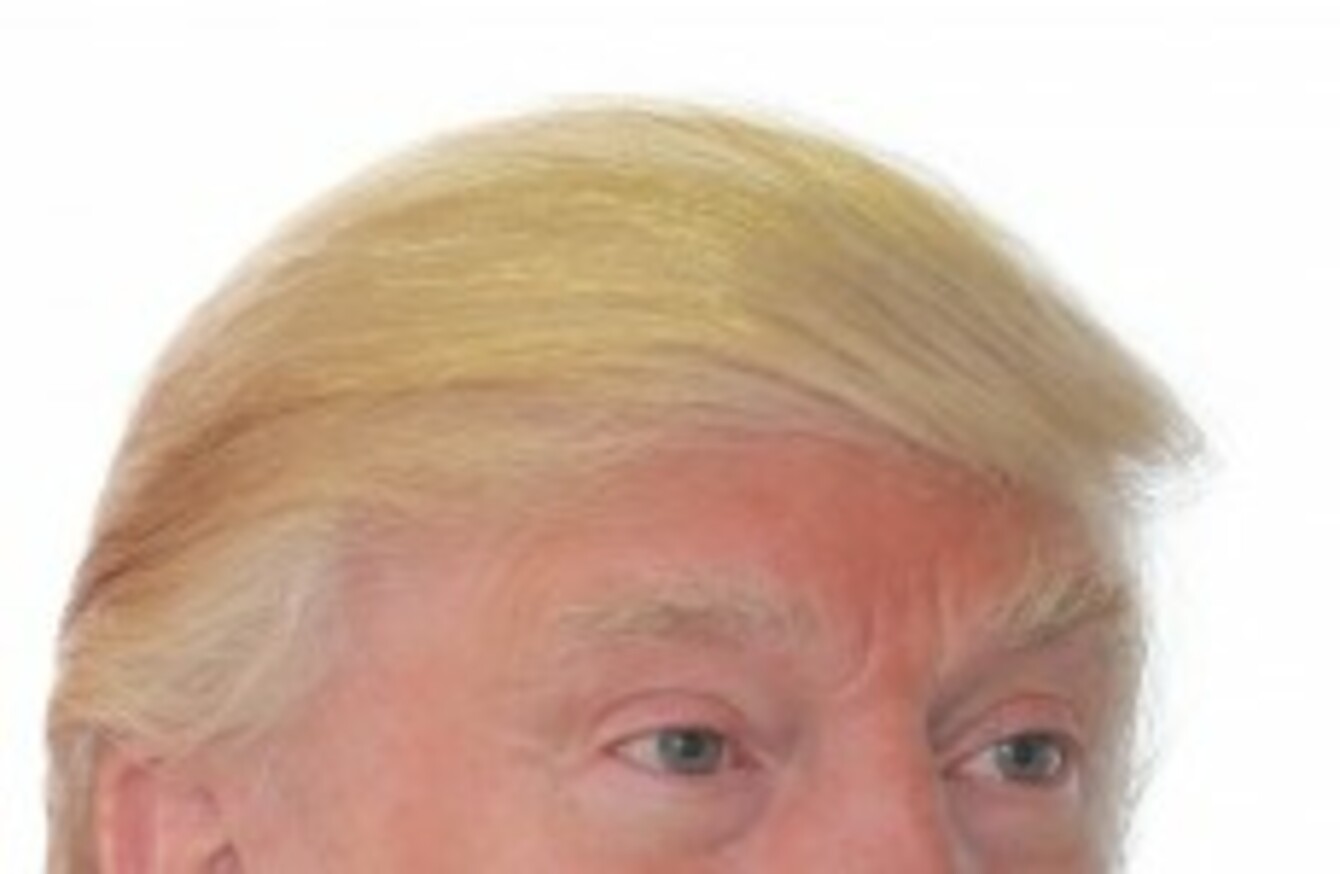 Image: Niall Carson/PA Wire/Press Association Images
Image: Niall Carson/PA Wire/Press Association Images
YOU CAN HARDLY blame RTÉ's Sean O'Rourke for seizing the opportunity to ask US billionaire Donald Trump a couple of questions about his intriguing hairdo.
Back in May of this year, when Trump came to Ireland to visit his golf resort at Doonbeg, he sat down with O'Rourke for a 20-minute interview on RTÉ Radio 1 which seemed to end pretty amicably – on air, at least.
However, O'Rourke's line of questioning on Trump's golden locks has left a bitter taste in the businessman's mouth.
"Sean O'Rourke! That a**hole from the radio show!", Trump exclaimed in a interview with Will Hanafin for the Sunday Independent's Life magazine.
He asked about my hair. He took off my hair! This is my hair! It was a nasty interview.
Trump claims that O'Rourke was influenced by a piece published in a national newspaper the morning of the interview, which said that O'Rourke would provide the billionaire with an easy interview.
"I knew immediately it wouldn't be, because he then had to show it was legitimate," Trump told Life.
Here's how the offending segment went (or listen here, from just after 21 minutes in):
Sean O'Rourke: And last thing, you probably get asked this often, do all these jokes people make your hair, do they bother you?

Donald Trump: Ah, they kill me. Well, the people kill me. No, it used to bother me years ago, but it never stopped, and it is my hair, as you've probably noticed it [...] I had a story written in a major periodical a couple of weeks ago saying that nobody's doing better than Trump. You know my company is very strong, very powerful, I'm doing great all over the world, but they had one sentence: "But he has the worst hairpiece I've ever seen". I don't even wear a hairpiece. I said, you know its a shame I can't even…

SOR: Didn't Vanity Fair not do a big close analysis last year sometime, and come to the conclusion…

DT: Oh Barbara Walters did. She took my hair, and analysed it and the whole thing, and…

SOR: But you're one of the few guys I've ever seen, and maybe it's because you own the place, it probably is, managed to leave his cap on in a bar in a golf…

DT: Oh I took it off. Oh yeah, I had it off.

SOR: Yeah?

DT: I mean, I take it off all the time.

SOR: Right okay, that's the kind of trivial question people expected to be asked.
It was reported by the Irish Independent at the time that Trump attempted to confront O'Rourke after the programme, to the extent of almost bursting into the live studio, but it was all settled afterwards between the two men.
"I was not angry. I understood. It was not a nice interview. I told him 'You're an a**hole!' Essentially that," he said.
Trump also hit out at criticism of Minister for Finance Michael Noonan for greeting him as he stepped off his private jet at Shannon Airport.
"A couple of losers didn't like that he did that," Trump said, and said Noonan's presence made him feel good about Ireland, especially given the vast amounts he was investing in the region. He also believes this "helped Ireland" on the path to recovery.
In a separate interview with TV3 in May, Trump described Noonan as a "terrific guy".
"It was very nice that he met me and he met me because I'm throwing tremendous amounts of money into Ireland and that's a good thing."
Trump has promised hundreds of jobs for Co Clare over the next few years.
The Trump Organisation snapped up the luxury hotel and golf course for a knockdown price in February — and the US businessman said he was planning to "at least double or triple" that investment as part of his initial plans.