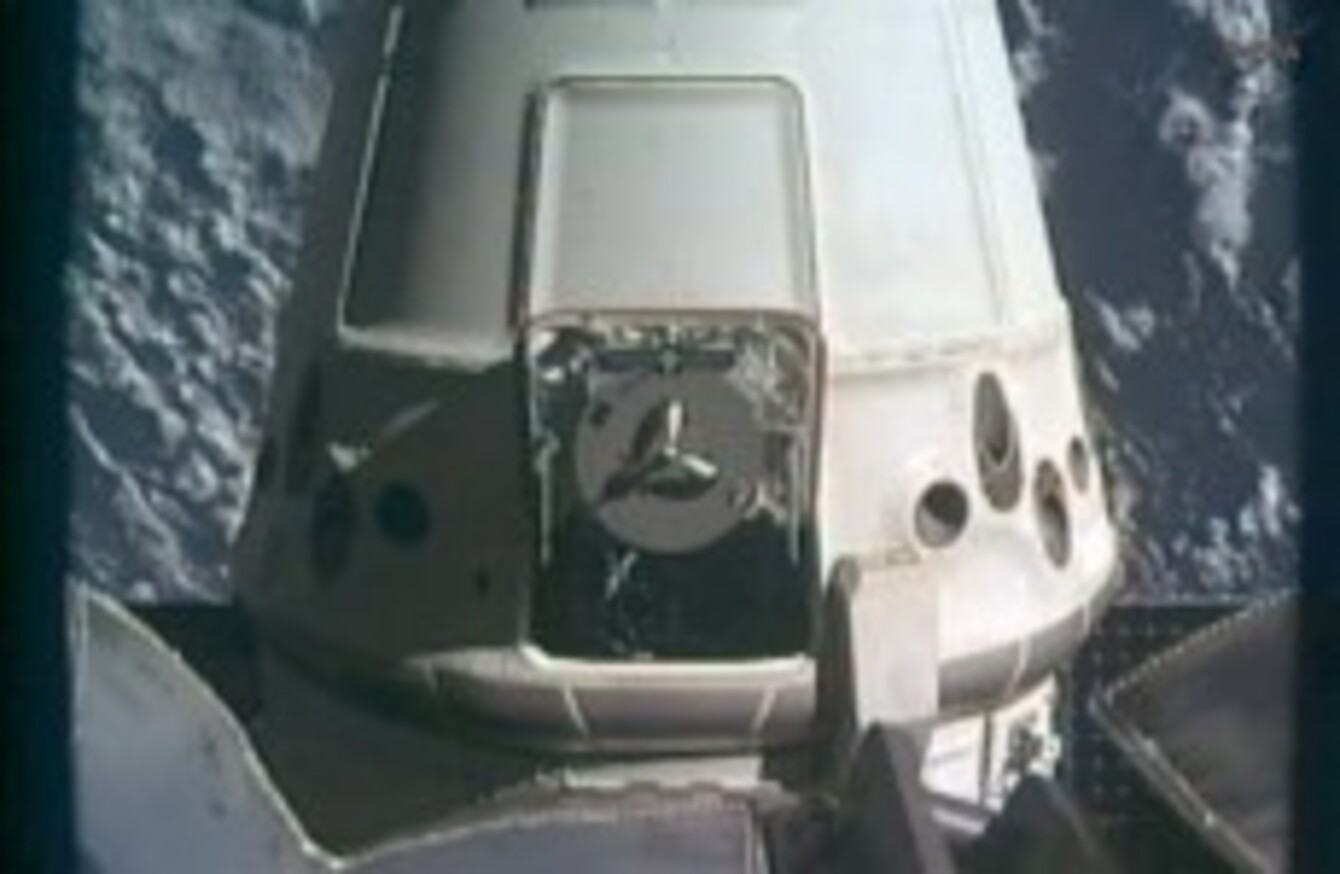 Image: AP Photo/NASA
Image: AP Photo/NASA
THE SPACEX DRAGON capsule has successfully splashed down on Earth after spending a week tethered to the International Space Station.
SpaceX is the first commercial company to dock at the ISS, and the company is one of several vying to win contracts for supplying the space station following NASA's decision to end its shuttle programme.
The unmanned Dragon capsule is designed to transfer cargo to and from the space station.
Early yesterday, the crew on board the ISS closed the hatch connecting the capsule to the station before today using a robotic arm to disconnect the Dragon in preparation for its return voyage:
(Video uploaded by NASAtelevision)
The capsule safely made its re-entry through the Earth's atmosphere and it deployed parachutes for its landing into the Pacific Ocean off the coast of Mexico.
Around 635kgs of old equipment is on board the ship and it is expected to take a few days for the dragon to be transported back to the company's factory in Texas.
"We are hoping to continue working with NASA and hopefully flying crew within three years," said Elon Musk, the founder, CEO and chief designer for SpaceX, after dragon's return today.
"This was a crucial step and makes the chances of becoming a multi planet species more likely."
#Open journalism No news is bad news Support The Journal

Your contributions will help us continue to deliver the stories that are important to you

Support us now
NASA said that the 'true impact' of the success of dragon's test flight to the ISS will be seen over the coming months as the capsule supplies the ISS on further missions.
NASA's ISS programme manager Mike Suffredini commended the combined efforts of NASA staff and SpaceX in developing the capsule and in carrying out the landmark mission.
"We took a capability that this agency has nurtured over many years, combined that with a different thought process in spacecraft design and created a team that worked very well," he said. "The SpaceX team learned a lot and so did our NASA engineers."