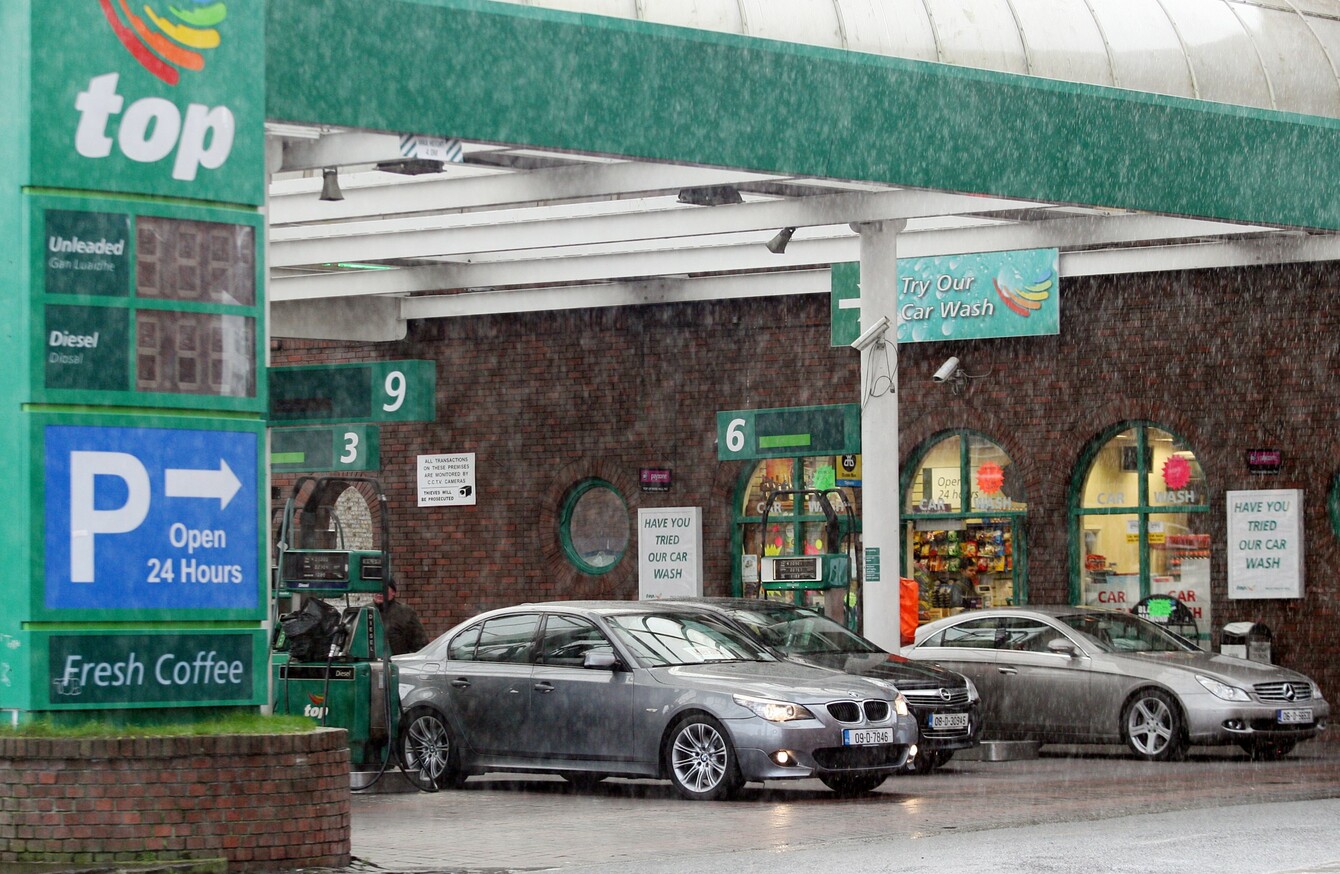 A petrol station in Dublin city centre
Image: Rollingnews.ie/Photocall Ireland
A petrol station in Dublin city centre
Image: Rollingnews.ie/Photocall Ireland
PETROL STATION OWNERS in some parts of Northern Ireland are now responsible for tracing drivers who drive away without paying for their fuel but there are no plans to do the same in the Republic.
The new PSNI petrol "drive-off" pilot scheme has been introduced in two districts but it has come under criticism as retail owners have accused police of "washing their hands" of the issue.
Police said research showed up to 85% of drive-offs are "genuine mistakes" that do not require their input.
The Garda Press Office told TheJournal.ie that there were no figures available for vehicles who don't pay for fuel "as it would be difficult to isolate these type of incidents from the broader theft category".
They are also "not aware" of calls for retail owners to become responsible for filling station drive-offs south of the border.
"If these type of incidents are reported they are fully investigated. The end result may be a prosecution for theft. If a theft is reported we investigate it.  If it turns out to have been a mistake obviously there is no prosecution," they said.
Tara Buckley, the Director General of the Retail Grocery Dairy & Allied Trades Association (RGDATA) does not think the Northern pilot scheme is a "positive move" for retailers saying it will make it "easier" for criminals  and increase the problem of drive-offs. She said it would also lead to increased prices in fuel.
"Retailers feel we shouldn't follow the Northern model as it would be a free for all for criminals if they knew there would be no Garda involvement. We believe there is a dual system available in the UK, where an external agency follows up a drive-off for the retailer and if it is not genuine, they forward the information to the Garda.  Maybe this is something could be looked into further," said Ms Buckley.
The AA told TheJournal.ie it would view this as a normal Garda matter and within Garda responsibilities.
"The AA has come across multiple cases of fake licence plates being used by people carrying out this kind of activity and for this reason we would not view it as fair or achievable for garages and petrol stations to attempt to 'play detective' and investigate these incidents without Garda support. For this reason, the PSNI solution does not seem practical in preventing this kind of crime," said AA spokesperson Conor Faughnan.
The pilot scheme has already been introduced in two districts in Northern Ireland- Lisburn and Castlereagh, and Ards and North Down. According to the BBC, letters were sent to petrol stations in these districts in July explaining the change, which came into effect at the start of this month.
In 2014 two Cork motorists who drove off from different garages without paying for petrol were brought to court. One of the motorists got a one-year driving ban while the other was jailed for seven months. Both motorists were caught on CCTV at the individual garages.

'Washing their hands'
David Cardwell, who runs a petrol station in Portavogie, County Down, told the BBC that he believed the police were "washing their hands" of the issue.
"They (the PSNI) are not giving us any back-up at all with it, they said they haven't got the manpower to address it. If someone drives off with £10 of fuel then we have to add £2.50 onto it. It's not worth chasing someone up for that, we'll probably just have to write it off," said Mr Caldwell.
PSNI
The PSNI told the BBC that the scheme is subject to an "ongoing review" to assess the impact on policing in the districts where it is being piloted.