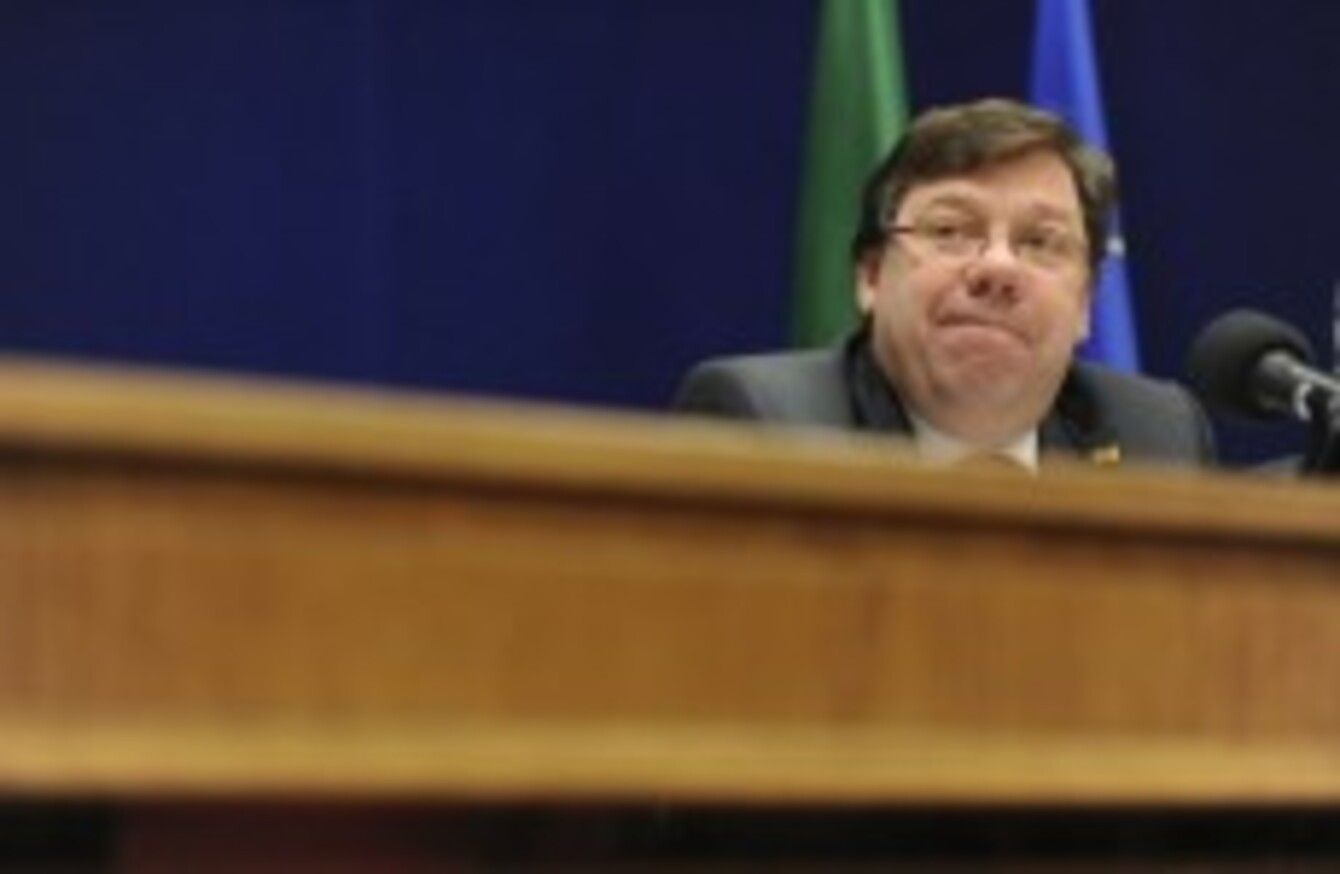 Image: AP Photo/Geert Vanden Wijngaert
Image: AP Photo/Geert Vanden Wijngaert
THE TAOISEACH IS CONTINUING to consult his Fianna Fáil colleagues today about his future, as he comes under further pressure following fresh claims by the former Anglo Irish Bank boss, David Drumm.
Drumm said he'd spoken to Brian Cowen about Anglo's "funding worries", which the Taoiseach has repeatedly denied.
Drumm claims that Cowen asked the National Treasury Management Agency (NTMA) to invest in Anglo in April 2008 at David Drumm's request, the Irish Daily Mail reports (not available online).
However, the head of the NTMA Michael Somers has said that no such request was made of him.
In the Dáil on Wednesday, Cowen specifically denied that Drumm had asked him to talk to Michael Somers. Today, a spokesperson for the Taoiseach said Drumm's claims were not based in fact, and had already been discredited by Somers.
Cowen was responding to queries posed by TDs during an extended Leader's Questions session, following revelations at the weekend that he had spoken by phone to Sean Fitzpatrick in March 2008 to discuss Anglo shares and had played golf and had dinner with the former Anglo chairman in July 2008.
On Wednesday, the Taoiseach revealed that former Central Bank board member Alan Grey and former Anglo director Gary McGann were also present when he dined with Fitzpatrick in July.
The Irish Times reports today that Drumm and Fitzpatrick met Central Banker Grey privately the day before the banking guarantee was introduced in September 2008. They approached Grey in a bid for the Central Bank to lobby the government in support of Anglo, which was running out of money.
Drumm has already criticised some of Fitzpatrick's account of issues at Anglo, made in interviews for a book published last Sunday by two Sunday Times journalists. Drumm told Simon Carswell of the Irish Times that Fitzpatrick's characterisation of his chairmanship at Anglo was "bullshit", adding: "He was all over it".
Heave?
Yesterday, amid rumours of a Fianna Fáil leadership heave, reports from within the parliamentary party suggested Cowen was resisting any motion against him and had refused to step down.
Instead, he said he would meet with party TDs and senators in the coming days to discuss their ideas about the party's leadership. Those meetings are expected to conclude by tomorrow evening.
Meanwhile, Minister Micheal Martin has sent a clear signal that he believes the battle for the Fianna Fail leadership is not over. Martin's spokesperson is quoted in the Examiner as saying the minister welcomes the consultation process, and believes it is "important that members use this opportunity to have their say on the future of the party".
In a short statement issued last night, Fianna Fáil's coalition partner the Green Party said it remained concerned about the revelation Cowen had dined with McGann and Grey, and said it had "already stated that Mr Cowen should himself have revealed his contacts with Anglo Irish Bank".