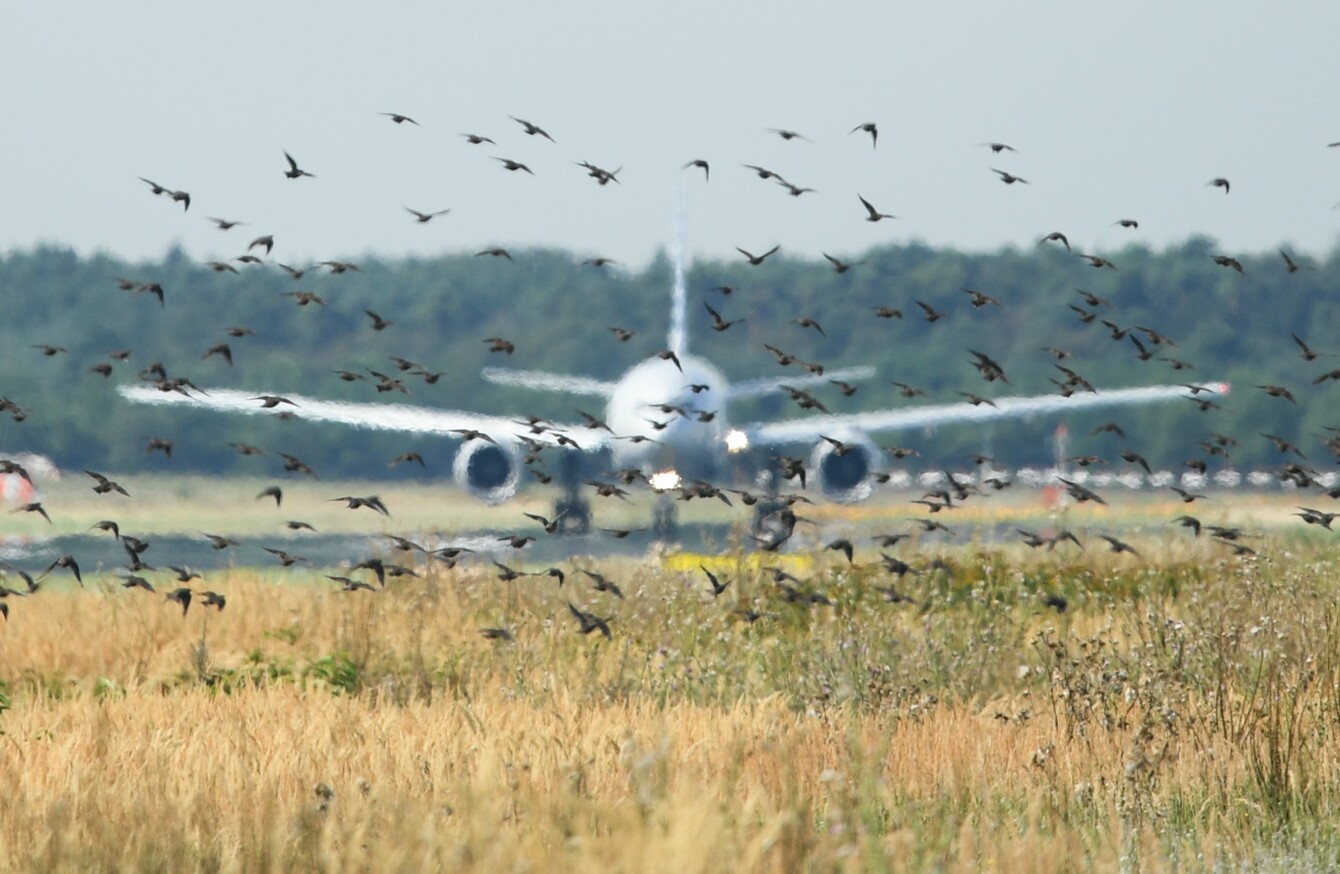 Image: Arne Dedert/DPA/PA Images
Image: Arne Dedert/DPA/PA Images
DUBLIN AIRPORT IS looking for a better way to clear birds and small animals off its runway.
Together with Enterprise Ireland, the air transport hub has opened a tender competition for firms to research and develop new techniques to keep wildlife off the airfield.
A fund of up to €200,000 for the project will be allocated in two phases. The tender is facilitated through Enterprise Ireland's 'small business innovation research' initiative.
Although they're rare, so-called 'bird strikes' – when an aircraft collides with a bird – can cause considerable damage to an aircraft and pose a risk to crew and passengers on-board.
On average, there are five bird strikes per 10,000 'movements' – take-offs and landings  at airports around the world.
However, the strike rate last year at Dublin Airport was below average at 2.7 strikes per 10,000 movements, a decrease of 20% on the year before. There were 56 such incidents logged last year, none major, according to tender documents.
Scaring techniques
Dublin Airport currently recruits the services of two ornithologists, or bird experts, to monitor flock movements around the airfield. There are daily patrols of the airfield "from dawn to dusk".
"There are numerous scaring techniques and solutions available, however none are consistently effective across all species of wildlife," the airport said in the tender documents.
A number of 'non-lethal scaring techniques' are used to keep birds and small animals off the runway, including hand-held lasers, pyrotechnic guns and a vehicle that blasts audio of bird distress calls.
The airport also has one lethal 'scaring technique' in its arsenal: a shotgun.
The species of bird currently on Dublin Airport's hit list include buzzards, starlings and pigeons. There are many instances where a pilot is unaware that they have hit a bird.
"The only evidence might be blood marks or feathers found on the fuselage (aircraft body) during routine visual inspections on stand," the tender said, adding that it's procedure to take DNA samples of the bird's corpse.
While the tender is primarily concerned about reducing the risk of bird strikes, it also raises the issue of strikes with small mammals, namely hares, badgers and foxes.
The tender competition is open between now and 14 August.
Sign up to our newsletter to receive a regular digest of Fora's top articles delivered to your inbox.
Written by Conor McMahon and posted on Fora.ie