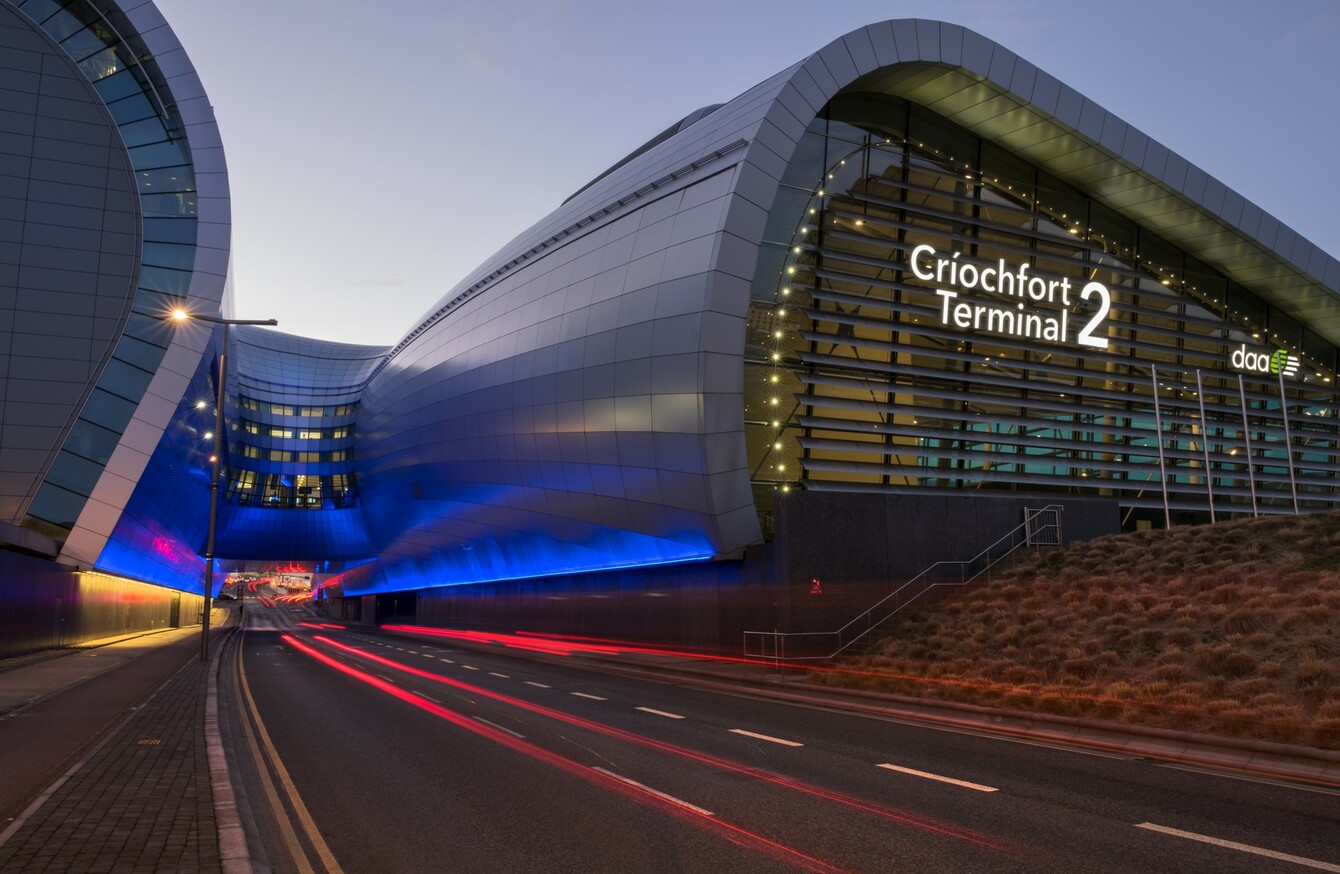 Image: Shutterstock/Remizov
Image: Shutterstock/Remizov
Updated Nov 12th 2020, 7:40 PM
THE CHIEF MEDICAL officer has said people should regard travel home for Christmas as non-essential this year.
Dr Tony Holohan said he agreed with comments made early today by Tánaiste Leo Varadkar that it is "too soon" for people to book flights home to Ireland this Christmas.
Dr Holohan said health officials are "concerned about the picture in other countries relative to where we are here".
"Unfortunately many other countries in Europe are still in a deteriorating situation," he said, adding that many of the countries people would be travelling back from for Christmas have much higher levels of infection.
"That will be one of the most significant risks for us. If we make the progress that we hope we can continue to make and find ourselves at the beginning of December with a much improved situation, even from where we are at the moment, one of the biggest risks will be the importation of disease through international travel."
He said the kind of travel that would normally happen at Christmas, "people coming home to spend time with their loved ones", has to be regarded as non-essential this Christmas.
'A tough message'
In response to a question in the Dáil earlier from Social Democrats's Roisin Shortall, the Tánaiste said: "In terms of terms of people booking flights for Christmas to come home. I advise not to do that at the moment."
Varadkar's comments came as new regulations regarding incoming travellers are due to come into effect later this month that could limit the number of days people have to restrict their movements subject to a negative Covid-19 test. 
He said the issue of travel changes were discussed with the CMO, noting he wasn't particularly concerned about international travel at the moment, but it becomes "a greater concern" as Covid-19 figures become lower.
"We're not in a position at this point to advise people that it's safe to come home for Christmas. And I know that's a tough message to hear but that is the case at the moment," he said.
'Personal responsibility'
Junior Transport Minister Hildegarde Naughten told the Dáil this morning that people who are travelling home for Christmas to follow the public health advice in effect and to take a PCR test prior to arrival. 
"It is about people taking personal responsibility when they come here and adhering to public health advice," she said.
She said anyone planning to return home for Christmas, whether they are travelling into the country for essential work or "those now at Christmas who want to come home to visit family, there is a level of personal responsibility, whatever we do here at a national level with the health protocols".
"They are visiting family, they are visiting their relatives and friends and it is in our own interests that we act responsibly, that they take a PCR test in advance if they are coming from an orange listed country" or a test five days after arrival if they are coming from red listed regions.
However, she said come mid-December, we don't know "where we are going to be with the virus".
Her comments come as airports around the country roll out Covid-19 testing capacity. 
Testing at airports
A Covid-19 test centre is due to be up and running at Dublin Airport next week, while new testing facilities become fully operational in Cork and Shannon Airports from today.
Speaking about testing capacity, Naughten said the PCR test is the only test accepted that will allow the waiving of movement restrictions. Other forms of tests are currently undergoing validation.
Drive-thru and walk-thru facilities will be operated by two private providers at Dublin Airport, said the minister.
She said the DAA estimate it will have the volume 150 tests per day, ramped up to 300 at the end of year. Other private capacity around the country allows for 12,000 PCR tests per day.
She said there is "no certainty that capacity will be available to meet all possible requirements of intending passengers who wish to avail of testing", adding that those that are intending to travel should make an appointment before travelling.
She also urged passengers intending to travel to visit the daa website which contains information on testing as well as the Department of Foreign Affairs website.
In terms of testing at Cork and Shannon airports, two express turnaround testing facilities will provide the pre-departure tests for passengers flying out of the airports in accordance with the EU's traffic light system.
The rollout of the testing facilities comes as after it was confirmed this week that from midnight 29 November travellers arriving into Ireland from so-called 'red' regions in the EU will be allowed to move freely once they pass a PCR Covid-19 test five days following their arrival.
This provision will also be available to arrivals from orange regions who may not have availed of a pre-departure test. 
The move could have a significant impact on people travelling at Christmas as it will limit the number of days people have to restrict their movements for once they arrive at their destination. 
Yesterday, Transport Minister Eamon Ryan said private testing facilities at Dublin Airport, as well as Cork and Shannon airports "will facilitate pre-departure testing for travellers to other countries where the need arises".
"It will also facilitate post-arrival tests for persons arriving from red regions who may choose to return to the airport five days after arrival to take the test."  
Ryanair released a statement condemning  Varadkar's comments against booking flights home for Christmas at this stage.
#Open journalism No news is bad news Support The Journal

Your contributions will help us continue to deliver the stories that are important to you

Support us now
Ryanair called on the Tánaiste to confirm his support for the EU "traffic light" system, which allows Irish people to return home for Christmas if they have a negative Covid test three days prior to arrival, and similarly allows EU citizens living in Ireland to travel to their home countries during the Christmas season with a negative Covid test result.
The EU's traffic light system
Ireland has agreed to align with the new EU traffic light plan for international travel, which will see the European Centre for Disease Prevention and Control publish a weekly map of the EU using a three-stage colour system to indicate the level of risk in each area.
In an article in the Business Post newspaper last weekend, DAA Chief Executive Dalton Philips said a common system of pre-departure testing across Europe is needed so that all passengers can be tested as Covid free before travel.
"This is what we and others in the industry have been calling for since the summer. We want to set up pre-departure testing facilities at Dublin and Cork airports operated by third party private healthcare experts and we are working to do that. Initially, PCR testing will be offered, but the costs associated with this type of test means that it is not a sustainable long-term scalable option," he said.
Cabinet agreed this week to issue a planning exemption to the DAA to allow the Dublin Airport to facilitate Covid-19 testing on site.
Philips said "a fast, low-cost option such as an Antigen test, which is already being used in some other countries" is really the only way to get travel reopened. 
"Ireland starts at a significant disadvantage as we have lost the most, we are in a peripheral location that had previously punched above its weight, and we have the added complexity of Brexit.
"If we are slow to move on Antigen testing and maintain a more restrictive attitude to travel than other countries, then Ireland will lose out to our European competitors," said Philips.
Currently, the PCR test is the gold standard test used in Ireland. Validation of other tests is underway by health authorities.
On 29 November, the new rules kick in for those who wish to travel from or travel into Ireland.
The Department of Foreign Affairs sets government policy on travel.
The department states that if you are considering travelling outside of Ireland, it continues to advise against non-essential travel overseas, other than to countries that are part of the EU 'traffic lights' approach, where the advice is to exercise a high degree of caution – this includes Great Britain but not Northern Ireland.
- With reporting by Michelle Hennessy.