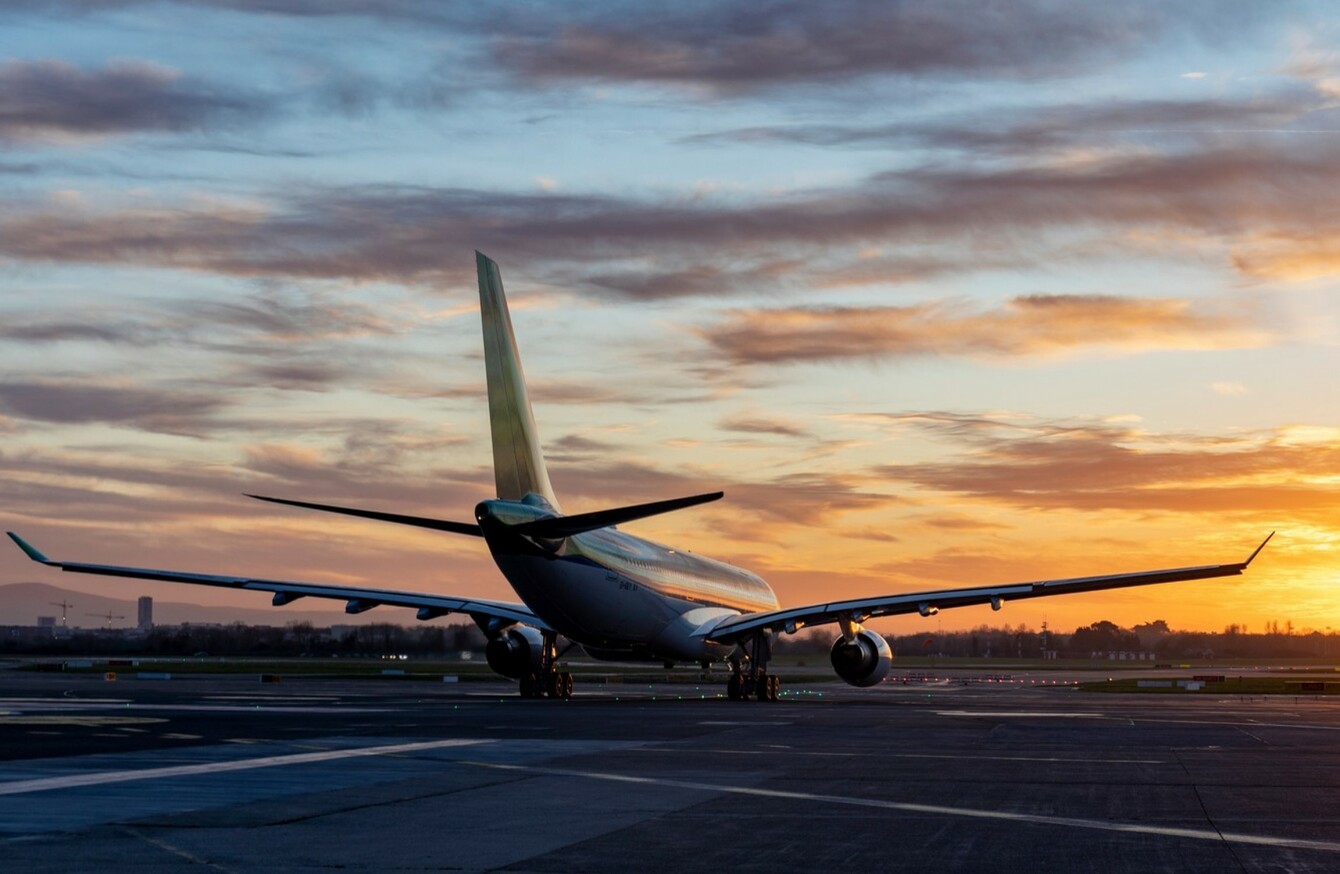 It is understood that passengers using Dublin Airport will be able to be tested pre-flight for Covid-19 after Cabinet approved a planning exemption for a privately run testing facility at the airport.
Image: Shutterstock.com
It is understood that passengers using Dublin Airport will be able to be tested pre-flight for Covid-19 after Cabinet approved a planning exemption for a privately run testing facility at the airport.
Image: Shutterstock.com
Updated Nov 11th 2020, 1:00 PM
COVID-19 TESTING CENTRES will be fully operational in Cork and Shannon Airports from tomorrow.
The two express turnaround testing facilities will provide the pre-departure tests for passengers flying out of the airports in accordance with the EU's traffic light system.
The rollout of the testing facilities comes as after it was reported yesterday that from midnight 29 November travellers arriving into Ireland from so-called 'red' regions in the EU will be allowed to move freely once they pass a PCR Covid-19 test five days following their arrival.
This provision will also be available to arrivals from orange regions who may not have availed of a pre-departure test. 
The move could have a significant impact on people travelling at Christmas as it will limit the number of days people have to spend in self-isolation once they arrive.
Transport Minister Eamon Ryan has said the government wants to make sure that any new testing system does not impede on HSE capacity.
He said the government has been engaging with the Dublin Airport which has engaged with about 20 providers that can supply Covid-19 tests.
The minister confirmed today that State airports are to establish additional private testing facilities at Dublin Airport, as well as Cork and Shannon airports.  
"This will facilitate pre-departure testing for travellers to other countries where the need arises.  It will also facilitate post-arrival tests for persons arriving from red regions who may choose to return to the airport five days after arrival to take the test.  
"Cork and Shannon Airports are expected to open facilities shortly and the facility at Dublin Airport is expected to be operational by 29 November," he said.
Testing availability
RocDoc, a private facilitator, will provide testing services to Cork and Shannon Airport, with test results available within a few hours. 
Drive thru testing, where there is no need to leave your vehicle, will be available for a standard test (LAMP) with results back the same day. This will cost €149 per test.
Express LAMP test with results back within a few hours will cost €199 per test.
A PCR test with results back in 1-3 working days at a cost of €159 is also available. 
Depending on what country passengers are travelling to, different tests, such as rapid tests, may be acceptable to the authorities in EU countries, and travellers are urged to check with the authorities in their destination country.
Currently, the only validated test recognised in Ireland is the PCR test. After someone is swabbed, the PCR test has to be sent to a lab for analysis. 
However, subject to the ongoing review of testing by NPHET and Government, only a negative PCR test result means a passenger arriving into Ireland is not expected to follow advice to restrict movements.
Testing technology and delivery options for facilitating international travel will be kept under review, said the government.
The National Virus Reference Laboratory (NVRL) is currently carrying out a validation process on LAMP testing, it is understood. If approved by the Department of Health, the new test could be incorporated into Ireland's testing regime in order to open up international travel again.
The LAMP test uses a throat and nose swab and differs from a PCR test, which is used by the HSE to detect the presence of Covid-19 at its test centres around the country. The LAMP test can be processed quickly without being sent to a laboratory.
Dublin Airport
The DAA says it has spent months working on potential pre-departure testing at airports. It is understood that passengers using Dublin Airport will be able to be tested pre-flight for Covid-19 after Cabinet approved a planning exemption for a privately run testing facility at the airport.
This will allow passengers from Ireland to travel to orange countries under the EU traffic light system, if they can bring a negative test result, and they will not have to restrict their movements for 14 days. 
Ultimately, the slow turnaround time and high cost of PCR test (the test for Covid-19 used at test centres around the country) means this method of testing
will not represent a viable, long-term testing option as traffic returns, the head of DAA Dalton Philips recently told an Oireachtas committee.
"The aim has to be to adopt testing technology that provides a rapid, affordable and scalable method of pre-departure testing.
"To truly get people moving again – and the economy firing, we will need to look at alternative options such as LAMP and Antigen testing. HIQA recently published a report which advised NPHET to consider implementing reliable rapid antigen tests to enhance
COVID-19 prevention and controls," he said.
The commencement of airport Covid testing has been welcomed by Labour Transport Spokesperson, Duncan Smith, but he said the cost of the tests could be prohibitive.
"I have concerns in relation to the cost of these Covid tests that will be provided by private operators with tests estimated to cost between €100 and €200 per test. There will be many low paid workers and essential workers abroad coming back, taking advantage of affordable flights to travel home for Christmas who may not for economic reasons be able to afford the price of these tests.
"Many of these people will not have seen their families or been home since this time last year and will succumb to the understandable pressures to return home to see their loved ones. They should not be disadvantaged because of their economic circumstances," he said.
He called on the government to temporarily subvent these tests for the period of December.
"We need compliance and personal responsibility but we also require take up of these tests and cost cannot be a barrier," he said.
Smaller airports
A number of representatives from smaller regional airports were before the Oireachtas Transport Committee this morning.
Joe Gilmore, MD, Ireland West Airport: "What we are seeking is that government would continue to work with the airports and ourselves in mapping out a common system or pre departure testing at all Irish airports in advance of the Christmas travel period."
"Like all the regional airports we have in the month of December, we'd have over 50,000 people that would use the airport. Most of those will travel from the UK market from nine destinations we serve, many those are looking to book at this stage and wondering can they return home for Christmas."
In terms of testing, like the other airports, the airport is evaluating private operators to provide on-site testing.
"We would expect to have that in place when we would restart operations in mid December."
Kerry Airport CEO John Mulherin said the airport is looking at the option of ensuring PCR testing for passengers through a local private healthcare facility at a cost that would be considered reasonable.
"We believe that offsite PCR testing one to two days prior to travel represents the best way forward for restrictions related to orange red or grey territories."
#Open journalism No news is bad news Support The Journal

Your contributions will help us continue to deliver the stories that are important to you

Support us now
He said he believes testing should be done off-site, not at the airports, but the airport will have an agreement with a private provider so details can be provided to those who need to travel this winter.
Mulherin also said he had asked for confirmation of how State aid rules would apply in relation to testing infrastructure and arrangements and he is waiting for confirmation from the government.
Speaking to RTÉ's Morning Ireland, Minister of State for European Affairs Thomas Byrne TD said "we're not encouraging people to come into the country unless they have to. So the situation hasn't really changed".
Byrne said "it's important to remember that we're still in Level 5 restrictions" and the move was a mechanism "to allow travel where that's possible".
Byrne stressed that the Government will not be providing any State capacity to provide PCR tests for arriving passengers and said he could not give any assurances that tests will be available for people travelling home for Christmas. 
"This is not about Christmas," he said. "If those tests aren't there we'll still be telling people to restrict their movements for 14 days."
He said airports are establishing centres and they should be able to fulfill the market requirements.
Chief Medical Officer Dr Tony Holohan last week warned that it is too early to say what the situation will be regarding travelling home to Ireland at Christmas as it depends on "a whole lot of factors that are simply unknowable at this time".
"International travel is not safe and movement of people around areas with high incidence of this disease, particularly in Europe and North America, is not safe," he said. 
Government sources have said that despite NPHET concerns about opening up travel, it is a government decision that Ireland align with other European countries in terms of reopening aviation and travel.
On 29 November, the new rules kick in for those who wish to travel from or travel into Ireland.
The Department of Foreign Affairs sets government policy on travel.
The department states that if you are considering travelling outside of Ireland, it continues to advise against non-essential travel overseas, other than to countries that are part of the EU 'traffic lights' approach, where the advice is to exercise a high degree of caution – this includes Great Britain but not Northern Ireland.'
Asked this morning about the risk of imported infection into Ireland through travel, Byrne said it will be vital that passengers travelling from 'red' regions are able to show a negative test result after five days or to restrict their movements for 14 days. 
"It's still a pretty strict standard," said Byrne, adding that the Government has not examined tests available on the private market. 
"We're still saying that a PCR test is the test that people will have to fulfil," he said. "This is not an open door to travel."
He said people should not travel unless they have to. Byrne added that there is no legal requirement for people to restrict their movements – however, it is legally mandatory to fill out a passenger locator form.
With reporting by Cónal Thomas and Michelle Hennessy