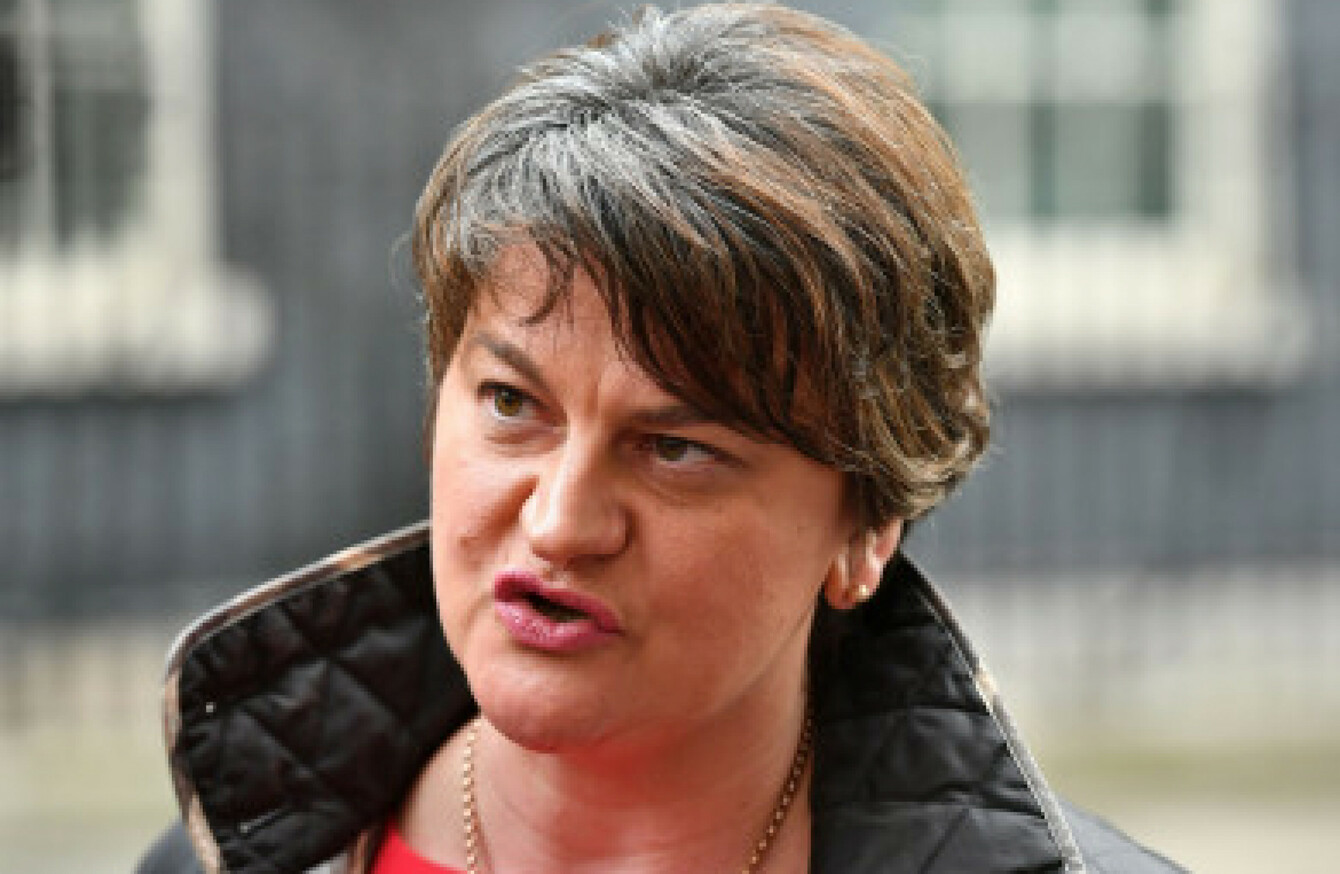 DUP leader Arlene Foster
Image: Dominic Lipinski via PA Images
DUP leader Arlene Foster
Image: Dominic Lipinski via PA Images
Updated at 6.45pm
SINN FÉIN'S leader in Northern Ireland Michelle O'Neill has said that the DUP collapsed the talks on forming a government in Northern Ireland.
Earlier today, DUP leader Arlene Foster said that the talks failed on the issue of the Irish language.
Foster said that she "respects the Irish language" but that her party cannot agree to a standalone Irish Language Act, as is sought by Sinn Féin.
Her statement was contradicted by Sinn Féin which said that an agreement had been reached but the DUP has not followed through on its commitment.
Sinn Féin wants legislation which proposes protection of Irish as a minority language, a similar standing that the Welsh language has in Wales.
It proposes giving the Irish language an official status, enables public bodies to provide a baseline level of interactions in Irish and legislating for Irish place names on road signs.
The DUP has said that any legislation must be expanded to be a more wider-ranging piece of law that would include protection for not just Irish language speakers, but Scottish Gaelic speakers and other Protestant cultures in Northern Ireland.
The issue has proven to be the main sticking point in over a year of negotiations but in the past week, it had been thought that progress has been made.
In a statement released earlier today, Foster said that no deal is possible and that the British government should take over direct rule once more in Northern Ireland.
"I have made it consistently clear that unionists will not countenance a stand-alone or free-standing Irish Language Act.  Sinn Fein's insistence on a stand-alone Irish Language Act means that we have reached an impasse," Foster said.
After the Assembly election, I embarked on an engagement exercise with those who love and cherish the Irish language.  I respect the Irish language and those who speak it but in a shared society this cannot be a one-way street.  Respect for the unionist and British identity has not been reciprocated.
"In our view, there is no current prospect of these discussions leading to an Executive being formed."
"It is now incumbent upon Her Majesty's Government to set a budget and start making policy decisions about our schools, hospitals and infrastructure.  Important decisions impacting on everyone in Northern Ireland have been sitting in limbo for too long," Foster added.
But in response to Foster's statement, Sinn Féin's leader in Northern Ireland Michelle O'Neill said that her party had a deal with the DUP over the past couple of days but that Foster's party is not following through on the agreement.
O'Neill said the agreement covered a range of issues including language rights, marriage rights and legacy inquests.
In a statement this evening, O'Neill said that Sinn Féin has, over the past 13 months, worked to restore the Executive "on the basis of respect, integrity and equality for all sections of society".
"When this latest round of talks was announced in January, I said a short, sharp and focused negotiation was required to resolve the outstanding issues of rights and equality available everywhere else in the islands," O'Neill said this evening.
"Sinn Féin engaged, we worked in good faith, we stretched ourselves. We had reached an accommodation with the leadership of the DUP," she said.
The DUP failed to close the deal. They have no collapsed this process. These issues are not going away.
Sinn Féin is now in contact with both the Irish and UK governments and will set out its considered position tomorrow, according to O'Neill.
"Whether it's today, tomorrow, one month, six months down the line, these issues have to be resolved if we want the executive restored," she told reports in Stormont this evening.
I am 100% crystal clear that we had an accommodation with the DUP across all the range of issues, we had a way forward on these issues. I think quite rightly there was a lot of expectation on this over the course of the past few days.
'Very disappointing' 
The collapse of the talks comes just two days after Taoiseach Leo Varadkar and British Prime Minister both travelled to Northern Ireland as hopes of a breakthrough grew.
Speaking tonight, Varadkar said: "I very much regret the statement from the DUP. Power-sharing and working together are the only way forward for Northern Ireland. The Tánaiste and the Secretary of State are in close contact and we will continue to confer with the British government about the next steps."
Speaking on Monday, May had said there is a "basis for an agreement" at Stormont and that a Northern Ireland Executive could be "up and running very soon".
Minister for Foreign Affairs Simon Coveney said this evening that the DUP's announcement was "very disappointing".
"As co-guarantors of the Good Friday Agreement, the UK and Irish governments have an obligation to uphold and protect the letter and spirit of that Agreement. We will need to reflect in the coming days on how best to do that," Coveney said.
Reacting to the collapse of the talks, the Alliance Party said that it was: "A sad day for the peace process and wider Northern Ireland after the DUP appeared to pull the plug on the talks."
"We were concerned as long ago as last June the two largest parties were not willing to make the compromises necessary to get devolution up and running again. Despite our best efforts to facilitate those accommodations, it appears there has been no movement since then on behalf of either the DUP or Sinn Fein, nor a willingness from them to close the gaps.," Alliance leader Naomi Long MLA said this evening.
It is now incumbent on the British and Irish Governments to come up with a way forward, because Northern Ireland has to be governed but a switch to direct rule does nothing but aid the DUP.
With reporting by Hayley Halpin