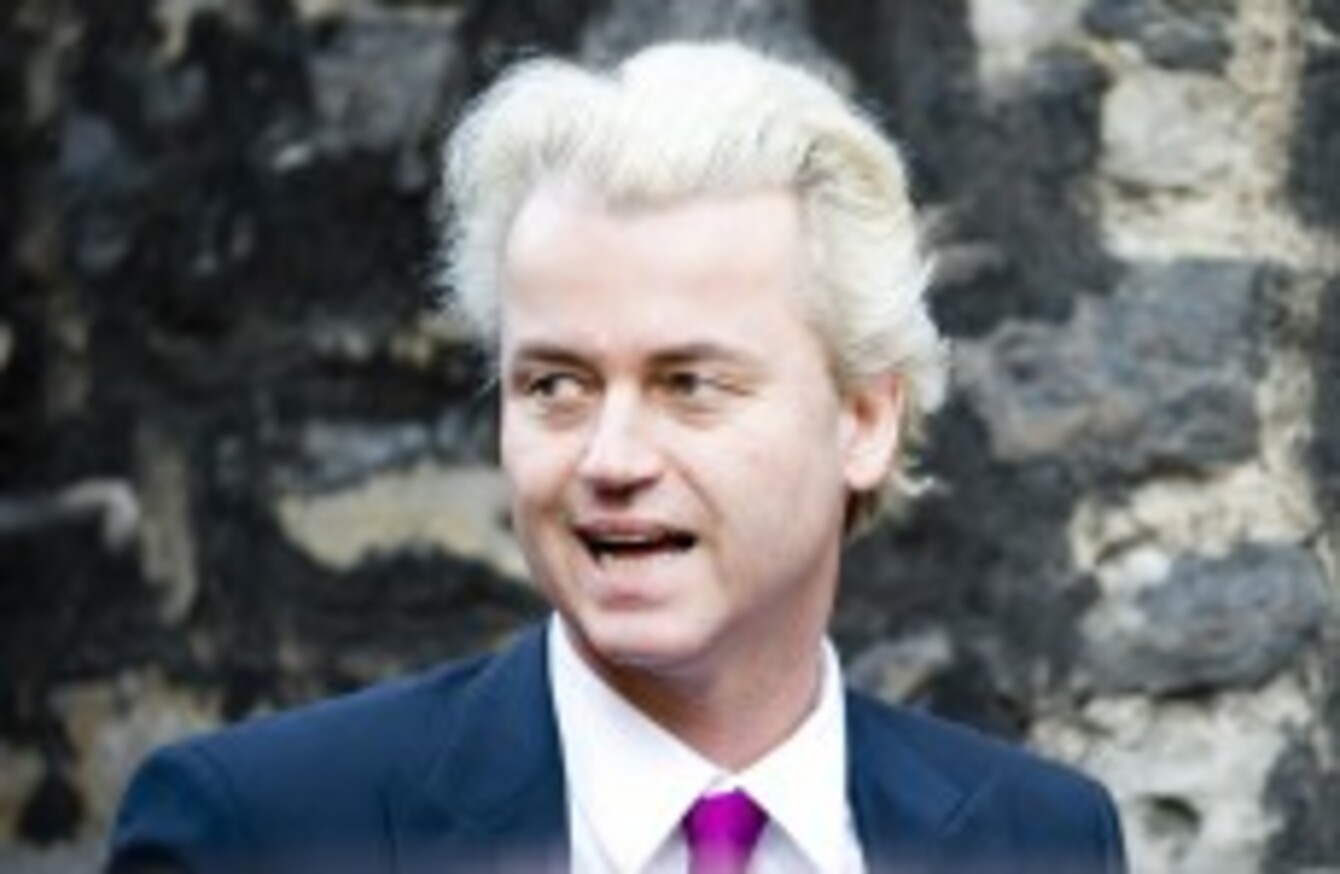 Dutch MP Geert Wilders.
Image: Matt Crossick
Dutch MP Geert Wilders.
Image: Matt Crossick
DUTCH ANTI-ISLAM politician Geert Wilders has announced plans to air cartoons of the Prophet Mohammed.
Wilders had said Friday that he would show the cartoons in the name of his Freedom Party (PVV) this morning and again on Wednesday and July 3.
However the airing of the cartoons never went ahead today. Wilders initially accused public broadcaster NPO's news, sports and current affairs arm NOS for the mix-up.
Wilders said he was making the broadcasts to defend freedom of speech after two militants were shot dead while attacking a Mohammed cartoon contest in Texas last month.
Many Muslims feel drawings of the prophet are disrespectful or outright blasphemous, and Dutch authorities have said such a move could see Wilders' right to airtime suspended for up to four years.
But a short while later, Wilders tweeted it was an apparent misunderstanding.
He said NPO board director Hagoort "assured me the video will now be broadcast at 1555 GMT on Wednesday."
The video featuring the cartoons that many Muslims may find offensive has meanwhile been posted on YouTube.
Wilders ignored 
Dutch Muslims have been steadfastly ignoring Wilders.
Even if the cartoons were broadcast, "absolutely nothing would have happened," said Aissa Zanzen, spokesman of the Council of Moroccan Mosques in The Netherlands.
"Besides, we are busy with our preparations for Ramadan, including making food," he said.
"He is simply being ignored," Zanzen told AFP.
Dutch embassies have reportedly been advised on measures to take if the cartoons are broadcast, as they could spark violent protests.
Wilders' announcement earlier this month that he wanted to show the cartoons on television prompted the Council of Moroccan Mosques in The Netherlands to release its own cartoon mocking Wilders as a spoilt child with a big mouth.
The cartoon shows Wilders shouting "fewer, fewer" in reference to his announcement last year that he would reduce the number of Moroccans in The Netherlands.
Behind the politician is the bomb that he wants to explode in Dutch society, while below the bomb and the hysterical Wilders are normal citizens, including Muslims, getting on with their lives and ignoring the bouffant-hairdoed populist.
"We're building The Netherlands further," the cartoon says.
The Dutch Media Authority provides airtime to parties to make political statements, but has said it only looks at the content of the broadcasts after they are shown.
If a judge decides that a hate crime has been committed then the authority can withdraw a party's right to airtime for up to four years.
Wilders says that he is acting in the name of freedom of speech, but also that he wants the Koran banned.
He has already been charged with hate speech for saying he would arrange for there to be fewer Moroccans in the Netherlands.
- With reporting by Michelle Hennessy.