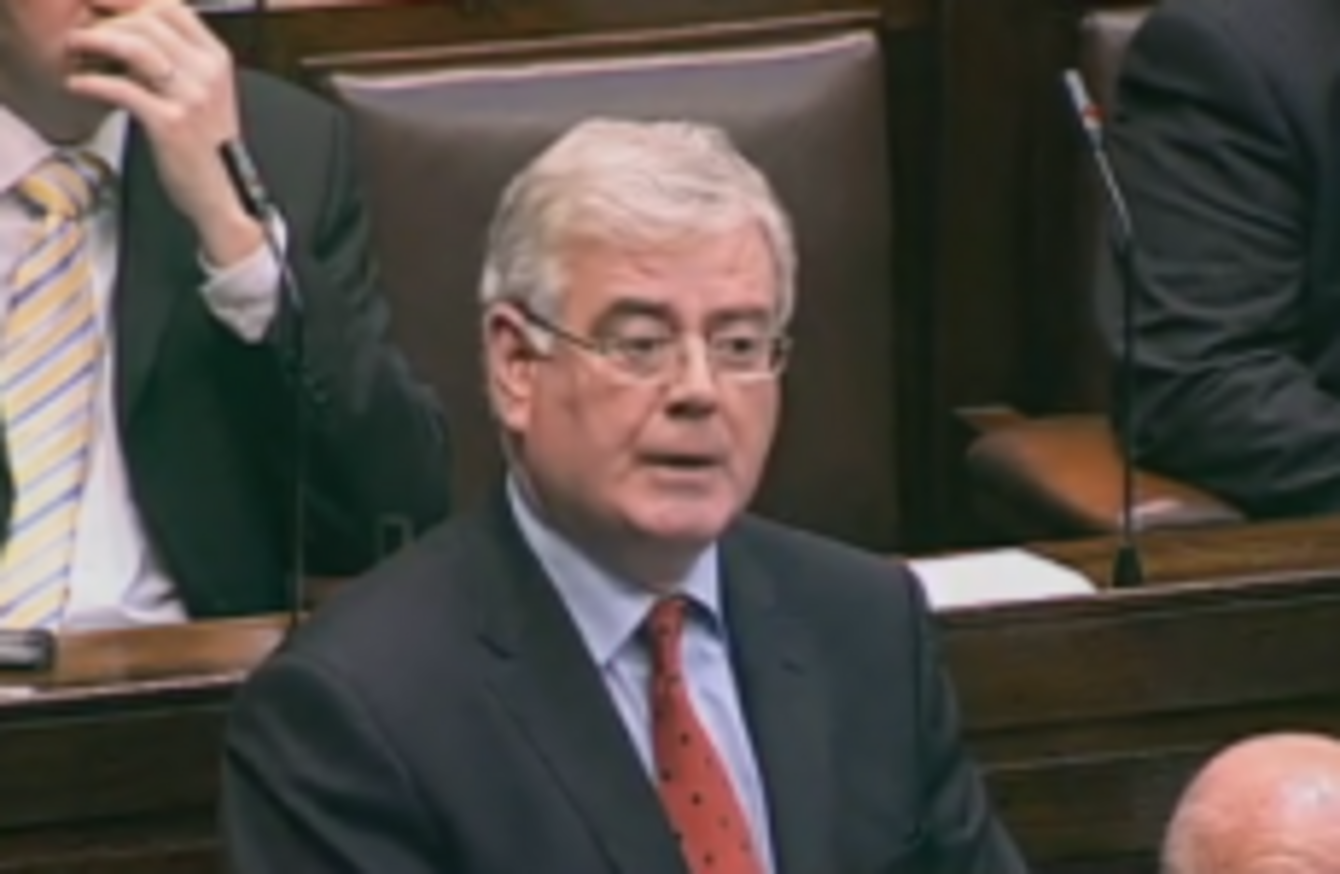 TÁNAISTE EAMON GILMORE has defended the government's decision to nominate Kevin Cardiff to the Irish vacancy at the European Court of Auditors – insisting that he is still "the government's nominee" for the job.
Yesterday the European Parliament's budget control committee voted against nominating Cardiff, the senior civil servant at the Department of Finance – and a senior figure in the events surrounding the 2008 banking collapse – to the court by 12 votes to 11.
Cardiff can still be nominated to the position – which is appointed by a plenary vote of the full parliament – but has come under opposition pressure to withdraw his candidacy after yesterday's vote.
This morning Sinn Féin's deputy president Mary Lou McGuinness called on the government to withdraw the nomination – which she said would allow Cardiff to return to Ireland to be held accountable for his role in the 2008 events.
"Yours is the government above all – and you in particular, Tánaiste – who gets very very rattled at the very prospect that a senior Civil Servant might be called to account in this Dáil.
"You say that your nominee remains the government's nominee – can I say to you directly that that is not a credbile position from a government that proposes to introduce, in the short term, swingeing cuts to people on local and middle incomes.
Independent TD Shane Ross, representing the technical group, asked whether Cardiff had nominated on merit or whether it was because the government had wanted to create a vacancy at the head of the Department of Finance.
The Tánaiste insisted, however, that Cardiff was a worthy nominee – describing him as "the most appropriate appointment" – and implied that Cardiff may not withdraw his nomination, as had been suggested.
"There has been controversy in the past, as you know, about nominees the Court of Auditors," Gilmore explained, recalling complaints in the past when "retired politicians" were put forward.
"That's why we made the decision – we did so because he was the most appropriate appointment. That decision stands, and all that is happened is the first stage of a process, which has quite some distance to go yet."
Gilmore said the rapporteur of the committee – who is understood to be recommending Cardiff's nomination – had not yet submitted her report to the plenary session of the parliament, which would have the final say.
"I understand that the nominee gave a very strong performance. There was vote taken, which does not appear – from the accounts I have received – it does not reflect the tone and content of the discussion that took place at the committee.
"As I understand it, it is something that's not unusual – that committees take a vote."
Previous Irish nominees to the court include Labour MEPs Richie Ryan and Barry Desmond, and former Fianna Fáil minister Máire Geoghegan-Quinn. The current member is Eoin O'Shea.