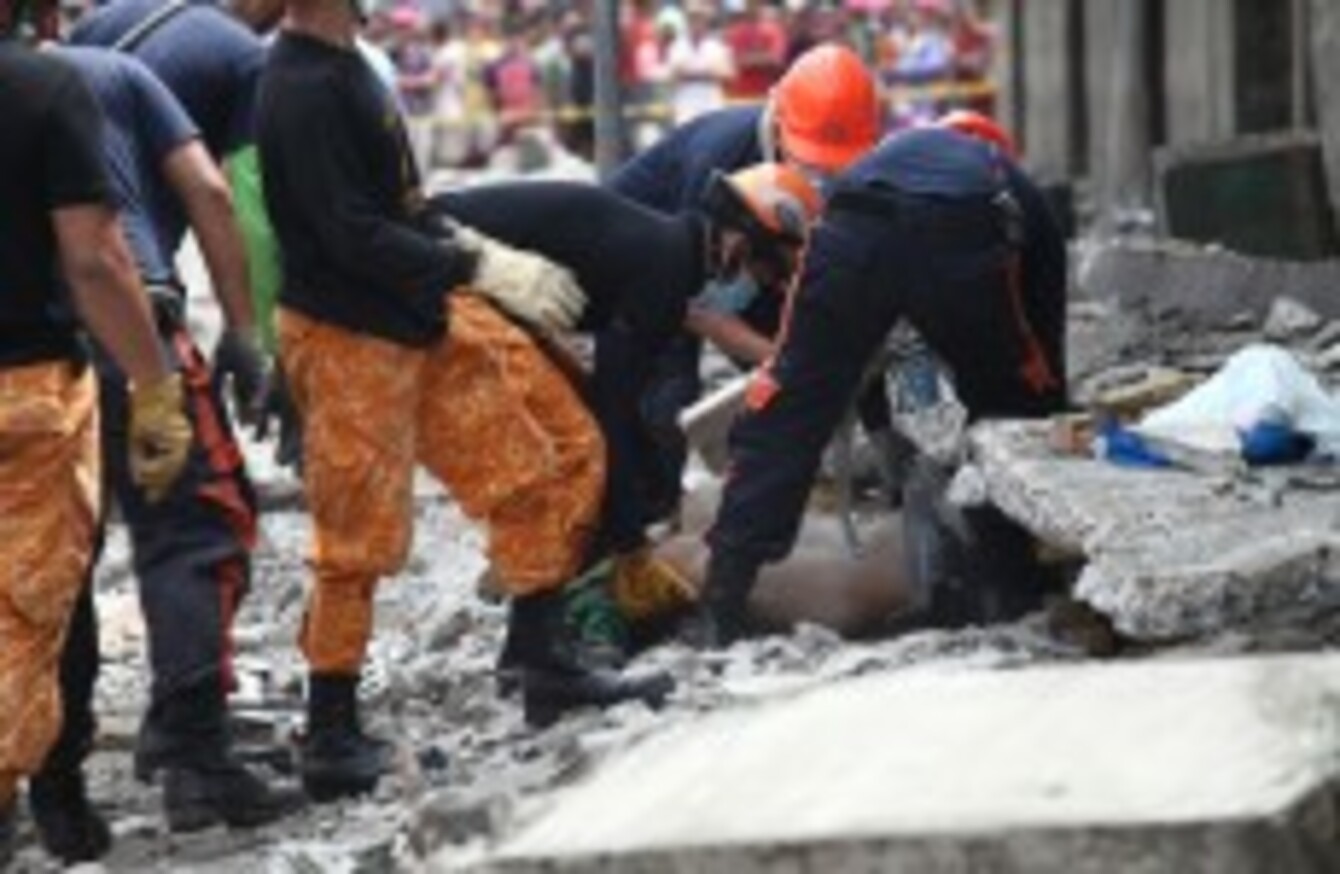 Rescuers recover an unidentified man under the rubbles at a fish port in Pasil, Cebu, central Philippines
Rescuers recover an unidentified man under the rubbles at a fish port in Pasil, Cebu, central Philippines
Updated 11.36am
A 7.2 MAGNITUDE earthquake has killed at least 85 people in central Philippines today.
The earthquake caused buildings and historic churches to topple causing terrified residents into a stampede.
Panic
Panic ensued as people spilled out on the street after the quake struck at 8.12am. It was centered about 20 miles below the town of Carmen on Bohol Island, where many buildings collapsed, roads cracked up and bridges fell.
Damage at Cebu, central Philippines. (Chester Baldicantos/PA Images)
Extensive damage
Extensive damage also hit densely populated Cebu city, across a narrow strait from Bohol, causing deaths when a building in the port and the roof of a market area collapsed.
The quake set off a stampede in a gym in Cebu where people were lining up to receive government aid program money, killing five and injuring eight others, said Neil Sanchez, provincial disaster management officer.
In another city nearby, 18 people were injured in the scramble to get out of a shaking building.
At least 16 people died in Bohol and 15 in Cebu, officials said. Scores were injured.
Rescuers recover an unidentified man under the rubbles at a fish port in Pasil, Cebu, central Philippines. (Chester Baldicantos/PA Images)
"We ran out of the building, and outside, we hugged trees because the tremors were so strong," said Vilma Yorong, a provincial government employee in Bohol.
"When the shaking stopped, I ran to the street and there I saw several injured people. Some were saying their church has collapsed," she told The Associated Press by phone.
Tsunami fears
As fear set in, Yorong and the others ran up a mountain, afraid a tsunami would follow the quake. "Minutes after the earthquake, people were pushing each other to go up the hill," she said.
But the quake was centered inland and did not cause a tsunami.
Offices and schools were closed for a national holiday — the Muslim festival of Eid al-Adha — which may have saved lives. The earthquake also was deeper below the surface than the 6.9-magnitude temblor last year in waters near Negros Island, also in the central Philippines, that killed nearly 100 people.
Aledel Cuizon said the quake that caught her in her bedroom sounded like "a huge truck that was approaching and the rumbling sound grew louder as it got closer."
She and her neighbours ran outside, where she saw concrete electric poles "swaying like coconut trees." It lasted 15-20 seconds, she said.
Evacuated
Cebu city's hospitals quickly evacuated patients in the streets, basketball courts and parks.
Cebu province, about 350 miles south of Manila, has a population of more than 2.6 million people. Cebu is the second largest city after Manila. Nearby Bohol has 1.2 million people and is popular among foreigners because of its beach and island resorts and the Chocolate Hills.
Many roads and bridges were reported damaged, but historic churches dating from the Spanish colonial period suffered the most. Among them is the country's oldest, the 16th-century Basilica of the Holy Child in Cebu, which lost its bell tower.
Filipinos stand by a damaged Basilica Del Sto Nino in Cebu, central Philippines (Chester Baldicantos/PA Images)
Nearly half of a 17th-century limestone church in Loboc town, southwest of Carmen, was reduced to rubble.
President Benigno Aquino III said he would travel to Bohol and Cebu today.
Regional military commander Roy Deveraturda said that he recalled soldiers from the holiday furlough to respond to the quake.
He said it damaged the pier in Tagbilaran, Bohol's provincial capital, and caused some cracks at Cebu's international airport but that navy ships and air force planes could use alternative ports to help out.
Passenger flights resumed later after officials checked runways and buildings for damage.