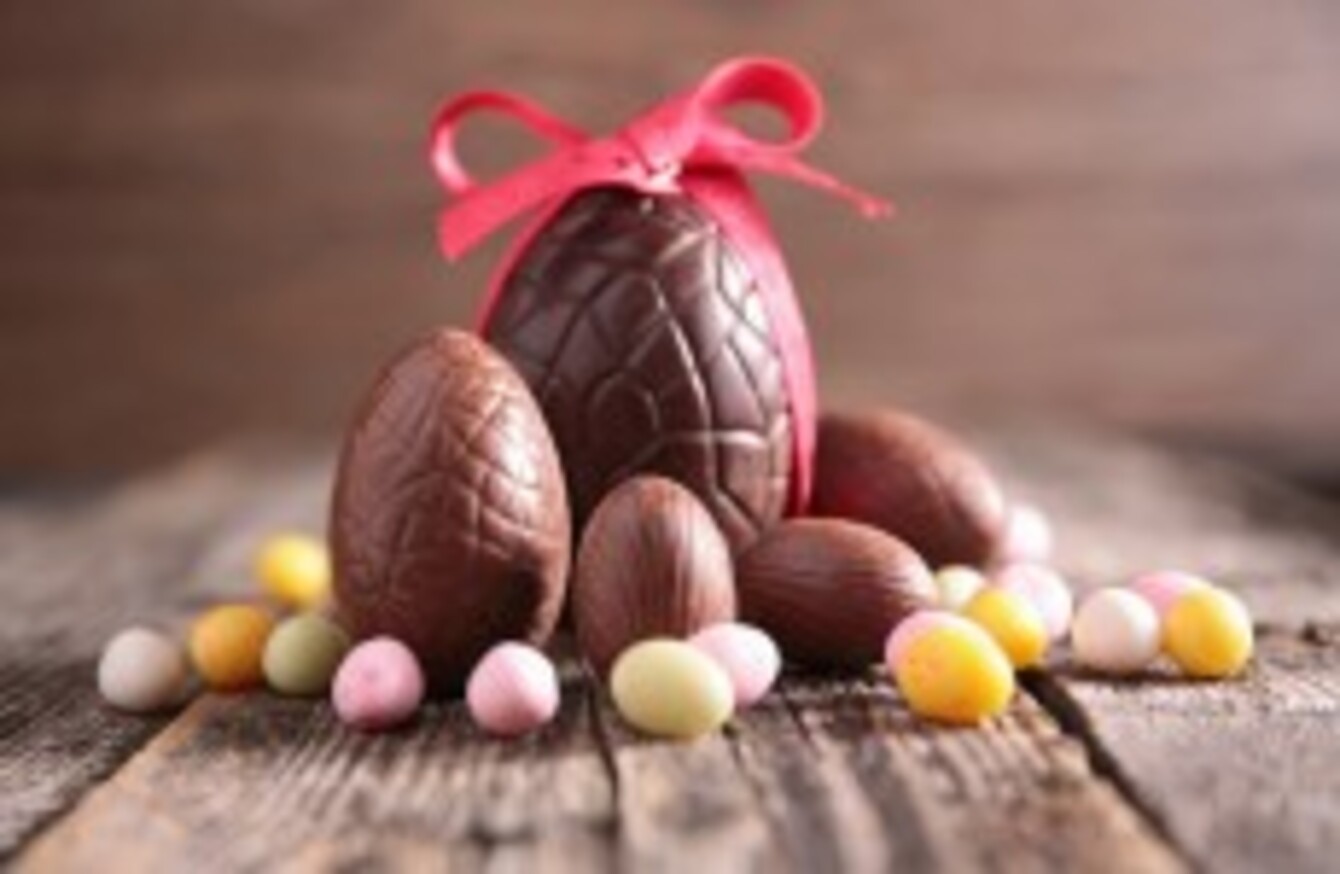 Image: Shutterstock/margouillat photo
Image: Shutterstock/margouillat photo
HOW MANY EASTER eggs are you expecting this year?
You could be in for a nice surprise. According to Repak, Irish householders will consume eight eggs this year, which is up from six in 2013.
Hey, we just have healthy appetites, alright?
It also says that we are set to chomp through 17.5 million Easter eggs this year, with sales predicted to top €36.6 million.
(And that's despite the fact that 60% of people don't bother with Lent, according to Repak.)
Why is it reminding us of our gluttony? Well, all that chocolate means a lot of cardboard packaging, and that means waste.
So Repak is asking Irish householders to recycle more this year, considering our 2,100 tonnes of chocolate is covered in tonnes of plastic and cardboard.
Irish householders generated over 19,337 tonnes in packaging last Easter (2014), the same amount of packaging as the previous year.
Seamus Clancy, Repak's Chief Executive Officer noted that we're not so bad when it comes to recycling:
"Ireland is now ranked second in Europe for packaging recycling," he said. "This is a major achievement and one that could not have happened without the funding and support of our 2,000 member companies as well as householders and other stakeholders."
We are delighted that many confectionery companies such as Cadburys, Nestle and Mars to name a few, are members of Repak and have been making continuous efforts to reduce their environmental impact by not only funding producer recycling schemes like Repak, but also by driving packaging reduction initiatives on their confectionery products.
Repak urges people to visit Repak.ie to locate their nearest recycling facility.
Recycling hints and tips from Repak
Cardboard: Compress or fold cardboard boxes flat and put into household dry recyclable bin or bring to your nearest recycling centre.
Plastics: Most Easter egg moulded plastic is PET, denoted by a triangle with the number 1 inside. This can go into most plastic bottle collection systems.
Foil: Fold the aluminium foil from Easter eggs and place in the dry recyclable household collection bin or bring it to your nearest recycling centre.
Remember to recycle any glass bottles, jars tins and cans in your local bottle/bring bank
Make Easter treats from some of the uneaten Easter chocolate, like chocolate cornflake cakes. If you do buy Easter eggs, get ones with minimal and recyclable packaging and use a reusable bag to take them home.
Recycle Easter cards in your household bin collection. Better still, instead of sending a card, reduce waste by sending your greeting by e-mail/or Text.
For Easter lunch, buy loose fruit and vegetables, rather than pre-packaged ones, and recycle all your used glass.
Don't forget to compost your fruit and vegetable peelings.