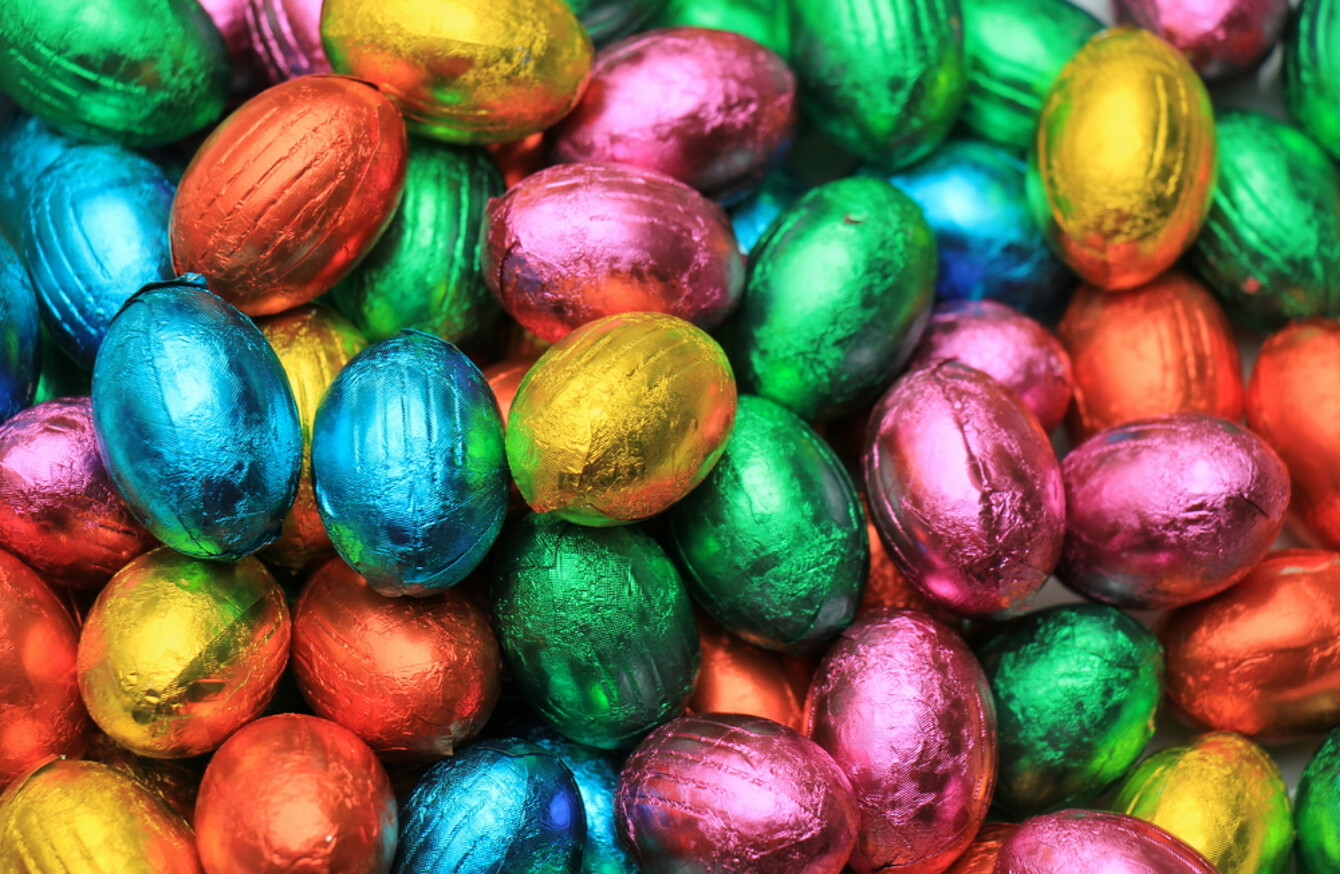 Image: Shutterstock/StudioPortoSabbia
Image: Shutterstock/StudioPortoSabbia
TODAY IS A day for treats – and there's nothing wrong with that, dietitians say, as long as the public shift their perception of what a treat is.
Easter weekend is now linked with the excessive consumption of chocolate and sugary treats, something well established as being a significant risk factor to people's health, a warning that's mostly brushed off for an occasionally binge.
A survey released earlier this week – carried out by Empathy Research on behalf of the Irish Heart Foundation (IHF) – put the scale of this issue in perspective. It estimated estimated the sugar intake of Irish children this weekend at a combined total of 460 tonnes.
If a child eats a single Easter Egg, clocking in at around 23 teaspoons of sugar, they've already exceeded their recommended maximum intake of sugar per day four times, excluding other sources of dietary sugar.
However, this doesn't mean parents should be locking their children into chocolate-proof bunkers for the weekend.
Orla Walsh, a dietitian with the Dublin Nutrition Clinic, says the recommendations of health experts on sugar shouldn't be seen as a 'bah humbug' approach.
"The problem is how much chocolate children – and adults too – consume over the Easter week," she told TheJournal.ie.
It's not a case where a child gets one small bit of chocolate, or an adult gets one Easter Egg. The average number of eggs people get is five, so it's the excessive intake.
It's not being bah humbug and saying, 'You can't have an Easter Egg'. It's just, stop eating everything in the world in excess, and that includes chocolate'.
Source: TheJournal.ie/YouTube
This is something echoed by the IHF, with its head of health promotion Janis Morrissey saying that the problem is over-consumption, "driven by the pester power and temptation overload created by excessive marketing and clever promotions directed at children".
Walsh said one tack to take with children is to shift the focus of the weekend away from chocolate and treats, "being indoors, eating to excess and being a sloth", and to make sure their time is occupied.
#Open journalism No news is bad news Support The Journal

Your contributions will help us continue to deliver the stories that are important to you

Support us now
"It's about consuming it mindfully, enjoying your chocolate, but actually spending as much time as possible outdoors, and with the family."
The government has attempted to tackle the Irish public's intake of sugar with a number of measures.
From next month, a 30c per litre tax will be levied on sweetened drinks with over eight grams of sugar per 100 milliliters.
A new voluntary codes of practice for the advertising and marketing of food and non-alcoholic drinks was also introduced by the Department of Health last month.
This aims to "moderate the exposure of the general population, and particularly children, to foods high in fat, salt and sugar".