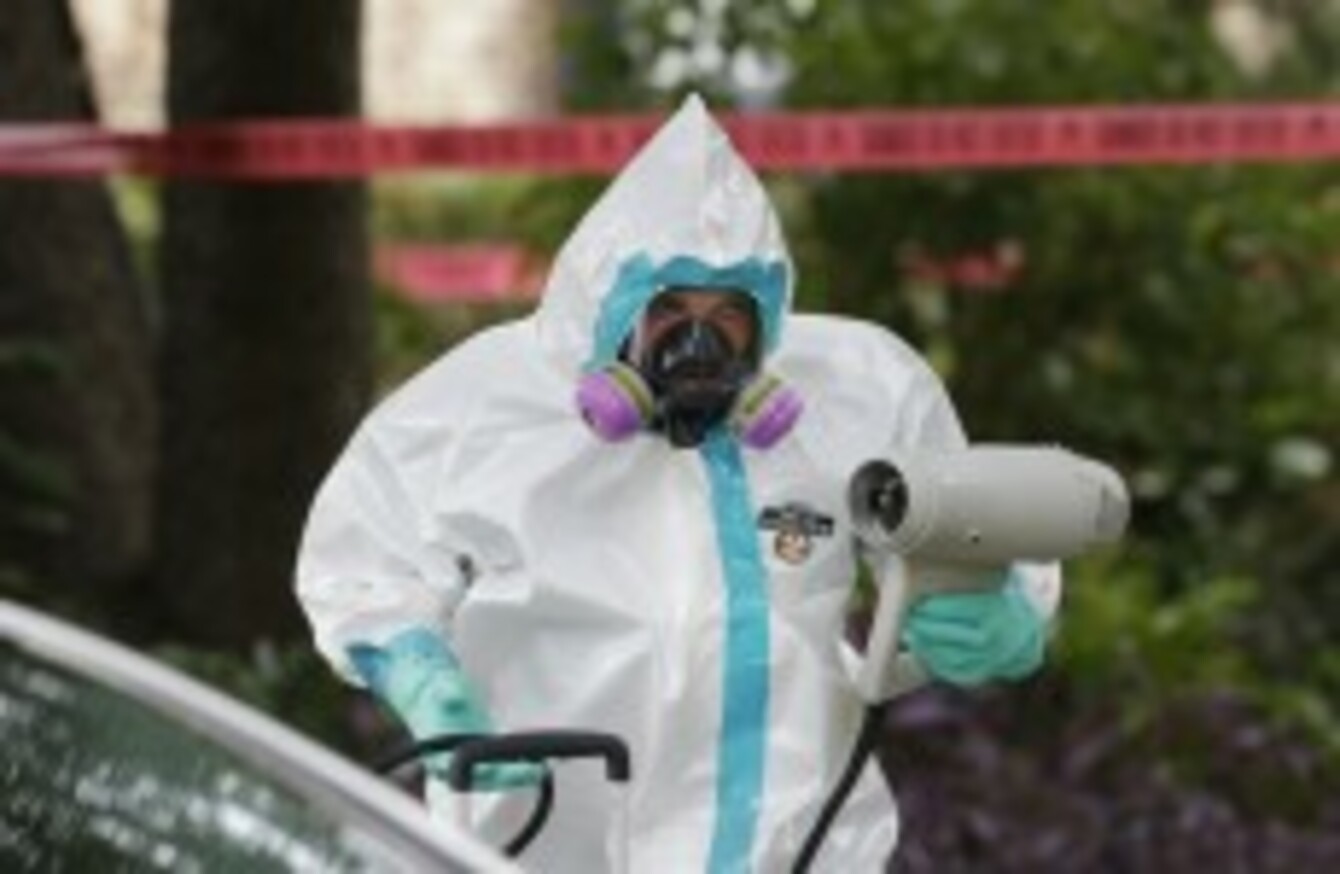 Image: AP/Press Association Images
Image: AP/Press Association Images
THE MINISTER FOR Health has conceded that Ireland could see 'one or two' cases of Ebola in its hospitals.
Leo Varadkar's view is shared by senator and doctor, Professor John Crown, who believes the country will see "a few cases" but not a Hollywood-style apocalypse.
The Health Minister appeared before the Oireachtas Health Committee this morning with a number of other top officials to outline the nation's preparedness for the disease.
They confirmed that 14 people have been tested since the outbreak in West Africa this year. All 23 tests on those individuals were returned negative.
The committee heard that Ireland is preparing for a range of scenarios that fall into two categories – the potential repatriation of an Irish citizen who has contracted the disease abroad and treating somebody who has presented to a hospital after travelling from affected regions.
Varadkar said there have been a range of meetings held with taskforces – including at ministerial level – to ensure Ireland's preparedness for a case of Ebola.
He refuted claims that Ireland has a "Third World health system", telling the committee that Liberia has 60 doctors and "no proper hospitals in its cities".
But what exactly are the HSE, HPSC and Ireland's hospitals doing to get ready?
Repatriation
On the question of bringing home any Irish citizen who becomes infected with Ebola, the Minister said each case will have to be dealt with individually.
He noted that the only reason that there are now multiple cases in Spain and Texas is because of the emergency evacuations into those areas.
…Need to bear in mind, evacuating somebody into Ireland, does bring the disease to Ireland. From a heartless, epidemiological, view, you're helping to spread the disease.
Although the Fine Gael TD added that he could not "countenance the idea of leaving an Irish citizen uncared for", he said consideration would have to be given to the treatment on the ground and whether it would "make more sense" to keep the patient there.
Ireland – along with a number of other smaller European countries – does not have the ability to transfer an Ebola patient by air because it "doesn't have a big air force like the British, French and Italians".
Foreign ministers are looking at "putting something together at European level".
Varadkar confirmed that there are 54 Irish citizens in Liberia, Sierra Leone and Guinea at the moment and all are registered and accounted for by the Department of Foreign Affairs.
He also cited NHS plans for a hospital of its own in the impacted regions and that "we can learn a lot from Spain and Texas".
What seems to happen, it's been in and around the de-gowning procedures. We wouldn't have known that two weeks ago.
Airport Screening
Ireland will be following international advice and not implementing entry screening at airports. Varadkar said there would be lots of people presenting with "coughs and colds", but not Ebola.
It remains the view, that it is far more effective to support exit screening from affected countries.
He noted that Heathrow is still the only airport screening on entry but that it has direct flights from the affected countries in west Africa.
Following a question from Senator Colm Burke, Varadkar also confirmed that Ireland's new intake of doctors for January does not include anybody from infected regions.
"They really need to stay there, actually," he told his Fine Gael colleague.
Practice Runs
Some hospitals have already started to perform practise or dry runs for Ebola patients. Varadkar says the HSE needs to check to ensure all hospitals have come in line in the near future.
The HSPC is considering putting together a team that can move into a hospital if there is a suspected case.
All hospitals have also been asked to identify an isolation bed they can use if somebody presents with ebola-like symptoms.
Professor Crown asked the experts a number of times about the number of Ebola patients Ireland could cater for at any one time.
Dr Holohan told him that hospitals would be able to "ramp up" their capacity if required, citing the swine flu epidemic as an example.
Waste
Currently, there is no company in Ireland with a licence to dispose of the waste which would build up if there was a confirmed case of Ebola.
However, talks are underway with the EPA to have this situation altered within a matter of days, according to Dr Holohan.
"It has to be handled appropriately and disposed of appropriately," he noted, adding that there are ongoing discussions about possible arrangements both in Ireland and abroad.
He was answering questions posed by Labour TD Ciara Conway who was concerned about the level of bodily fluid and waste that is created by an Ebola patient because of the "nature of the disease, vomiting and diarrhoea".
Training
Holohan emphasised to the committee a number of times that the situation is a dynamic one that is changing and advancing quickly.
He noted that in terms of training for doctors and hospital staff, if there had been courses on Ebola run "when there was no Ebola", there would have been no uptake.
It would have been challenging. There is always a point in time that it is appropriate to step up training.
Varadkar also said that some doctors – until very recently – may have been "a bit sanguine about this".
"Some are only waking up about this."
Gavin Maguire, director of the HSE's emergency planning unit, said that today's question and answer session gave politicians "a flavour of what is being done".
"We realise we have to escalate that – we are focusing on that right now," he added. "This is moving very fast. We are adapting, changing and strengthening algorithms and guidance."