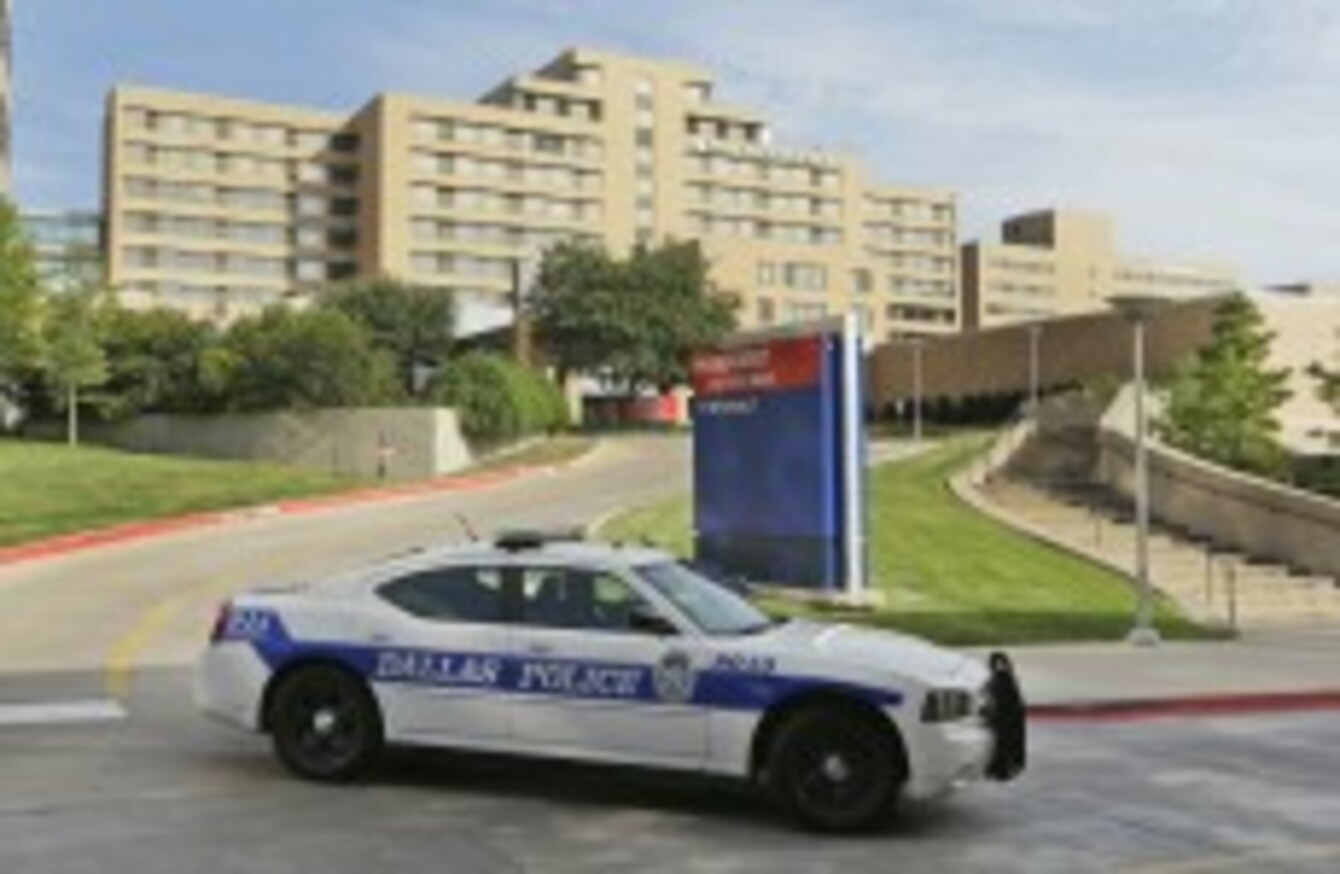 A police car drives past the entrance to the Texas Health Presbyterian Hospital in Dallas.
Image: AP/Press Association Images
A police car drives past the entrance to the Texas Health Presbyterian Hospital in Dallas.
Image: AP/Press Association Images
Updated 10pm 1 October
THE UNITED STATES diagnosed its first case of the deadly Ebola virus yesterday, a man who became infected in Liberia and travelled to Texas.
Today, it emerged that the man came in contact with young children, and experts are monitoring them for any signs of disease, governor Rick Perry said.
"Today we learned that some school-aged children have been identified as having had contact with the patient and are now being monitored at home for any signs of the disease," Perry said at a news conference.
I know that parents are being extremely concerned about that development.These children have been identified and they are being monitored and the disease cannot be transmitted before having any symptoms.
The man initially told a nurse he had traveled in Africa but was sent home anyway, raising concerns about US preparedness for the spread of the deadly virus.
His identity and nationality have not been released by health authorities. He flew from Liberia, the hardest hit nation in West Africa's deadly Ebola outbreak, to Texas to visit family.
An apparent miscommunication among hospital staff left the man in the open community and contagious for four days, and he even came in contact with schoolchildren before he was finally isolated in a hospital, officials said.
Signs and symptoms
He arrived in Texas on September 20 and did not exhibit symptoms until September 24, Centers for Disease Control and Prevention chief Tom Frieden said yesterday.
He sought medical care on the 26th, but was sent home because the medical team "felt clinically it was a low-grade common viral disease," said Mark Lester, executive vice president of Texas Health Resources.
He volunteered that he had traveled from Africa in response to the nurse operating the checklist and asking that question.
Regretfully, that information was not fully communicated throughout the full team.
He was returned via ambulance to the Texas Health Presbyterian Hospital Dallas on September 28, and was placed in strict isolation.
The patient is currently in serious but stable condition, a hospital spokeswoman said.
Symptoms of infection
The incubation period for Ebola is between two and 21 days. Patients are not contagious until they start to show signs of fever, aches, vomiting and diarrhea.
As US officials scrambled to track down people the man encountered while sick, the worldwide death toll from Ebola jumped higher, to 3,338 dead and 7,178 infected since the beginning of the year, the World Health Organization said.
Meanwhile, the United Nations announced its first suspected victim of Ebola, a Liberian man who worked for the UN mission in Liberia and died of a probable but unconfirmed Ebola infection last week.
In response to the fast-moving outbreak, the World Bank boosted its aid to the campaign by adding $170 million toward expanding the health-care workforce and buying needed supplies for care and treatment.
The new aid took to $400 million the amount the bank has put toward the fight against the spread of Ebola, which has swept quickly through Liberia, Guinea and Sierra Leone.
Hunt for cases
While health experts say the public should not panic — since Ebola is spread not through the air but only through close contact with the bodily fluids of an infected person — medical personnel are on the lookout for more cases of Ebola on US soil.
Zachary Thompson, the director of Dallas County Health and Human Services, told local media WFAA "there may be another case that is a close associate with this particular patient."
Three crew members who worked in the ambulance that transported the patient have tested negative for Ebola, but they will be monitored for 21 days, the City Of Dallas said on Twitter.
The patient was hospitalised with symptoms that were confirmed to be caused by Ebola, a Centers for Disease Control and Prevention spokesman told AFP.
The patient is the first to be diagnosed with Ebola in the United States, although a handful of US medical workers who were infected in West Africa have been flown back to the United States for treatment, and have recovered.
- © AFP 2014.