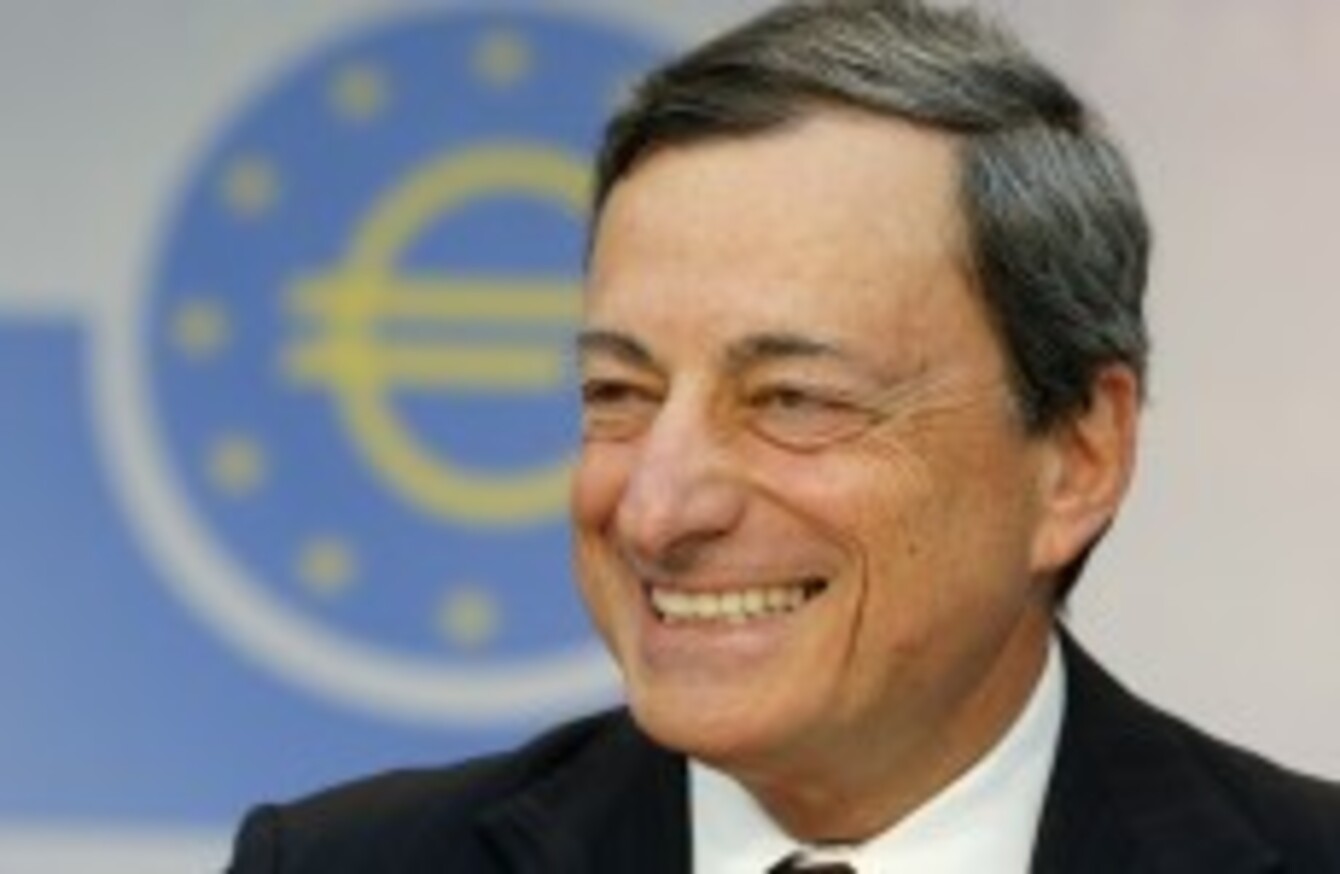 President of European Central Bank Mario Draghi
Image: Michael Probst
President of European Central Bank Mario Draghi
Image: Michael Probst
THE ECB SAYS it has 'serious concerns' with the way the IBRC is being wound up and suggests that the Central Bank should hasten the method by which it replaces the promissory note.
In it's annual report published yesterday, the ECB says that, "liquidation of the Irish Bank Resolution Corporation (IBRC) raises serious monetary financing concerns".
"These concerns could be somewhat mitigated by the disposal strategy of the Central Bank of Ireland," the report adds.
Monetary financing, the Central Bank directly funding the Government, has always been a concern among economists examining the deal, but the ECB explicitly stating in their report shows that this is now being taken seriously in Frankfurt.
Monetary financing is prohibited by the ECB who view it as having the potential to impact on price stability and lead to inflation.
As part of the liquidation of the IBRC which was agreed in a late night session of the Dáil last year, the promissory note deal was replaced by bond that the Government will repay over 34 years rather than the 7 – 8 years on a promissory note.
Although the deal mean that the amount to be repaid was larger than the €30 billion promissory note, Ireland would not have to make the scheduled €3.06 billion due every March for the next ten years.
The bond that was used to replace the deal is to be sold off by the Central Bank of Ireland at a consistent rate but the ECB's statement suggests that the Frankfurt board want this done faster.
But responding to the ECB's report, the Anglo: Not Our Debt Campaign has said that the Irish Central Bank Governor and ECB Board member Patrick Honohan should "stand up to the ECB".
"Governor Patrick Honohan should resist ECB pressure, freeze the sale of the Anglo bonds with a view to negotiating a full write-down of this odious and illegitimate debt," said Dr Marie Moran of the UCD School of Social Justice
The ECB is wrong to demand the sale of the bonds on the markets. It makes a bad situation even worse. This is because by trading the bonds internationally, we will once again put Ireland's fate in the hands of the same class of creditor that caused this crisis – and who will of course put up a serious fight if they are not paid.