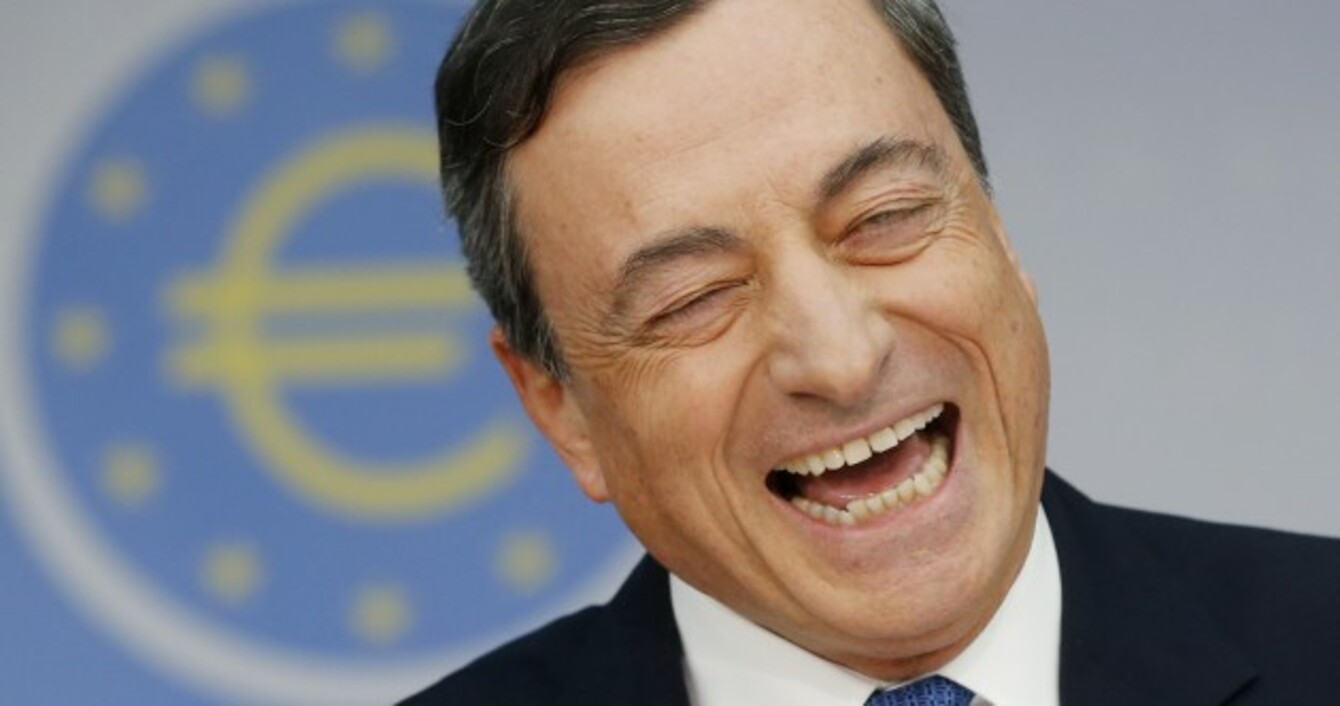 Image: Michael Probst/AP/Press Association Images
Image: Michael Probst/AP/Press Association Images
EUROPEAN CENTRAL BANK chief Mario Draghi has said the official lender won't "formally" take part in Ireland's probe into the banking sector.
The ECB president added the lender was only accountable to the European Parliament and would not be an official party to any national government's inquiry.
But he told a parliamentary committee that the ECB could possibly take part in an "informal" capacity.
"We haven't yet decided anything about that (informal participation)," he said.
Neither have we appointed a person or decided what sort of further documentation we could make available."
Draghi said the ECB had already published several documents relating to the country's 2010 entry into the troika's bailout program, including letters between former president Jean-Claude Trichet and the Irish government.
One of the infamous Trichet letters threatened that the ECB would pull emergency funding from the country if Ireland didn't agree to a bailout.
Trichet has already said he won't be appearing at the inquiry because of rules in the ECB's constitution.
Draghi's latest comments came after Fine Gael MEP Brian Hayes said an Irish bank inquiry without the ECB "would be a bit like having Hamlet without the prince".
On Friday, the chair of the Oireachtas Banking Inquiry Committee, Ciaran Lynch, told TheJournal.ie it was "critical" to work out what the ECB's position was on the inquiry and he was working on the basis both the central bank and the IMF wanted to help.
Trichet letters were not part of an "authoritarian act"
A fired-up Draghi defended his predecessor's dealings with Ireland, adding that it was important to remember that the country had taken 85% of its GDP – or about 25% of all cash backing available in the euro-system – when it agreed to the troika's bailout terms.
"This was not some sort of irrational act on the ECB side or some authoritarian act, but it was part of some overall policy dialogue between the ECB and the Irish authorities," he said.
"When you support a country with 85% liquidity, 85% of the country's GDP, and one quarter of total eurosystem liquidity, EU wanna be sure that there is no systemic threat to the stability of the entire eurosystem.
Don't you think the ECB should actually worry about that? Don't you think that the ECB has a duty towards all the other countries that are providing that liquidity? I think that's what the ECB has done."
EU treating Ireland with disdain
Sinn Féin MEP Matt Carthy said Draghi's responses showed EU institutions were treating small member countries like Ireland with disdain.
He said the ECB's refusal to formally take part in the banking inquiry was "not only disappointing (but) unacceptable" and it showed the bank's attitude hadn't changed significantly since the 2010 letters.
It also clearly exposes the real level of 'influence' that Ireland has within the EU institutions," he said.