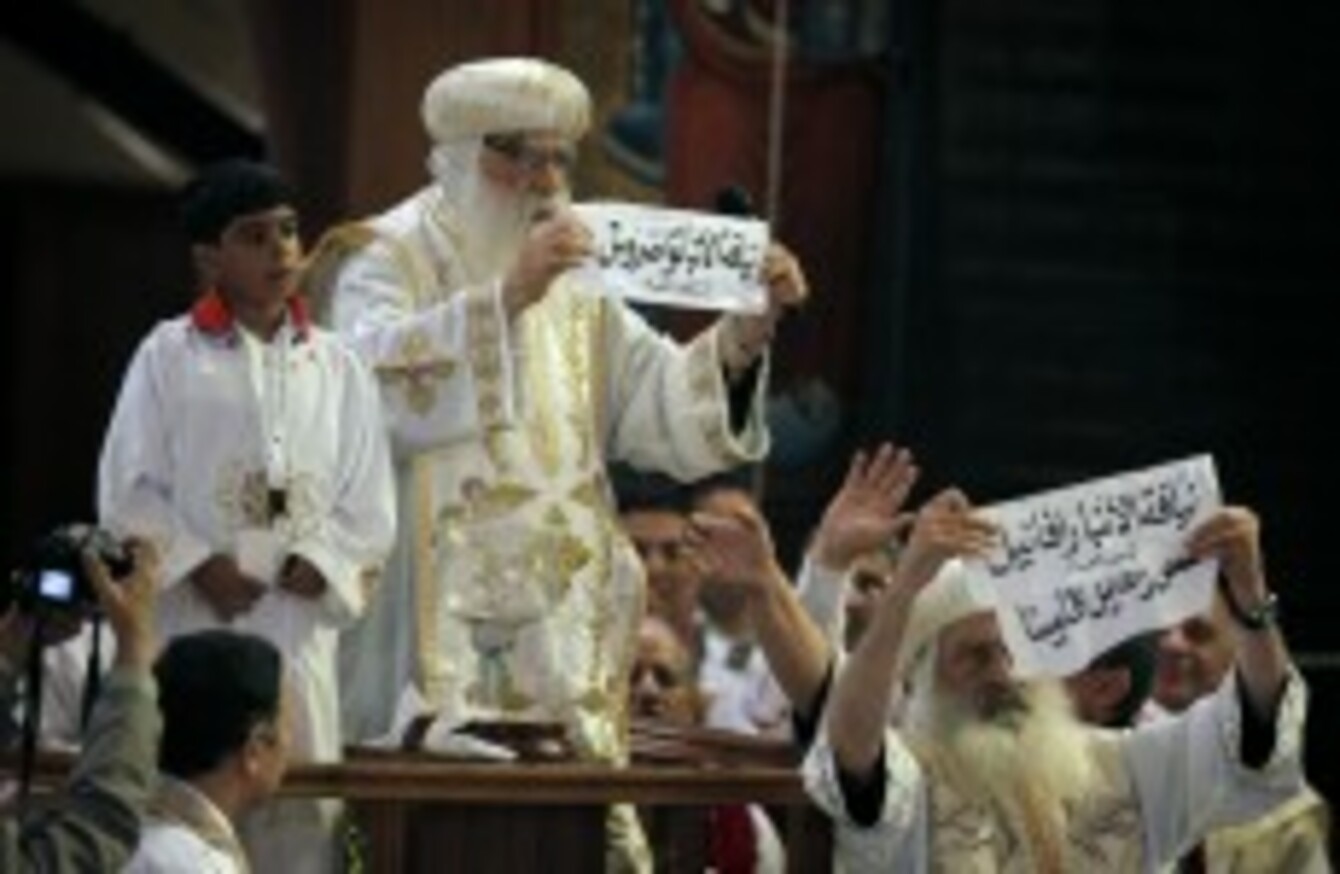 Acting Coptic Pope Pachomios, center, displays the name of 60-year-old Bishop Tawadros, soon to be Pope Tawadros II
Image: AP Photo/Nasser Nasser
Acting Coptic Pope Pachomios, center, displays the name of 60-year-old Bishop Tawadros, soon to be Pope Tawadros II
Image: AP Photo/Nasser Nasser
EGYPT'S ANCIENT COPTIC Christian church named a new pope today, chosen in an elaborate ceremony where a blindfolded boy drew the name of the next patriarch from a crystal chalice.
Bishop Tawadros will be ordained Nov. 18 as Pope Tawadros II. He will be the spiritual leader of a community that increasingly fears for its future amid the rise of Islamists to power in the aftermath of last year's uprising.
Many Copts, estimated to make up 10 per cent of the country's 83 million people, will look to Tawadros to fill a void in leadership following the death of Pope Shenouda III, who led the church for 40 years. Shenouda's death at the of 88 this year heightened the sense of insecurity felt by many who had known him as patriarch for all or most of their lives.
Discrimination
But some critics of Shenouda's papal style — to act as an intermediary for Copts with the state — hope the change will usher in a patriarch who is head of the church but not necessarily a political leader of the community.
Egypt's Coptic Christians have long complained of discrimination by the state and the country's Muslim majority. Clashes with Muslims have occasionally broken out, often sparked by church construction, land disputes or Muslim-Christian love affairs.
The prospects of a stronger role for Islamic law in legislation increase the community's concern of further marginalisation, or of curtailing their rights of worship and expression.
"We will pray that God will choose the good shepherd," acting Pope Pachomios told the packed Cairo cathedral as he sealed the chalice with three names inside with red wax before laying it on the altar during Mass.
All three senior clerics whose names were in the chalice were considered consensus candidates who stayed out of disputes both within the church and with other groups, including Islamists.
There was a moment of silence before the drawing by the blindfolded boy, an act believed to reflect God's will in the choice.
Applause, tears and prayer
Amid heavy police security around the Cairo cathedral, thousands of worshippers erupted in applause, tears and prayer when his name was announced.
"I hope the new pope will listen to the youth of our community," 20 year-old engineering student Kirolos Zakaria said.
Zakaria, like others, said he wants the Christian community in Egypt to participate more in politics, but he wants the pope to refrain from getting engaged.
Volunteering at the Mass, 27 year-old Peter Nasser said he hopes the new pope will raise the profile of Christians in Egypt.
"The situation for us in Egypt is not stable," he said. "We hope the incoming pope will make our problems known to the outside world."
Nasser said he believes that the current government, led by President Mohammed Morsi of the Islamist Muslim Brotherhood, does not work in the interest of all Egyptians and discriminates against minorities.
The Brotherhood and its leader, Mohammed Badie, congratulated the church and Tawadros in statements on Sunday.
Tawadros faces tremendous challenges as the country's transition to democracy is marred by a deep rift between increasingly politically powerful Islamist groups, from which the country's new president hails, and the liberal and secularist groups who were initially behind the revolt that ousted Mubarak last year.
At the centre of the political squabbling in Egypt is the role of Islam in the country's new constitution, currently being drafted. The Christians, along with liberal and secularists, oppose demands by Islamists to increase the role of Islamic Shariah law. The prospects of a stronger role for Islamic law in legislation increase the community's concern of further marginalization, or of curtailing of their rights of worship and expression.
Christians sceptical of promises
Morsi has named a number of Christians as advisors and vowed to work closely with the community, but Christians are sceptical. Late Saturday, Pachomios said during a popular TV program on the private station al-Nahar that Christians have never held senior state posts or leading positions such as university deans in Egypt's modern history. He also insisted there be no clause in the constitution allowing state monitoring of the church's finances, a demand often made by Islamists.
Sunday's papal election comes during a shift in Christian attitudes toward their relation to the state. For years, Christians largely relied on the church to secure protection for their rights, using former Pope Shenouda's close relationship with authoritarian President Hosni Mubarak.
But even with that relationship, Copts continued to face attacks from radical Islamists, and local disputes with their neighbors sometimes flared into deadly violence. Rights groups say Mubarak's police were lax in pursuing and punishing offenders. Few Copts were named to genuinely powerful posts in government.
On New Year's Eve 2011, the bombing of a Mass in Alexandria killed 21 people — the worst attack against Copts in at least a decade. No suspects are currently in custody in relation to the attack.
In October 2011, after Mubarak's ouster, soldiers drove armored vehicles into a crowd in Cairo protesting the country's transitional military rulers' failure to protect Copts. Twenty-six people, mostly Copts, were killed.
Despite or perhaps because of the Copts' uneasy status, Shenouda had longstanding critics within the community who asked why a cleric should act as an intermediary between them and the state. Others said that he was too close to the former regime and did not take strong enough stances. Following the uprising and the pope's death, more Copts, particularly the youth, have been emboldened to act outside the church to independently demand rights, better representation and freedom of worship.
According to Egypt's state-run MENA news agency, the new pope was born Wagih Sahby Baqi Soleiman. He is a former pharmacist who graduated with a bachelor's degree in 1975 from the main university in Egypt's northern coastal city of Alexandria before studying in England in 1985. He briefly managed a government-run pharmaceutical lab in Egypt until he went to a monastery in Wadi Natrun in 1986 where he studied religion for two years. He was ordained a priest in 1989.
Former aide
Tawadros, whom MENA reported turned 60 the same day his name was selected to become Egypt's new pope, was formerly an aide to the acting pope.
The process of electing a new pope began weeks ago, when a committee from the church narrowed the list of potential candidates from 17 down to five monks and bishops. On Monday, about 2,400 clergymen and church notables drew up a short list of three that also included Bishop Raphael, 54, once an aide to the late Pope Shenouda, and Father Raphael Ava Mina, the oldest among them at 70, a monk in a monastery near Alexandria and a student of the pope who preceded Shenouda.
MENA reported that Tawadros received more than 1,600 votes in Monday's shortlist voting.
None of the candidates attended the ceremony, and are instead praying in their respective monasteries. MENA says church leaders will head to Tawadros's retreat in the monastery complex of Wadi Natrun northeast of Cairo to congratulate him.