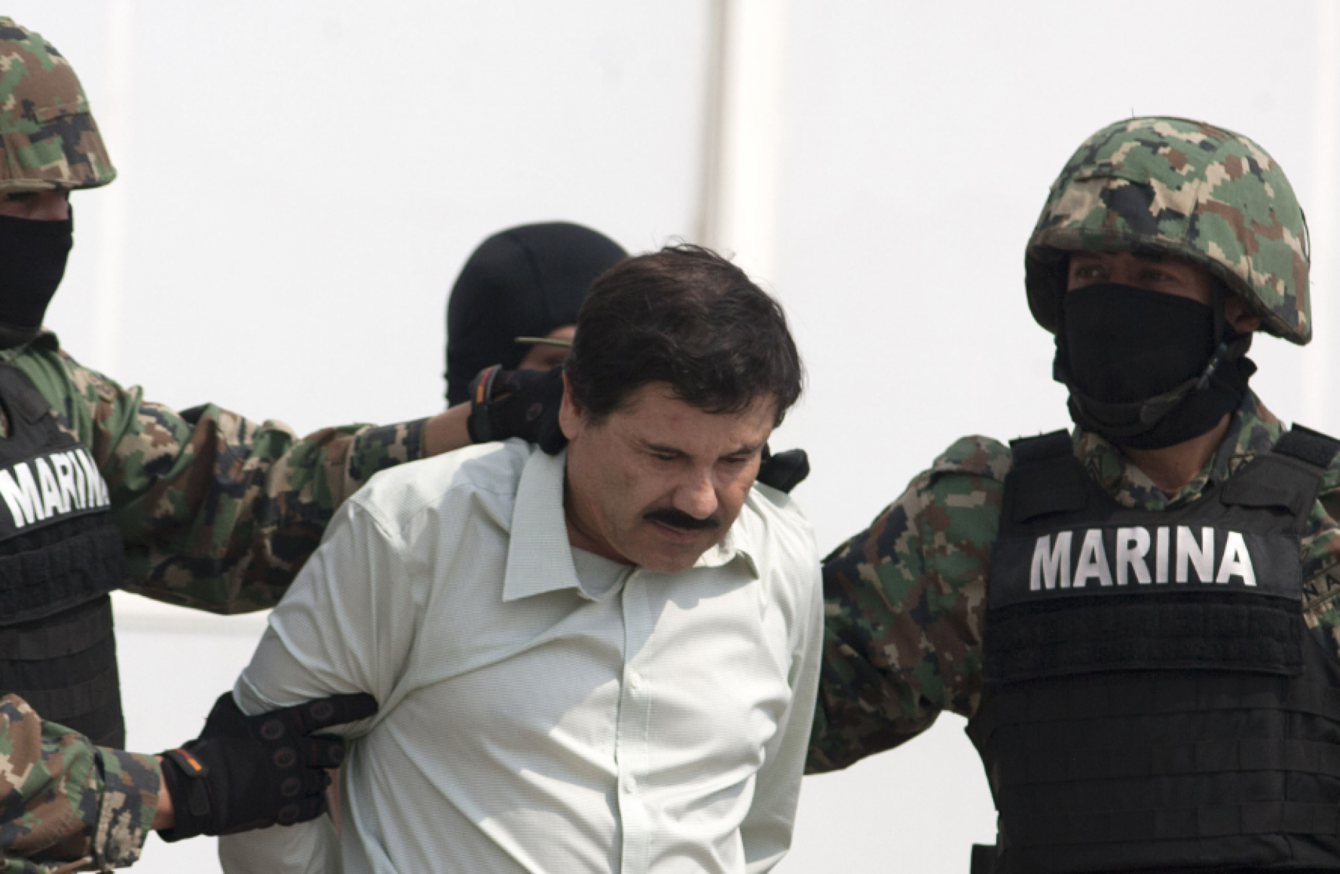 Joaquin 'El Chapo' Guzman being escorted by Mexican Marines in 2014.
Image: Antonio Nava/Prensa Internacional/Zuma Press/PA Images
Joaquin 'El Chapo' Guzman being escorted by Mexican Marines in 2014.
Image: Antonio Nava/Prensa Internacional/Zuma Press/PA Images
Updated Nov 14th 2018, 10:22 PM
DRUG BARON JOAQUIN "El Chapo" Guzman co-headed the Sinaloa cartel, a drug trafficker turned cooperating witness told his US trial on Wednesday, skewering defense claims that the defendant is little more than a scapegoat.
Jesus "El Rey" Zambada, brother of still-at-large co-defendant Ismael "El Mayo" Zambada, was one of the first witnesses to take the stand after the defence and prosecution delivered opening statements in the Brooklyn federal court trial.
The 57-year-old testified that he was a sub-leader in the Sinaloa cartel from 1992 until his arrest in 2008, was its main leader in Mexico City and that he established a system to track payments from US clients.
Undercutting the defense argument that the real culprit is the absent co-defendant and a brother of the informant, Zambada told the second day of the trial that the cartel was indeed co-headed by his brother and Guzman.
He called Guzman "one of the most important drug traffickers in Mexico."
Asked by the US prosecution who was boss of the cartel, Zambada replied "mainly" Guzman and his brother.
The 61-year-old defendant, neatly dressed in a suit, looked and listened attentively, once taking notes and passing them to his lawyer.
Guzman, considered the world's largest drug trafficker since the death of Colombia's Pablo Escobar, is on trial in New York under draconian security arrangements after twice escaping from prison in Mexico. 
He faces 11 trafficking, firearms and money laundering charges that will likely see him incarcerated for the rest of his life in a maximum security US prison if he is convicted.
He is accused of leading the Sinaloa cartel, turning it into the world's largest criminal group and of smuggling enough cocaine "for 328 million lines" — equivalent to more than one per every person in the United States.
"I was part of the cartel, I was the leader in Mexico City," testified the informant, confirming that a "government group" was bribed in exchange for "protection." 
"The truth is he (Guzman) controlled nothing, Mayo Zambada did," Jeffrey Lichtman told the US federal court in an opening statement in Brooklyn.
Zambada, he alleged, bribed everybody, "including the very top, the current president of Mexico and the former", he added in reference to Mexico's outgoing President Enrique Pena Nieto and his predecessor, Felipe Calderon.
Gold-plated AK-47 
Guzman, who has been held in solitary confinement for nearly two years, is a "scapegoat", Lichtman added.
Why does the Mexican government need a scapegoat? Because they're making too much money being bribed by the leaders of drug cartels.
Prosecutors say that from 1989 to 2014 the Sinaloa cartel smuggled 340,892 pounds (154,626 kg) of cocaine into the United States, as well as heroin, methamphetamine and marijuana, raking in $14 billion (€12.4 billion).
"Money, drugs, murder; a vast global narcotics trafficking organisation. That is what this trial is about and that is what the evidence in this case will prove," Assistant US Attorney Adam Fels told the court.
Guzman, he alleged in his opening statements, had his "own private army" of hundreds of armed men, as well as his own diamond-encrusted pistol branded with his initials and a gold-plated AK-47.
US prosecutors have spent years accumulating more than 300,000 pages and at least 117,000 recordings in evidence against Guzman.
They contend that he ordered or committed at least 33 homicides.
"You'll see how Guzman pulls the trigger," Fels told jurors. "He was indeed the boss of his organisation."
'Mythical figure' 
Prosecutors promised to lay out "this global narco empire in his own words", from text messages and letters, and from witnesses detailing how he would receive $10 million (€8.8 million) from a single shipment of cocaine.
More than a dozen of those who are expected to testify are in witness protection programmes or already in jail.
The defence sought to undercut the government's cooperating witnesses, saying that they were murderers who would "make your skin crawl".
"Why are they willing to infect this country with these degenerates?" Lichtman hectored.
Because El Chapo is the biggest prize this prosecution has ever dreamed of. He's a mythical figure.
Guzman twice escaped from prison in Mexico, once hidden in a laundry cart and the second time slipping down a tunnel that reached his prison shower.
In New York, he has been held in solitary confinement since January 2017.
His beauty queen wife, Emma Coronel, with whom he has been banned from having any direct contact or communication, attended court.
Defence opening statements are set to continue today.
Comments are closed due to ongoing legal proceedings.