Image: Leon Farrell Photocall Ireland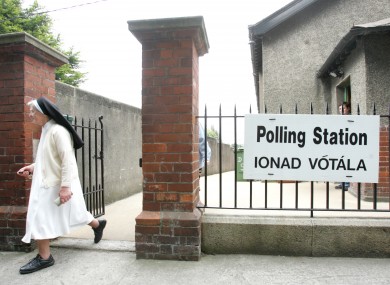 Image: Leon Farrell Photocall Ireland
POLLS OPEN IN 30 minutes for local and European elections nationwide and in the two by-elections in Dublin West and Longford-Westmeath. They will close at 10.00 pm tonight.
More than three million people are eligible to vote in today's election and voters will be given two colour coded ballot papers when they go into their booth. The yellow ballot paper will have the candidates up for election in a voter's local area while the white ballot paper will show those in their European constituency.
Those in the two by-election areas will get a third green paper for the Dáil vote.
If you're registered to vote you won't need your polling card at your local polling station but you may be asked to produce some identification before you are given your ballot paper.
There's a range of different documents that are acceptable including a passport of driving licence. The Public Services Card which was introduced since the last election is also now allowed as a form of identification. 
In fact, the Department of the Environment even says that even a cheque book or marriage cert which validates  person's home address to get your your ballot paper. Providing of course it matches with what's on the electoral register.
The counting of the votes will begin in the local elections from 9.00 am tomorrow morning with counting in the European's to take place from exactly 24 hours later on Sunday. A directive from Brussels has asked member states to refrain from declaring any European results until Sunday night until elections have finished in all the 28 EU nations.
The above chart from the European Parliament Information Office in Ireland shows that 43.8 per cent of the electorate didn't vote five years ago. The pie chart may be slightly confusing as the numbers for the parties are the percentages they received in the national poll, i.e. of the people who actually voted.
Among the many politician who've been encouraging people to vote is Taoiseach Enda Kenny who said yesterday that these local elections are different from the last.
My message is very clear here, these are different elections. The local councils who are being elected here are going to have to make decisions that their predecessors didn't have to make, they're going to have to manages the affairs of the local municipal areas make decisions in relation to property charges, commercial rates and local enterprise offices.
If you're not sure if you are on the electoral register or know you are but aren't quite sure where to go to cast you preference, enter your name and address on the Check the Register website and it'll give you the necessary details.