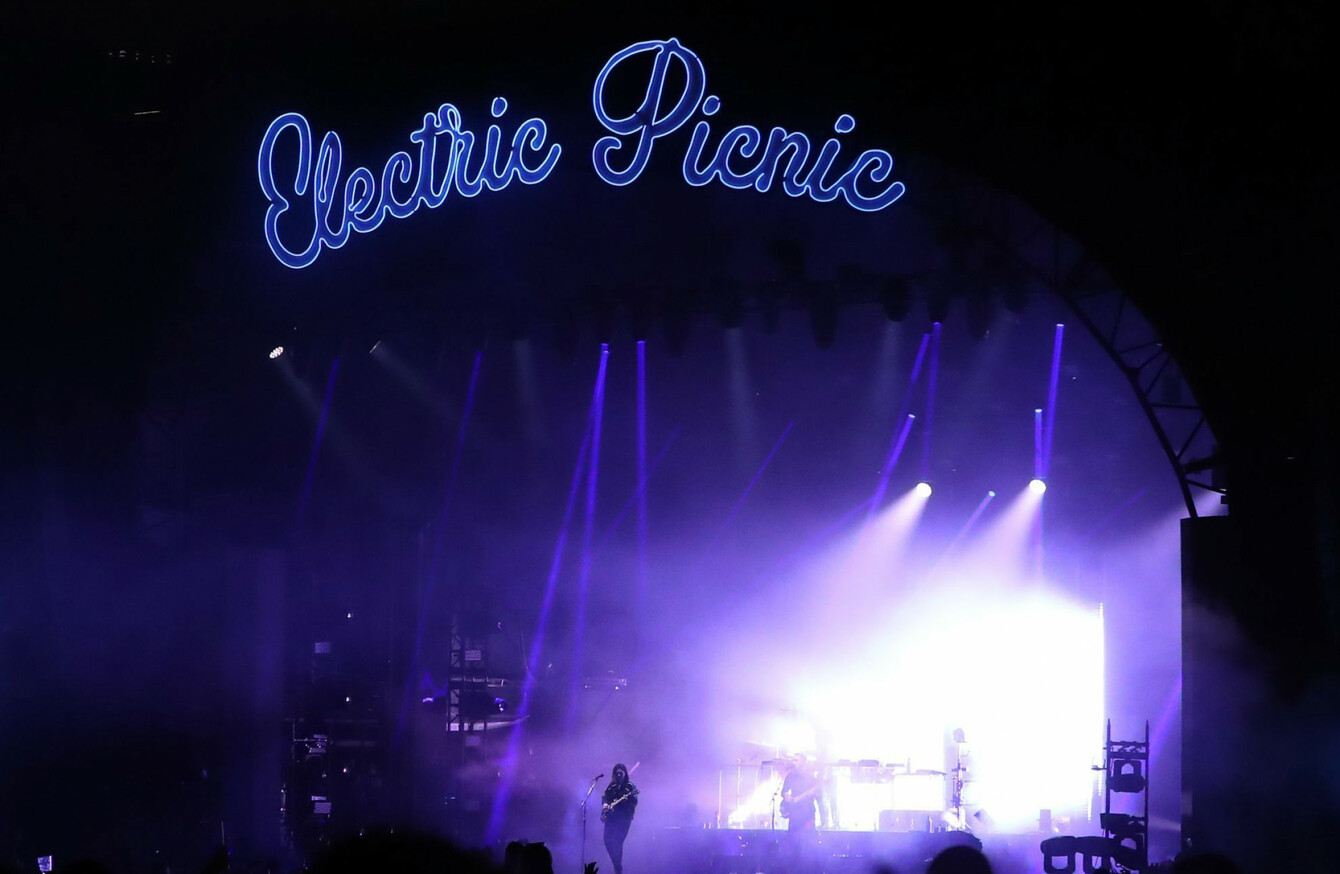 Image: Niall Carson via PA Images
Image: Niall Carson via PA Images
MORE THAN 50,000 festival-goers are attending Electric Picnic this weekend – and some 55 volunteers from the Ana Liffey Drug Project are working to provide drug outreach and harm reduction services to those present. 
Last year, for the first time at the festival, nine volunteers from the NGO manned an information stall and worked in the festival's welfare tent.
But this year, the much-larger team is staffing the eviction tent and providing outreach services in multiple campsites in addition to maintaining a presence in the welfare tent, which is located in the Jimi Hendrix campsite.
Speaking to TheJournal.ie this afternoon, Ana Liffey's CEO Tony Duffin said the volunteers have also been out engaging with festival-goers proactively to discuss drug use over the weekend. 
"We're working on outreach into the campsite, engaging with people proactively about drug use, about the fact that it's safer not to use drugs at all, but if you are going to use then we provide harm reduction advice to keep people as safe as possible," he said.
Between 8.30am yesterday morning and 8am this morning, 46 people presented to the welfare tent, according to Duffin. Of those who presented, 24 were male and 22 were female. 
The majority were aged between 18 and 21 and the busiest time experienced by the volunteers so far has been between 3am and 9am. 
In terms of the substances being ingested, Duffin said MDMA, cocaine and LSD were the most common. 
Excessive consumption of alcohol has also been a major issue. 
"I guess as a split, the men were accessing [the welfare tent] about their drug use and, broadly speaking, women were … accessing about alcohol use, excessive alcohol use," Duffin said. 
Want for information
To be clear – Ana Liffey's mantra is that the safest approach is simply not to take drugs. But if you're going to take them, the project's goal is to help people "make informed decisions and receive the best support and advice they can possibly get".
And so, it hasn't just been people who were in need of support after taking drugs who have been attending the tent.
Many festival-goers, Duffin said, have been coming to the tent to seek out advice before consuming drugs.
"We're trying to attract people into the tent for that kind of thing. We'll talk to them outside the tent, we have posters up and such and [we] try to make it interesting for people to come and talk to us," he siad. 
People come and ask us about MDMA, LSD and cocaine and things. We have evidence-based research and posters and information for them. We talk with them and give them the best advice we can. 
"Ultimately, it's their decision, but we're trying to explain the risks to people about what they are taking." 
#Open journalism No news is bad news Support The Journal

Your contributions will help us continue to deliver the stories that are important to you

Support us now
 Garda presence 
Gardaí, as always, are maintaining a presence at the festival and have publicly warned people attending big concerts this summer that there will be a 'no tolerance' policy towards drugs.
Duffin has previously said that the reality was that there are no drug-free festivals – and that, while the best advice was not to take illicit or illegal drugs, it was important for everyone to work together to reduce the potential for harm.
"Of course, the gardaí are doing their job. There's no tolerance of drugs here … and they are trying to keep drugs out of the festival," Duffin said today. 
"People are taking drugs, we know that, and we're engaging with people. It's a law enforcement and public health approach to the public. That's not unusual, that's absolutely normal," he said. 
Ana Liffey has produced the following checklist guide:
Do not purchase from a supplier you do not know. Remember – dealers at festivals do not know you and may never see you again.
Do not use drugs alone. Remember – stay with your friends and do not leave anybody who is intoxicated on their own.
Start with a tester dose. Remember – nobody can advise you on what is a safe dose of illicit or unknown drugs.
Take breaks, get enough sleep, eat well and rehydrate. Remember you can take steps to ensure your own physical and mental wellbeing.
Don't mix your drugs. Remember – alcohol and illicit or unknown drugs can mix to cause overdose and other adverse effects.
"This is a festival, people are having a good time, they're very much enjoying themselves. It's sunny down here and what we want is that people have a good time, that they are safe and that they go home alive and well," Duffin said.
This year's Electric Picnic began yesterday and runs until tomorrow night. Headliners include Kendrick Lamar, Massive Attack and The Prodigy.