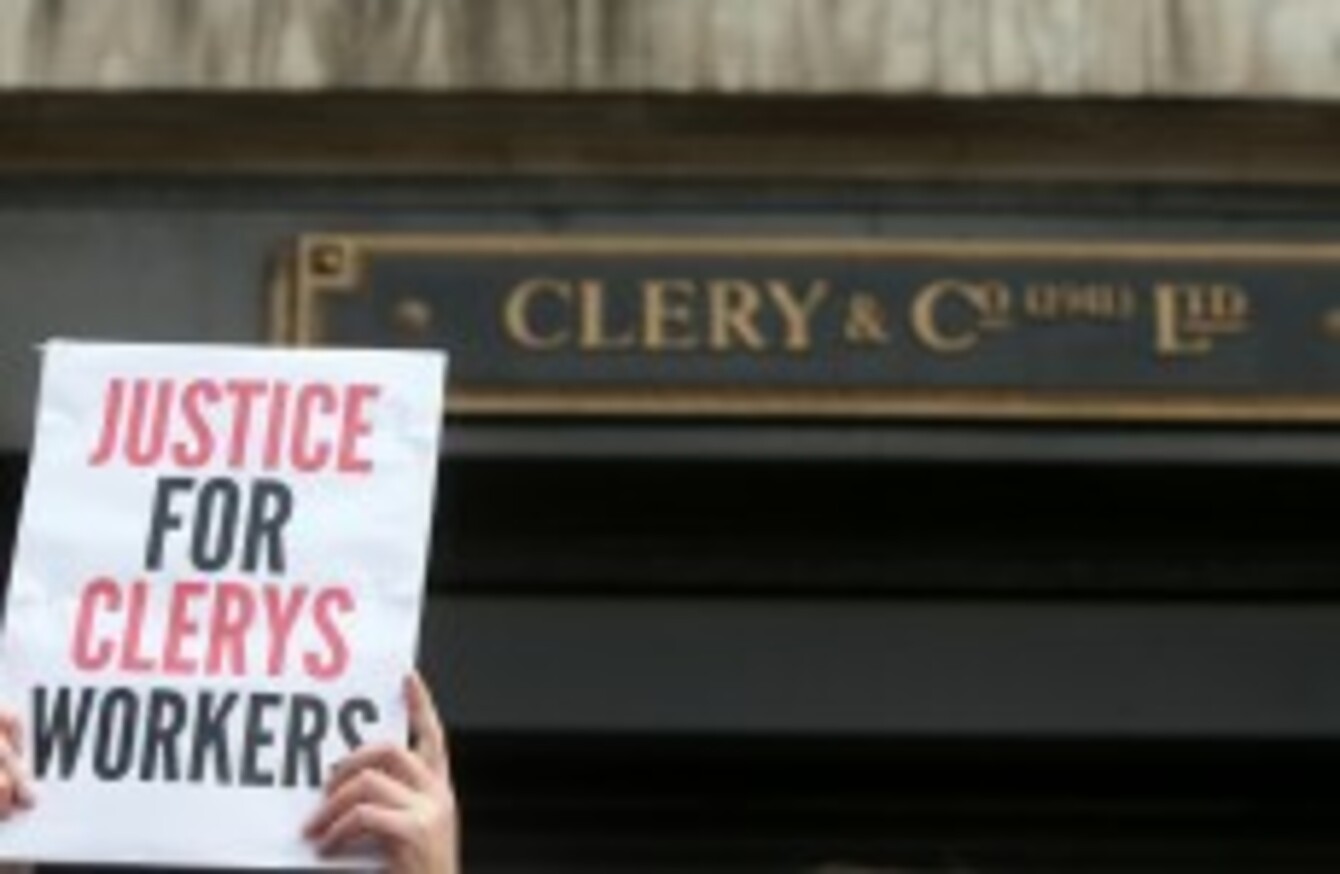 Image: /Photocall Ireland
Image: /Photocall Ireland
THE DEMISE OF the Celtic Tiger has affected a huge amount of peoples' lives in Ireland, something the recent sale and liquidation of Clerys in Dublin serves as a harsh reminder of.
The list of well known companies going to the wall keeps on being added to in Ireland: Vita Cortex, La Senza, Paris Bakery, HMV (since brought back from the dead by restructuring specialists Hilco Capital), Game, and now Clerys.
All household names. All gone.
The circumstances in all these cases are strikingly similar – in every instance the actual blow is delivered out of the blue, with staff left to pick up the pieces.
But what's it like to go through a liquidation?
"It's absolutely devastating," Tara Keane told TheJournal.ie.
Tara worked for lingerie store La Senza when it was liquidated suddenly by KPMG (the same firm behind the winding up of both IBRC and Clerys incidentally) in 2012.
"For us, we weren't even told until after it had happened, we got a phone call from England to tell us, so there was no face to face at all," she says.
We had a sit in that lasted a week in January, but in the end we just got our statutory entitlements.
That's a double kick in the teeth really because the liquidators just end up claiming statutory redundancy back from the government anyway, so in effect you're funding your own redundancy.
It was ever thus. Liquidations are not a phenomenon confined to just the post-Tiger years.
Eddie O'Carroll went through the Bell Lines liquidation of 1997 as an employee.
The Dutch shipping company was wound up in the High Court in July of that year, with the company citing "Waterford terminal failures" and "channel tunnel competition" as the reasons for their demise.
"At the time no-one in Ireland had a good job, so I considered myself lucky, I loved what I did," he told TheJournal.ie.
The company had about 200 employees in Ireland when it was liquidated suddenly following a period of examinership.
Those who were to stay on following the process had already been given their titles and roles, that was Monday, by Wednesday we knew the company was going to go.
Proof that redundancy-related farragoes are not confined to recent times, the employees at Bell eventually emerged with half a week's salary for every year worked, about a month's wages for Eddie after 24 years service.
"I would see the whole experience as a cynical exercise on behalf of those who bought the company," he said.
At the time we were the biggest shipping company in Western Europe – there's no doubt in my mind that company could have been saved if the will was there.
Whatever about me, the hauliers and owner-drivers who worked for Bell, the people in the background – they were essentially left with nothing.
For me, I immediately looked to set up my own business, so I was on a high of sorts when the liquidation happened. That was July. It wasn't until Christmas that the horribleness of the situation really hit me.
It even happened when there was a general election on, which meant that no politician wanted to touch the situation for fear of jeopardising their seat.
"It's just an immoral thing to do," says Keane.
There's a recession on, fair enough, but just because a company can do this sort of thing legally, that doesn't mean that they should.
But what can be done? Can these situations be saved by industrial action? Is there any hope for justice for the Clerys workers, the latest pawns in the corporate game of chess?
"You have to keep it in the public eye," says Keane, who in a kind of happy coincidence ended up working for Mandate trade union in the fallout from the La Senza liquidation ("I love it, couldn't imagine myself working anywhere else now.").
If it had been me (re Clerys) I would have stayed in protesting on the Friday night.
People need to see the human face. They don't care about businesses dying, but they care about people.
Keep the media interested, and tell everyone who the people are who are perpetrating these liquidations.
Take the case of Dunnes at the moment (the employees of whom Mandate represent). The public are starting to get angry.
They see (Dunnes CEO) Margaret Heffernan named on rich lists on one hand and her workers subsisting on useless contracts that they'd be better off being unemployed than being signed up to on the other.
That's how to make the difference, because when it comes down to it the public cares.