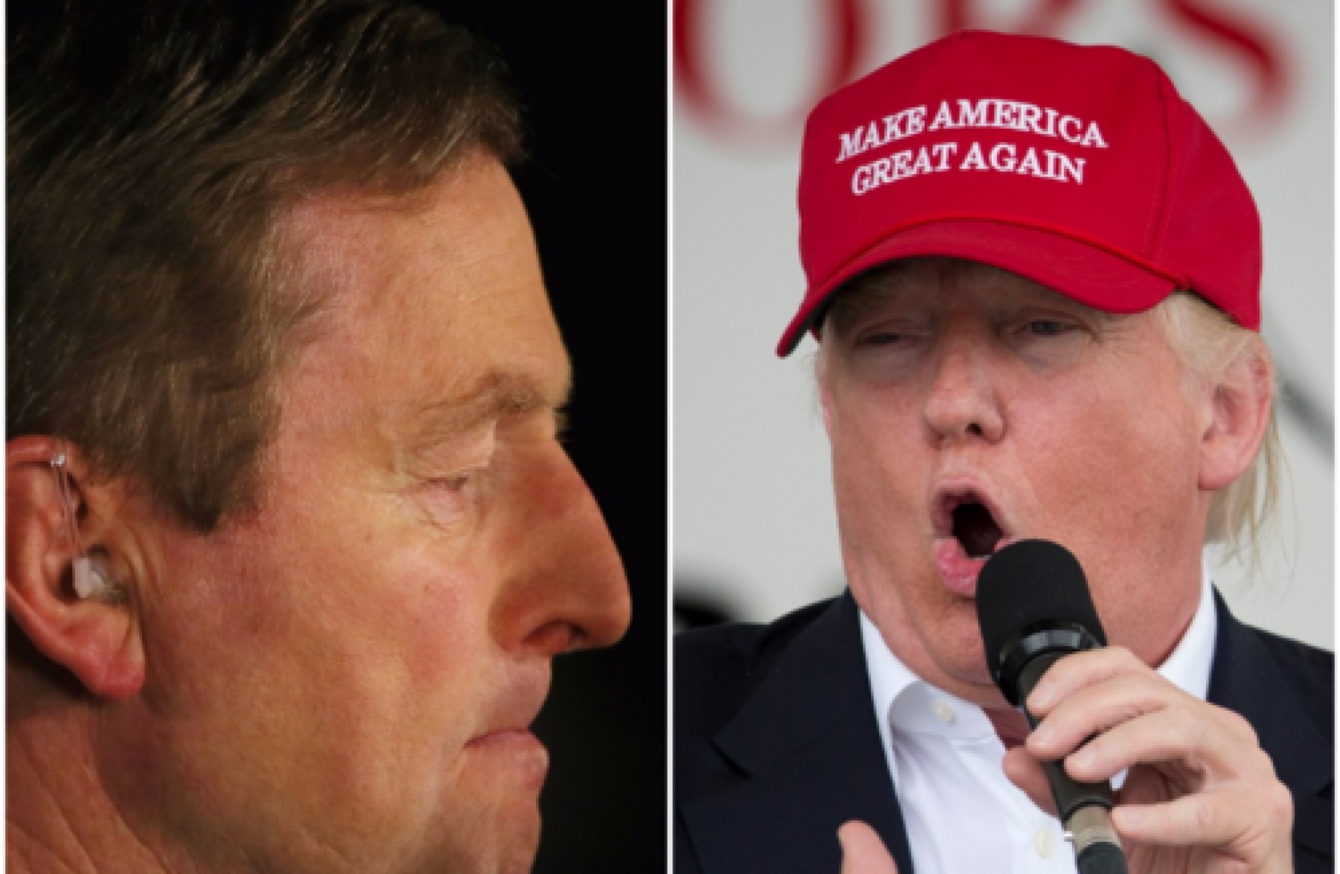 Enda Kenny and Donald Trump
Enda Kenny and Donald Trump
TAOISEACH ENDA KENNY has said he does not regret the comments he made about US president-elect Donald Trump in May.
Before the US election was in full swing there was a lot of coverage of the US president-elect's Donald Trump's remarks in the media.
When asked about Trump's comments in the Dáil in May, Kenny described the comments as both "racist and dangerous". Speaking in the Dáil, the Taoiseach said:
If Donald Trump's comments are racist and dangerous – which they are – there is an alternative to vote for.
Kenny was recently asked if he regretted making such comments about the man who will soon become the next president of America.
I don't. I made my comment in the Dáil on comments that had been made by the then candidate.
Obviously, I've since spoken to the president-elect, now confirmed to be the next president, and we've agreed that Ireland will continue to work closely with the new incoming administration and the US.
Kenny told TheJournal.ie that he found the US election campaign the most "unedifying" campaign he has ever witnessed.
He said the Irish government must "await to see what president-elect Trump decides with his new administration".
Challenges ahead for Europe
The Taoiseach was also asked about the rise of some far-right movements in Europe.
Reflecting on recent and upcoming elections in Europe, he said:
If you look at the situation in Spain where you had two elections in 12 months, they have a government formed now, much in the same situation that applies here. You have Marine Le Pen who is standing as a replacement for President Hollande, that remains to be seen.
Speaking to the new Italian Prime Minister, he's confident that he will get his legislation through. Obviously there are elections coming there in due course. Then you have the Dutch elections coming next year.
Arising from the Austrian presidential election, it wasn't a far-right candidate that was elected, it was an independent Green member. I think that maybe reflected a different view of the Austrian electorate as distinct from the first presidential election, which had to be re-run following a court decision.
Kenny said Europe was facing into a number of challenges in the new year.
"Obviously the make-up of Europe faces quite a number of these challenges. If you look at what's happening now with Russia, Syria, Iran, the Hezbollah, the situation that now lies in Turkey, what's happening in Libya, the huge numbers moving in from the Horn of Africa and Mali, these are all huge geo-political challenges," he said.
The European Council are concerned about that situation, said Kenny, stating that that is the reason it has been refocusing on NATO and why at a recent meeting it was made "very clear that the world of that takes into account the legal circumstances that apply in some countries, like Ireland, which protects our sovereign neutrality".
How would Kenny go about tackling these issues?
These are matters of concern everyday for European countries. How do you turn it around? For me, the best opportunity is to have people follow their own careers, and realise they have a well-managed economy that provides them with the opportunity to have careers and jobs…
You cannot have a situation where in some countries you have a 50% unemployment rate among a million people. That is a recipe for disaster.
The Taoiseach said it is time for Europe to plan ahead and focus on a vision for the future.
My general belief is that when Britain has exited Europe, you've got 27 countries with 400 plus million. We should be making decisions about where Europe wants to be in five, 10, 15 years. There are decisions that can be made there and I for one would be anxious to see that they move on to them.