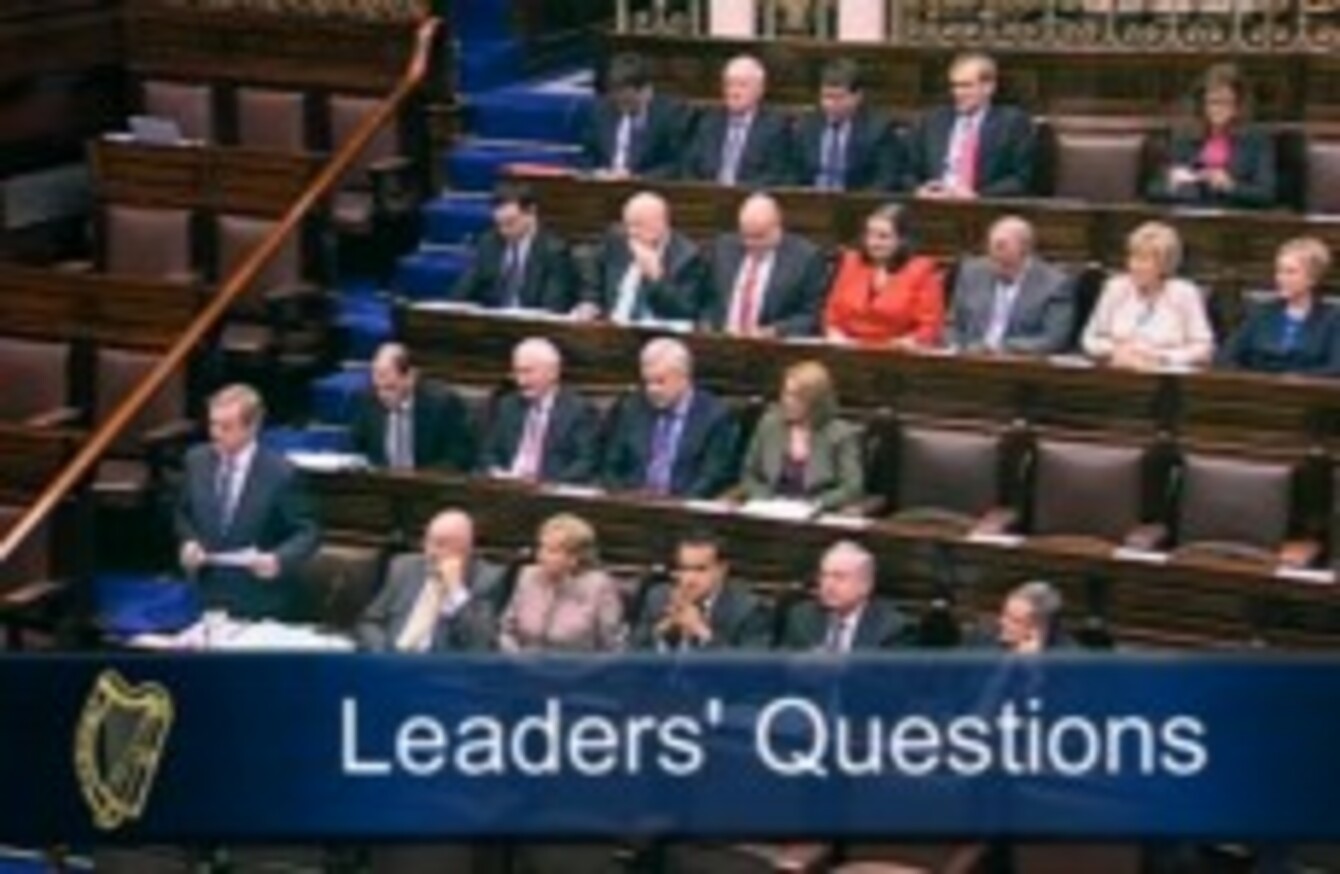 Enda Kenny speaking in the Dáil today.
Image: Screengrab
Enda Kenny speaking in the Dáil today.
Image: Screengrab
TAOISEACH ENDA KENNY came under pressure to commit to publishing all documentation related to the controversial selection of sites for proposed primary care centres at Leaders' Questions in the Dáil today.
Kenny did not directly answer a question from Fianna Fáil leader Micheál Martin on whether or not the documentation would be published as he defended the reforms the government is undertaking with the health service.
It came as Martin highlighted news of the budget overrun at Tallaght Hospital and the Heath Service Executive (HSE) which is projected to reach €500 million this year.
He called on Kenny to publish all documentation related to selection of 35 sites for proposed primary care centres, a process mired in controversy that led to the resignation of junior health minister Róisín Shortall.
"What is the government hiding?" Martin asked the Taoiseach who responded that the previous Fianna Fáil-led administration had left a "dysfunctional organisation" with Health Minister James Reilly finding "no effective management, no effective financial control" when he took office.
Kenny said: "What is happening now is the start of a generational reform of the health system in this country," saying that despite concerns over Tallaght Hospital it had reduced year-on-year spending by 6 per cent.
"That's an example in Tallaght hospital of a hospital which has made bold decisions which are in the interests of effective running of the hospital," he told the Dáil.
Tallaght is an example of a hospital transforming itself to the way we want it to be.
He also criticised the "histrionics" of Fianna Fáil's Seán Fleming during yesterday's meeting of the Public Accounts Committee which the TD stormed out of over frustration with answers from HSE management. Kenny described the behaviour of Fleming as "a disgrace".
Martin accused the government of a "concerted attempt to prevent information coming out".
Sinn Féin's leader Gerry Adams also raised the issue of the health service overspend and the budget overruns in other hospitals while the Louth TD discussed with Kenny the Irish word for 'chillax', a word used by Fine Gael TD Simon Harris during yesterday's PAC meeting.
Kenny said in Irish that 'chillax' was a new word to him, adding: "All the  young people know what chillax is."
Asking questions on behalf of the Dáil Technical Group, independent TD Thomas Pringle raised the issue of the International Monetary Fund's World Economic Outlook, published yesterday, in which it indicated that it misjudged the effect of austerity polices on economic growth.
In response, Kenny criticised Pringle over his refusal to pay the household charge saying that Pringle himself had said that "those who can pay more, should pay more".
He added that he hoped the Donegal deputy would pay the €100 tax.