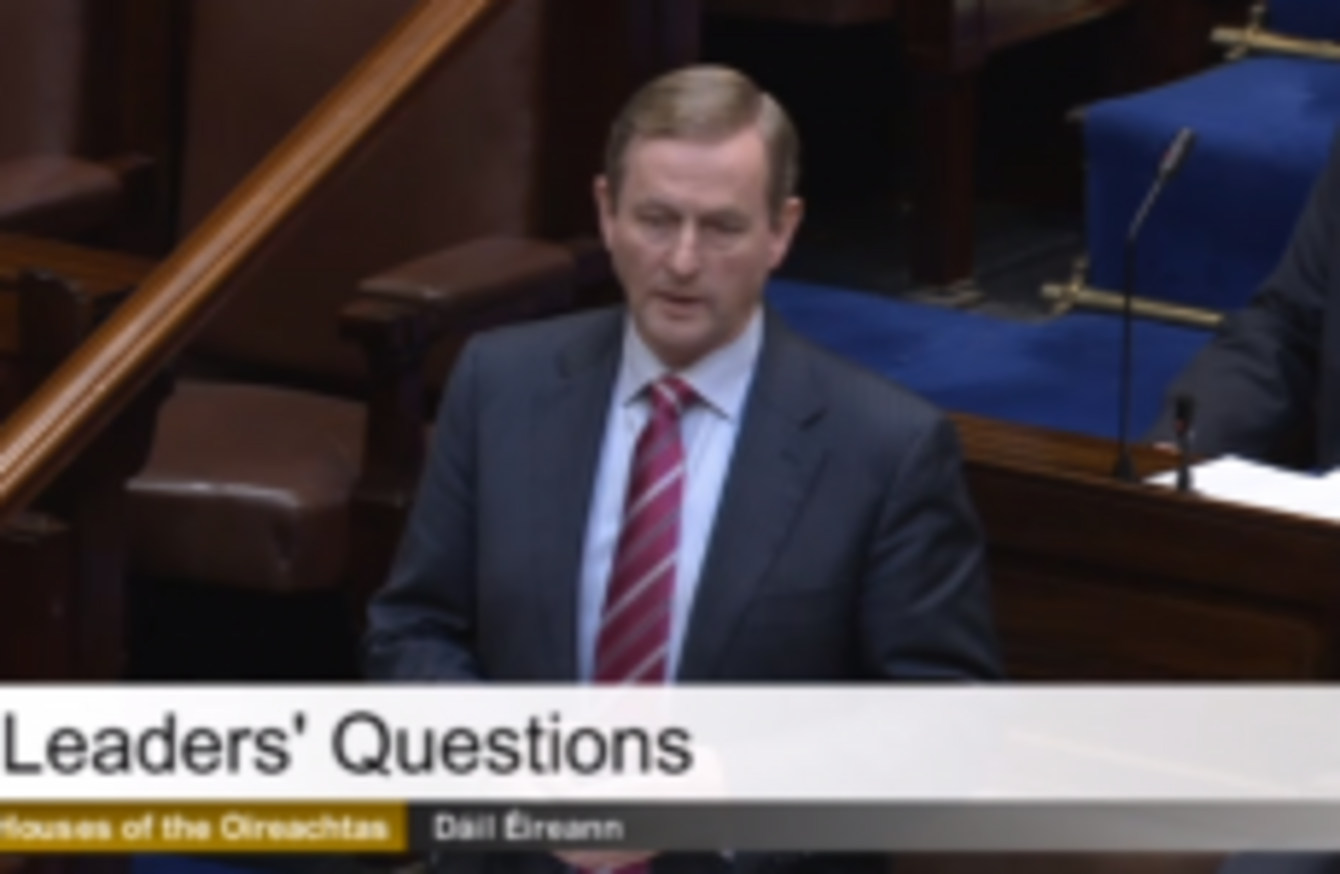 Enda Kenny answering questions in the Dáil this morning
Image: Screengrab via Oireachtas TV
Enda Kenny answering questions in the Dáil this morning
Image: Screengrab via Oireachtas TV
TAOISEACH ENDA KENNY claimed today that "nobody told me" about the case of an eight-year-old boy with Down Syndrome who had his medical card removed, despite committing to meeting Ronan Woodhouse and his mother last month.
The Taoiseach said today in the Dáil that he could "certainly sympathise" with Ronan's mother, Noreen Keane, but said he did not have all the facts in front of him.
The young boy has 13 related conditions including acute asthma, a cardiac condition and sight and hearing difficulties and had his medical card removed as his mother is above the income threshold for eligibility
However, his case has been highlighted by the Irish Examiner and the Clare People with Keane telling the latter that Ronan's care costs an average of €2,300 per month.
Kenny said today that he had not been told about Ronan's case, however he was told about it at the Fine Gael national conference in October and committed to meeting Ronan and his mother.
Today, Kenny told Fianna Fáil Micheál Martin: "You mention the political gathering that the Fine Gael party had down in Limerick.
"Nobody told me that the person involved wanted to meet me and I spoke to several people on the way in there."
But in fact, Kenny was asked about the case during a media conference on Saturday, 12 October.
When Ronan's case was put to him and he was asked would he be prepared to meet the family, Kenny responded: "Of course."
He went on to say: "Listen I've been meeting people who have medical card cases for very many years and clearly the medical card system is there for a particular purpose."
Kenny went on to talk about the conditions attached to medical card eligibility such as income and the flexibility that applies for discretionary cases.
Referring back to the question about meeting the family, Kenny added: "Of course I am happy to do that."
The issue of discretionary medical cards was once again raised by Martin in the Dáil this morning.
He said that Ronan's case and that of a five-year-old girl exemplified "the appalling impact that he change of policy has had on very sick children".
Kenny again insisted that there had been no change in the policy that applies to medical cards and that nobody is entitled to a medical card automatically.