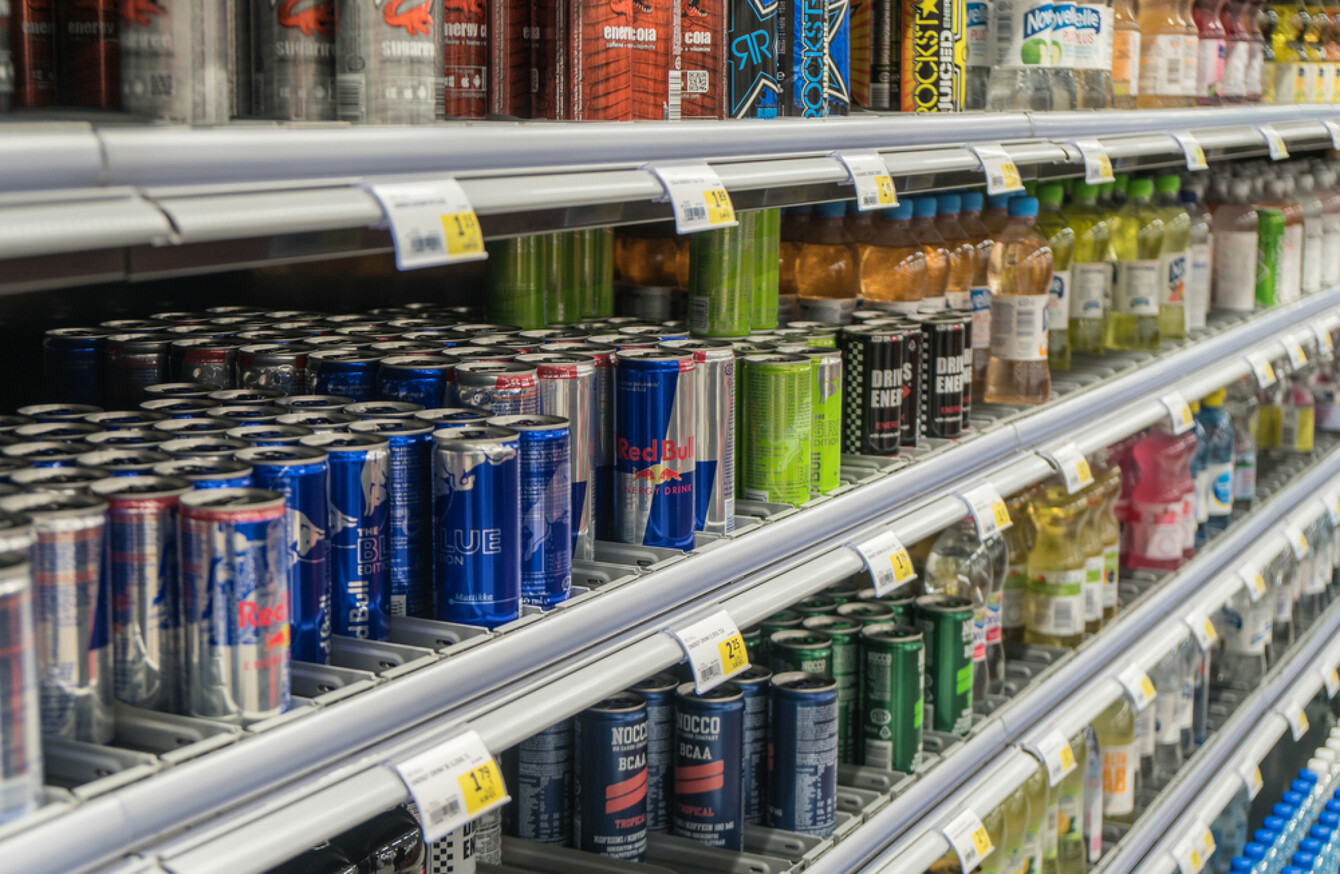 Image: Alexandr Medvedkov via Shutterstock
Image: Alexandr Medvedkov via Shutterstock
OTHER RETAILERS IN Ireland have no plans to follow Aldi's ban of the sale of energy drinks to under 16s.
In response to queries from TheJournal.ie, Tesco and Lidl both confirmed that they didn't have any plans at the moment to follow Aldi's lead to ban the sale of energy drinks to children under 16 years of age.
Other retailers Dunnes Stores, Centra, and SuperValu did not respond to the query at the time of publication.
Last week, Aldi became the first retailer in Ireland to announce that it would restrict the sales of energy drinks by asking for an age-check.
Customers buying soft drinks containing more than 150mg of caffeine per litre (a technical definition of what energy drinks are) will be asked to prove their age from 1 March 2018 in Aldi's 130 Irish stores.
Lidl Ireland said:
Lidl has no policy in place currently and no immediate plans to do so. We will of course monitor the situation closely.
A spokesperson from Tesco said:
Tesco has no such policy in place at the moment but we continue to monitor this issue closely.
As it stands, all energy drinks in Ireland carry labels warning pregnant or breast-feeding women not to consume energy drinks, half carry advice to consume in moderation, and a fraction of them have warnings against mixing them with alcohol.
Regulation in other countries
In previous case studies issued in the British Medical Journal, it references the "increasing number of different energy drinks" on sale, while warning of the lack of labelling that cautions consumers over the amount of energy drinks they consume or what they mix it with.
In Canada, there are labels on drinks like Red Bull warning people that they should not be mixed with alcohol, and that maximum daily consumption not exceed two cans.
Meanwhile, energy drinks are restricted in Norway and prohibited in France, Uruguay and Denmark because of its associated health risks.
In a report by Safefood Ireland, a stimulant drinks committee found that "there are conflicting data on the effects of caffeine in children".
"Caffeine was reported to have small and inconsistent effects on the classroom behaviour of pre-school children (3-5 years)," it said in a report.
It said that  caffeine appeared to cause subjective effects such as nervousness, jitteriness, stomach aches and nausea in children who normally consumed little caffeine.
Withdrawal symptoms have been reported in children following exposure to levels of caffeine of 120-145 mg per day, equivalent to three to four cans of a cola drink.
"Another study reported that following caffeine ingestion performances on attention and motor task tests were enhanced and children described feeling less 'sluggish' but somewhat more anxious."
The committee had recommended that stimulant drinks should be labelled with an indication that they are unsuitable for children (under 16 years of age).