Image: Laura Hutton/Photocall Ireland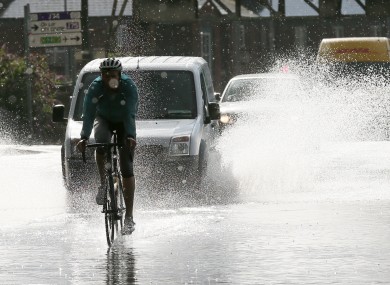 Image: Laura Hutton/Photocall Ireland
THE ENVIRONMENTAL PROTECTION Agency has said that ongoing climate change will make Ireland warmer and wetter over the coming decades.
Five reports published yesterday by the EPA outline the impact that climate change is having, and will continue to have, on the country.
The Hydrodetect project led by Dr Conor Murphy of ICARUS at NUI Maynooth tracked the change in river flows, finding that rivers in the west flowed more in winter. All of the changes identified are climate driven, the report says.
Another study led by a team from Trinity College shows that the warmer Irish climate has changed the seasonal cycle of a number of plants and animals.
A third study examined how Ireland's cost is adapting to climate change. The study was aimed to help local authorities deal with coastal erosion and change.
Another examined Ireland's vulnerability to climate change, recommending that research is carried out into biodiversity, water resources and fisheries.
In an overarching study, Professor John Sweeney provided recommendations on how key sectors and vulnerable areas could increase their resilience to climate change through adaptation.
These include the water sector, coastal zones and housing.
Sweeney said:
"Adaptation can take many forms, tourism may be a winner with an extended season into April and May and potentially October but most other areas have vulnerabilities.  Overall economic analyses provide a strong case for including adaptation to climate change in planning and investment decisions".
The EPA's General Director Laura Burke said that the work was vitally important.
"This is essential to inform the actions required in Ireland's National Climate Change Adaptation Framework and highlights the important role that research has to play in supporting policy and evidence based decision making."