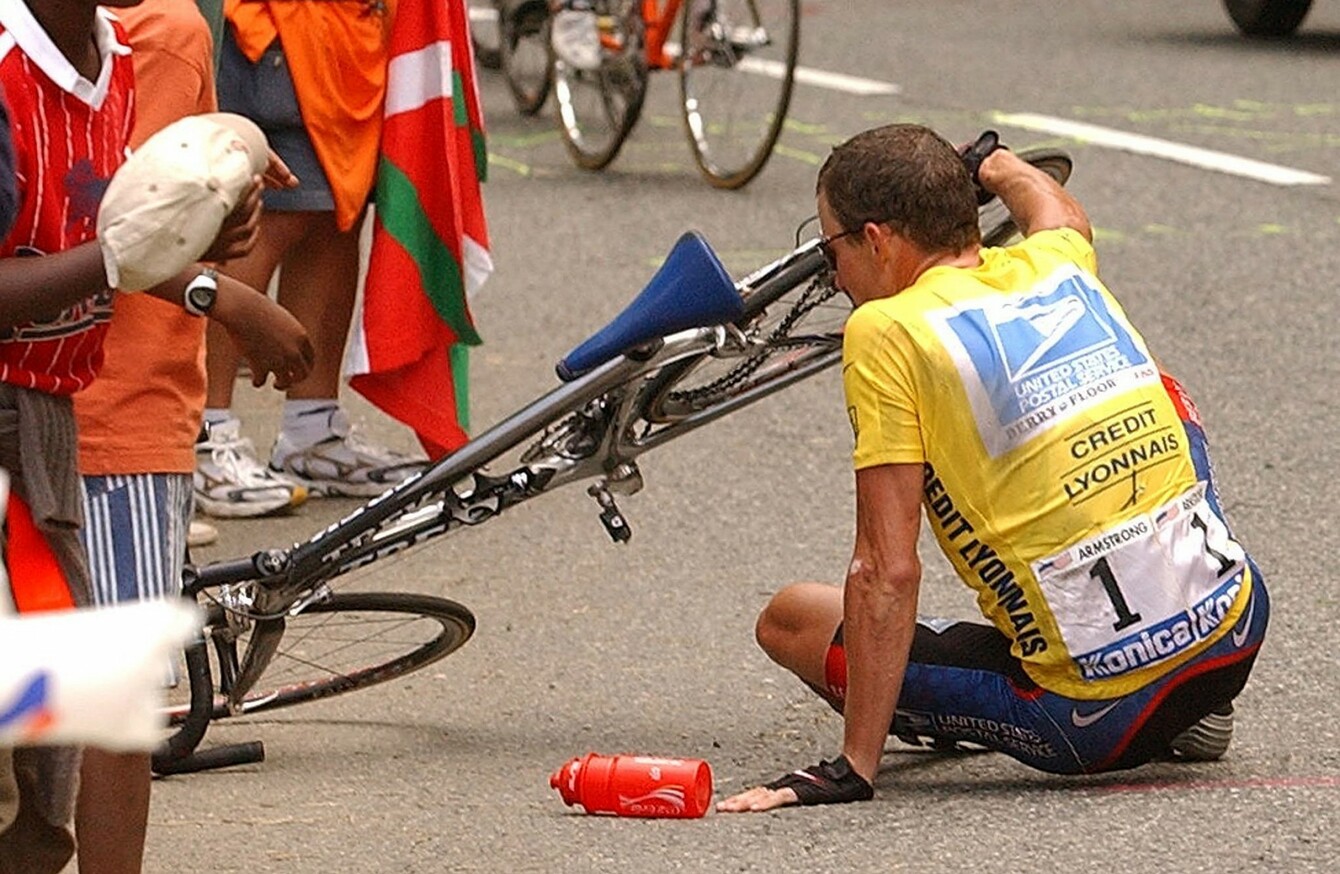 Image: DPA/PA Images
Image: DPA/PA Images
DESPITE WHAT IT did for Lance Armstrong and countless other professional cyclists, EPO blood doping does not help your half-decent, amateur cyclist.
A new study has found that non-professional cyclists (even when well-trained) will not see an improvement from the performance enhancing drug in road races.
The research, published in The Lancet Haematology journal, saw 48 male cyclists – aged between 18 and 50 – take part in high-intensity lab tests, a time trial and a race up the famous Mont Ventoux in France.
In the cycling tests in the lab a "small effect" was seen but any impact was "mostly undetectable in a laboratory time trial test and an endurance road-race".
According to the study, "While performance was improved in high intensity tests, endurance and road race performances were similar for EPO group and placebo."
Researchers said they recorded no adverse events in the cyclists who took EPO but noted that the drug led to "elevated levels of haemoglobin and adhesion molecules which could potentially increase the risk of thrombosis" (the formation of abnormal, life-threatening blood clots in the arteries or veins).
The authors of the study believe their findings "go against the claims of great effects found in popular literature, and may reduce the incentives for athletes to use rHuEPO" (the full title for what is commonly known as EPO).
They say proper scientific evidence about the more than 300 banned substances in competitive sports is both weak and scarce, partly because it is "impossible to do trials with professional cyclists who are subject to anti-doping regulation". They want this to change.
"While these findings also applied to the highest performing cyclists in our study, the question remains as to whether these findings can be applied to professional cyclists," Jules Heuberger, lead author from the Centre for Human Drug Research, in Leiden, Netherlands, said.
Our study was designed to apply the gold standard of clinical trials to doping research, and we found that while rHuEPO increased performance in a laboratory setting on high intensity tests, the differences largely disappeared in endurance tests, and were undetectable in a real-world cycling race.
He wants further studies and clinical trials which, he suggests, could "provide clearer information for anti-doping agencies and inform athletes and their medical staff about the risks of doping".
Results
EPO – which Armstrong admitted to taking during all seven of his Tour de France victories – promotes the production of red blood cells. It has generally been understood that it results in increased delivery of oxygen to the muscles and hence improved exercise performance.
In this 8-week study, 24 of the participants were given injections of the substance every seven days and the other 24 were given a placebo (a saline solution).
#Open journalism No news is bad news Support The Journal

Your contributions will help us continue to deliver the stories that are important to you

Support us now
According to the scientists involved, the doses were consistent with "known practices" in professional cycling. They said the aim was to increase the cyclists' levels of haemoglobin by 10-15%.
The trial involved a series of tests to evaluate different types of performance levels. The first laboratory, high intensity test involved a ramp exercise where pedalling resistance was increased every five minutes until exhaustion (which took between 30 and 50 minutes for the amateurs).
The second test (similar to a time trial) involved a 45-minute endurance test at the highest power output. The final test, 12 days after the final injections, involved a 110km cycle followed by a 21.5 km road-race up Mont Ventoux, which often features in the Tour de France race.
"Mean haemoglobin concentrations and performance parameters in the high-intensity laboratory test (including maximal power output and maximal oxygen consumption) were higher in the rHuEPO group compared to placebo," the study revealed.
Gross efficiency, heart rate and other respiratory parameters did not differ between groups.
"In the endurance tests, mean power output, oxygen consumption and Mont Ventoux race times (about 1 hour 40 minutes) did not differ between groups. The same was true for cycling economy, mean heart rate, and lactate levels."
In their final interpretation, the authors said: "This study shows that clinical studies with doping substances can be done adequately and safely and are relevant in determining effects of alleged performance-enhancing drugs."