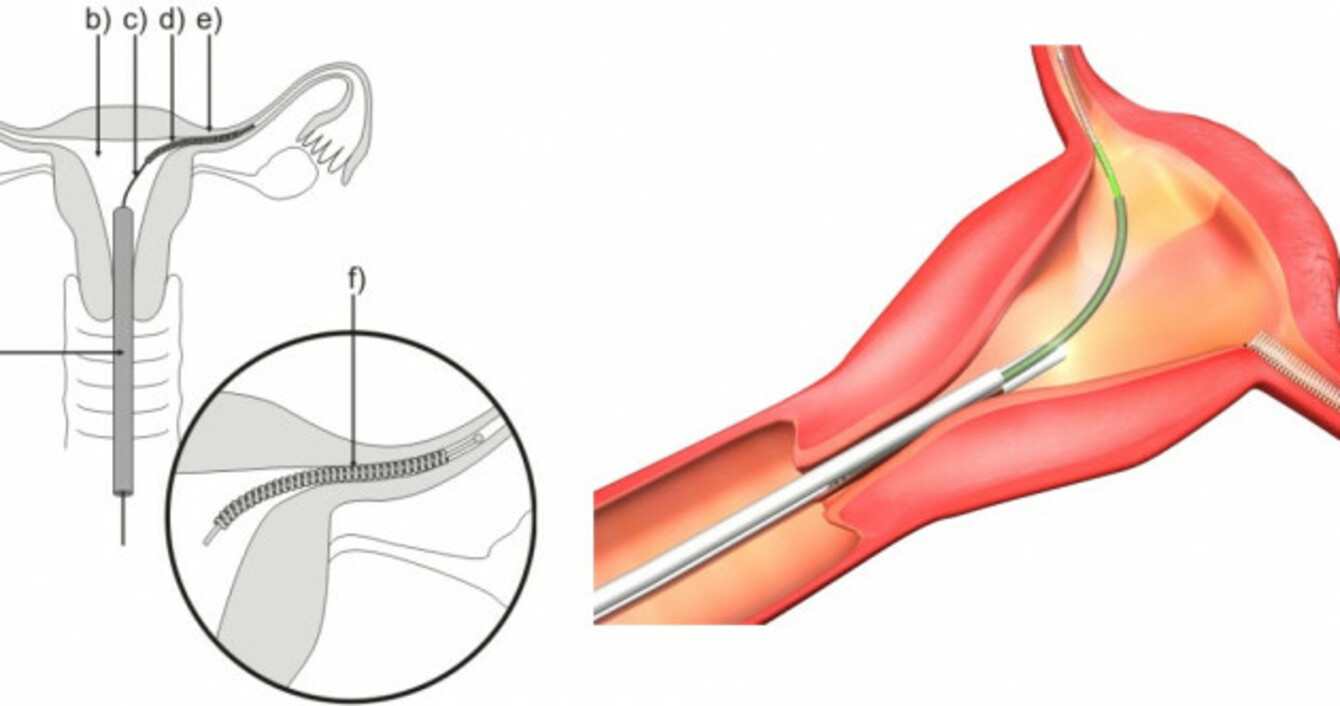 Image: Petr Kovář MUDr. Havířov via Wikmedia Commons
Image: Petr Kovář MUDr. Havířov via Wikmedia Commons
MINISTER FOR HEALTH Simon Harris has confirmed there are a number of Irish women impacted by complications from a controversial sterilisation implant that has now been discontinued in Europe.
Across Europe, the US and Australia, there are thousands of legal actions being taken by women who claim they have life-changing complications linked to these devices. The US Food and Drug Administration lists a number of long-term risks to patients including:
Abdominal, pelvic or back pain;
Perforation of the uterus or fallopian tubes;
Inserts found in the abdominal or pelvic cavity;
Headache;
Fatigue;
Hair loss;
Joint or muscle pain/weakness.
A number of women have also reported regular bleeding from the vagina after they have had the implants inserted. The implant featured in the recent Netflix documentary about medical device scandals:
Source: Netflix/YouTube
Essure implants are small metal coils that are inserted into each of the fallopian tubes. The are designed to create scar tissue that closes up the tubes permanently.
In a recent parliamentary question, Sinn Féin TD Louise O'Reilly asked whether the minister's attention had been drawn to problems with the device. 
Harris said the Health Products Regulatory Authority (HPRA) has received some incident reports in relation to the product. The device has not been distributed in Ireland since January 2014. 
"The HPRA has further advised me that the sale of Essure has been voluntarily discontinued across Europe and Bayer [the manufacturer] has made the business decision to stop distribution in the US by the end of 2018 due to declining sales. The HPRA maintain a dedicated section on their own website to provide information for women who have received this device and for healthcare professionals," he said.
The HPRA, on this section of its website, states that the manufacturer maintains that "the benefit-risk profile of Essure has not changed and remains positive, and that women who have had Essure inserted for permanent contraception can continue to safely use the device".
"If you have any questions or concerns about your Essure implant, or if you suspect that you have encountered an adverse event due to your implant, visit your doctor who will be able to advise you on next steps."
Patients are also advised to complete a medical device report, using this form.
Women who are implanted with the device are advised that they do not need to take any action if they do not have any symptoms.
O'Reilly said she thinks people are only "beginning to scratch the surface" when it comes to the dangers of some medical implants.
"To my mind it's another women's health issue and you just throw your eyes up to heaven. That's the thing that is concerning, it seems to be a common theme. It seems that there has to be an overwhelming body of evidence before these things are taken seriously.
We saw it with sodium valproate – Epilim – it was only when people started to find each other and come together, suddenly the powers that be are forced to look and see this is huge that anything is done about it.
Women who were taking the epilepsy drug while pregnant have said they were not told that the medication could harm their unborn children. The drug has been linked to serious birth defects – up to 10% of children exposed to valproate in utreo are at risk of a congenital malformation. 
O'Reilly said the symptoms women are reporting line bleeding, pain and discomfort "tend to be trivialised". 
" We saw the same thing with women affected by vaginal mesh complications and that dismissive attitude was highlighted in the Scally report [on the CervicalCheck scandal]. Women were having their wombs mansplained to them and their pain trivialised," she said.
It does seem that there really is not enough testing done on these implants before they are put in and many of them are longterm implants. And to be fair this is not just going to be a women's health issue, we will see this with other implant devices too.
She said she will be seeking further information from the Department of Health and the HSE about the number of these devices inserted in Ireland. However, she said she had seen with the vaginal mesh scandal that collating this kind of data has not been a priority for the health service.
Minister Harris said a new EU Medical Device Regulation will be implemented over the coming years and will "enhance and reinforce the existing regulatory system".
"The HPRA were one of the strongest proponents of this tightening of Regulation and indeed provided expert advice to the EU during the deliberations of this new regulation," he said.
If you are affected by complications related to the Essure implant, or any medical device, we want to hear your story. Contact michelle@thejournal.ie.