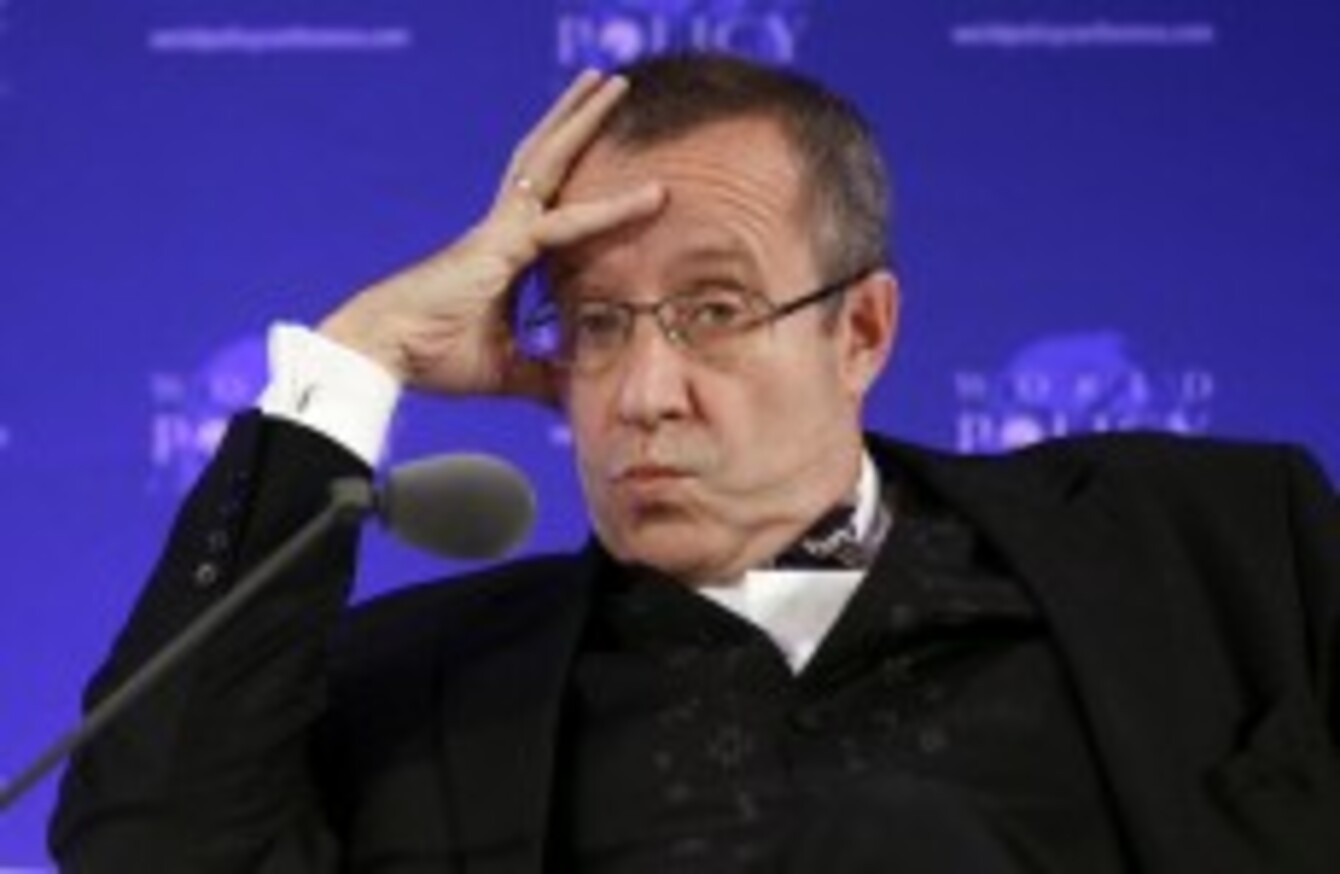 Toomas Hendrik Ilves was not amused at Paul Krugman's analysis of his country's economic performance.
Image: Ronald Zak/AP
Toomas Hendrik Ilves was not amused at Paul Krugman's analysis of his country's economic performance.
Image: Ronald Zak/AP
THE PRESIDENT of Estonia has taken to Twitter to vent his frustrations at commentary from a New York Times columnist and former Nobel prize-winning economist, who he claims has described his country as a "wasteland".
Toomas Hendrik Ilves blasted Paul Krugman for a blog post on the New York Times' website, in which the latter had played down the extent of Estonia's rates of economic growth for the last three years.
Eurostat figures published yesterday showed that Estonia's economy had grown by 4.0 per cent in the 12 months to the end of March – the highest rate in the EU, and second only to Norway across the continent as a whole.
Krugman, however, believed the growth in Estonia was merely the country making back some of the ground it lost between 2008 and 2010 – using a graph from Eurostat to show how the economy was still about 9 per cent smaller now than it was in mid-2007.
"Since Estonia has suddenly become the poster child for austerity defenders — they're on the euro and they're booming! — I thought it might be useful to have a picture of what we're talking about," Krugman wrote, before including his graph, and concluding:
So, a terrible — Depression-level — slump, followed by a significant but still incomplete recovery.

Better than no recovery at all, obviously — but this is what passes for economic triumph?
Ilves, linking to the piece on his Twitter profile, was unimpressed.
"Let's write about something we know nothing about and be smug, overbearing and patronising: after all, they're just wogs," he wrote.
"Guess a Nobel in trade means you can pontificate on fiscal matters and declare my country a 'wasteland', he added, later explaining that Krugman had used this term to refer to his country last year (though Google returns no results to back this up).
He continued:
But yes, what do we know? We're just dumb and silly East Europeans. Unenlightened. Someday we too will understand.

Nostra culpa. [Our fault.]

Let's sh*t on East Europeans: their English is bad, won't respond and actually do what they've agreed to and re-elect governments that are responsible.

Just because my country's policy runs against the Received Wisdom, and I object, doesn't mean y'all gotta follow me. [...]

Just can't fathom why following agreed upon EU fiscal rules justifies smug and snide gloating [in reference to] my country.
Ilves posted links to a Global Post article which praised Estonia for also having a low national debt (just 6 per cent of its GDP, a tenth of the level permitted under the Fiscal Compact) and a paper of his own in which he discusses the ongoing transitions within the EU.
Referring to his own time at Columbia University and Krugman's status as a professor at Princeton University, Ilves remarked: "Must be a Princeton vs Columbia thing."