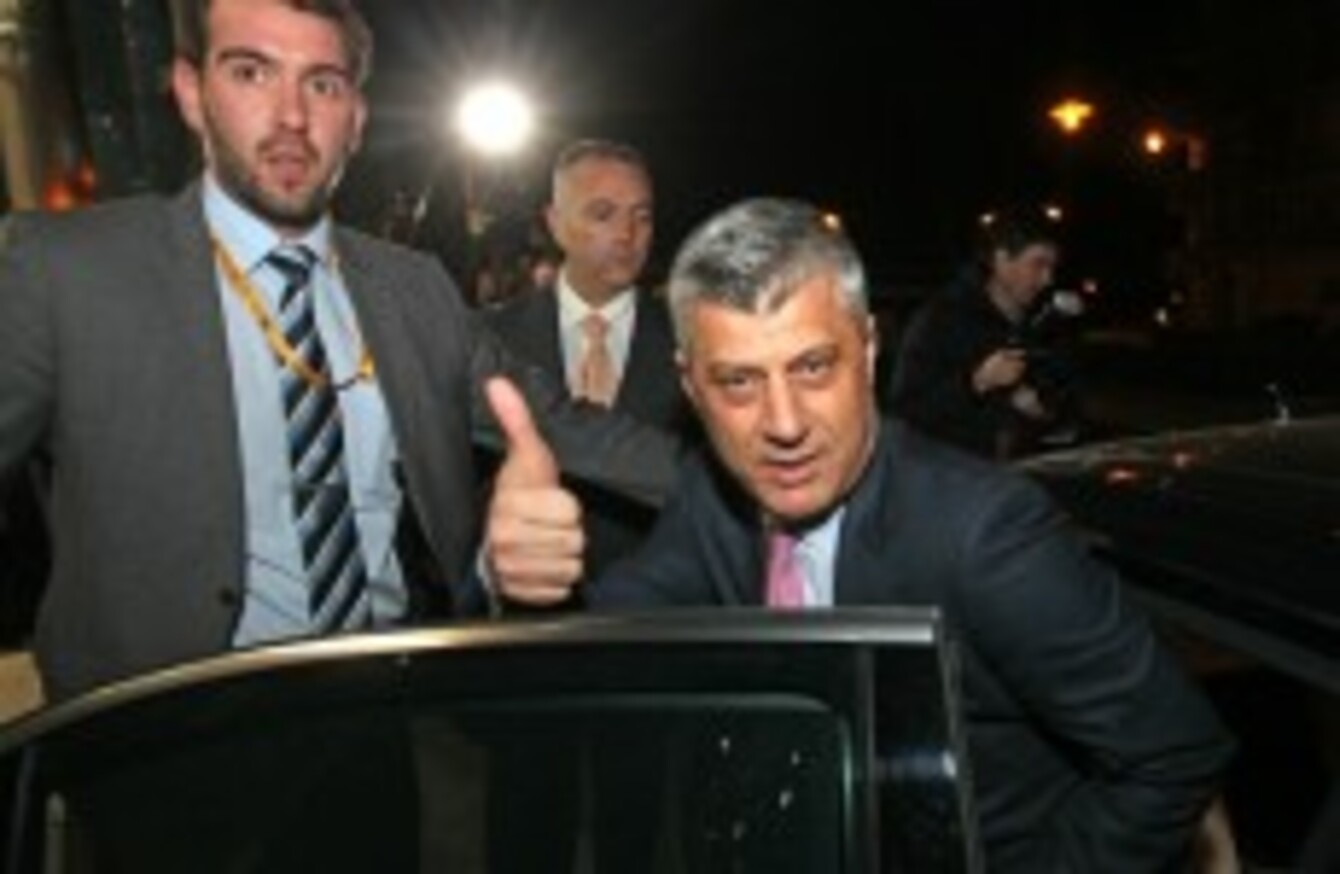 Kosovo Prime Minister Hashim Thaci
Image: AP/Press Association Images
Kosovo Prime Minister Hashim Thaci
Image: AP/Press Association Images
THE EUROPEAN UNION said today it plans to set up an international court in Kosovo to deal with alleged crimes committed by ethnic-Albanian guerrillas during the war with Serbia.
"The EU is not proposing to establish a tribunal, but rather a specialist court within the Kosovo court system," the bloc's Pristina office said in a statement.
"This court would have a seat in Kosovo, but sensitive proceedings, including hearing of witnesses, would take place outside of the country in view of the nature of the allegations," the EU said.
The court will address the findings of a 2010 report by the Council of Europe's special rapporteur Dick Marty that alleged ethnic-Albanian fighters had been involved in serious war crimes during the 1998-1999 conflict.
It accused Kosovo's top political leaders, including Prime Minister Hashim Thaci and several of his closest associates, of killing some 500 prisoners — mostly Kosovo Serbs — in order to harvest and sell their organs, among other crimes.
At the time Thaci was a leader of Kosovo Liberation Army (KLA), an independence-seeking guerrilla force that fought the armies of the Serbian strongman Slobodan Milosevic.
The two-year war ended when a NATO air campaign ousted Milosevic's forces from Kosovo, paving the way to its declaration of independence from Serbia in 2008.
The EU in 2011 set up a special task force (SITF) to conduct a fair and independent criminal investigation into the allegations contained in the Marty report.
Led by US prosecutor Clint Williamson, the force "is expected to release its findings by mid-June", a justice official told AFP.
"He hinted that his probe resulted in enough evidence for raising an indictment," said the official, who asked not to be named.
The establishment of the court topped the agenda of meetings senior US diplomat Johnathan Moore held yesterday with Thaci and other top officials in Pristina, local media reported.
Heroes
In an interview with Kosovo's Koha Ditore daily on Saturday, Moore said the goal of the court "is to focus on the findings of the Marty report," and that it should be approved by parliament.
"The US is convinced strongly that this is the only way to move forward," he was quoted as saying.
Both the government and opposition in Pristina have doubts about the creation of the international court in charge of ethnic Albanian fighters, who many in Kosovo considered to be heroes.
However, the EU insisted that "this court is not about Kosovo, KLA or the nature of the war".
"It is about investigating allegations of serious criminal acts committed by individuals," the EU office said.
It added that "the court will be established following the exchange of letters" between Kosovo and the EU and "their ratification by the assembly" in Pristina.