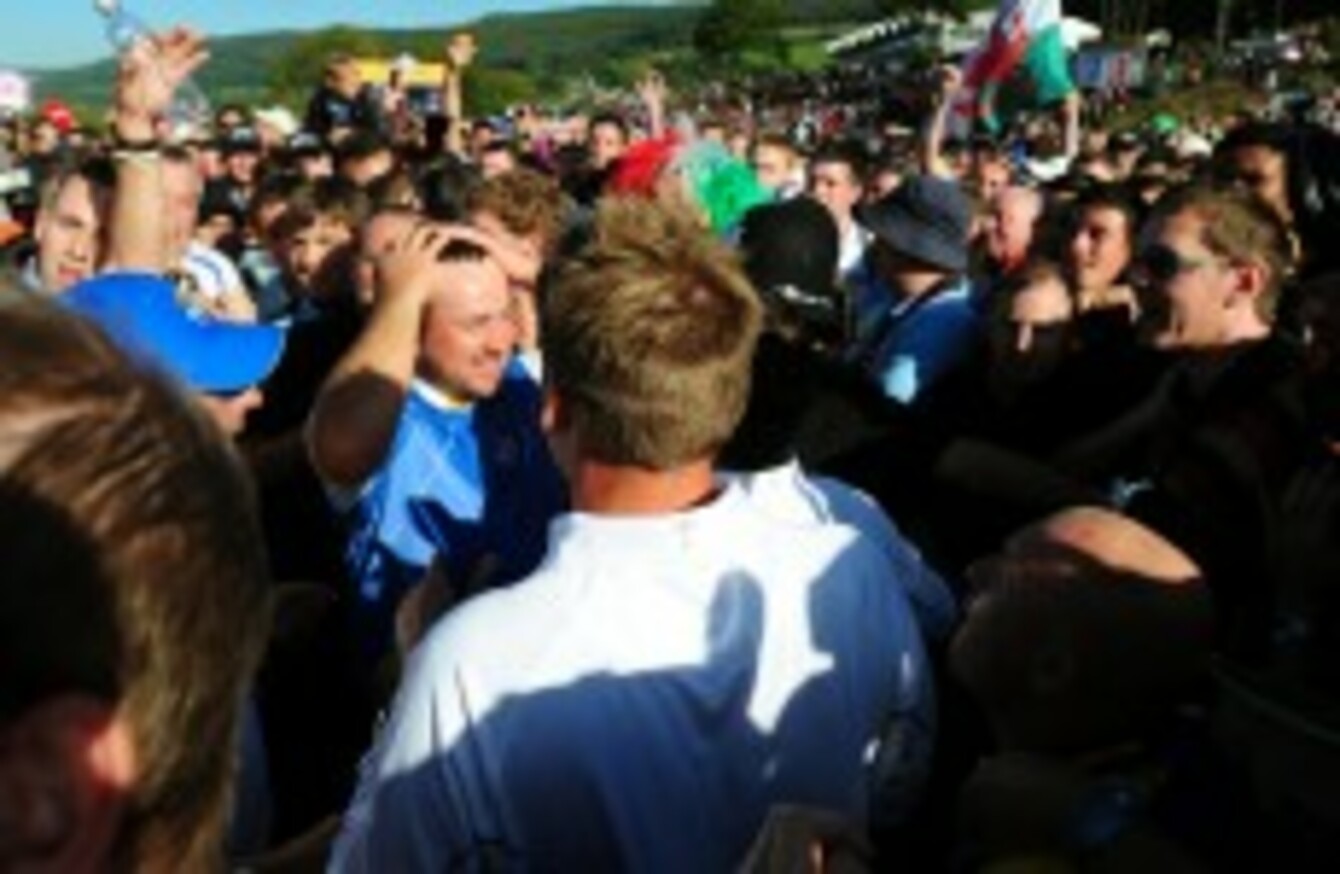 Graeme McDowell is mobbed by fans after his point won the Ryder Cup for Europe.
Image: Rui Vieira/PA Wire
Graeme McDowell is mobbed by fans after his point won the Ryder Cup for Europe.
Image: Rui Vieira/PA Wire
EUROPE HAVE REGAINED the Ryder Cup – and, as it always seems to be, it was Graeme McDowell who clinched glory.
The US Open champion defeated Hunter Mahan 3&1 in the final match of the tournament, needing to clinch victory in his match to secure the win for the home side, and leaving the final score at 14.5 to 13.5.
Though following in the footsteps of compatriots Philip Walton, Christy O'Connor Jr and Paul McGinley as being the an Irish player to clinch overall victory for his continent, McDowell was spared the pressure of having to sink a final putt after Mahan conceded the 17th.
It was on the 16th that the tournament was really won, though, with 'G-Mac' sinking a crucial 15-footer on a difficult green after Mahan had earlier chipped his wedge to within two yards.
Afterwards, a relieved McDowell admitted that he had nearly succumbed to the tension of the occasion – McDowell had led by 3 after 10 holes and had seen Mahan launch a slow-burning comeback to eat into the lead.
The last nine holes of the US Open – McDowell's major victory earlier this year – "felt like a back 9 back in Portrush with my Dad" compared to the pressure of the last few Ryder Cup holes, he admitted.
Drowned out by supporters chanting 'Olé olé olé', McDowell said his crucial putt on the 16th was the best one he had ever hit in his life, and paid tribute to the European supporters who had managed to attend on the hastily-arranged Monday session – the first time the Ryder Cup had ever extended past Sunday.
"I love them a lot. We needed them – we needed them big time," he told Sky Sports.
And what of his captain, Colin Montgomerie? "He was amazing for the last two years – he's been right up for this. There's nobody quite like Colin Montgomerie."
Montgomerie 'very proud'
Monty himself – quickly soaked in champagne as the tournament was clinched – said he was "very proud" of his charges.
"All 12 players did magnificently. Graeme McDowell was put there for a reason. He's US Open champion, and that birdie on 16 was unbelievable. I simply would not have won without my five vice-captains," an emotional Monty said.
His voice breaking, he added: "I did it for the European Tour, and I am so glad we won."
Ian Poulter, who destroyed Matt Kuchar 5&4 on the final day, added that his thoughts were with Seve Ballesteros, still recuperating after brain surgery in 2008.
"Seve's at home watching this and he can't be with us right now but every player out there today watched what he did for European Tour golf."
Rory McIlroy, whose half-point with Stewart Cink had stopped the visitors from making a bigger dent in Europe's three-point overnight lead, said the victory was "huge".
"As Poults said, to win this – to regain the Ryder Cup – for European Golf and for Seve… it's been the best week of my life."
Ballesteros hails 'magnificent event'
Ballesteros was still in good enough health to be able to post a message on his official website in which he congratulated Europe on their 'magnificent' win.
"As we knew, it was not going to be easy, but Europe has managed to win again this year," the eight-time player and 1997 captain wrote.
"I am very happy for Colin Montgomerie and all the players. Congratulations to all of you!
"It has been very exiting till the last minute. I have enjoyed watching great golf from both sides over the weekend. As I said on Thursday, the more difficult it is to win, the sweeter victory tastes. I'm sure all the players and European supporters are enjoying it. Well done Europe!"
Ryder Cup session 4: singles matches
Lee Westwood beaten 2&1 by Steve Stricker
Rory McIlroy a/s with Stewart Cink
Luke Donald 1up over Jim Furyk
Martin Kaymer beaten 6&4 by Dustin Johnson
Ian Poulter wins 5&4 over Matt Kuchar
Ross Fisher beaten 3&2 by Jeff Overton
Miguel Angel Jimenez wins 4&3 over Bubba Watson
Federico Molinari beaten 4&3 by Tiger Woods
Edoardo Molinari a/s with Rickie Fowler
Peter Hanson beaten 4&2 by Phil Mickelson
Padraig Harrington beaten 3&2 by Zach Johnson
Graeme McDowell wins 3&1 over Hunter Mahan
Final score: Europe 14.5 – 13.5 USA