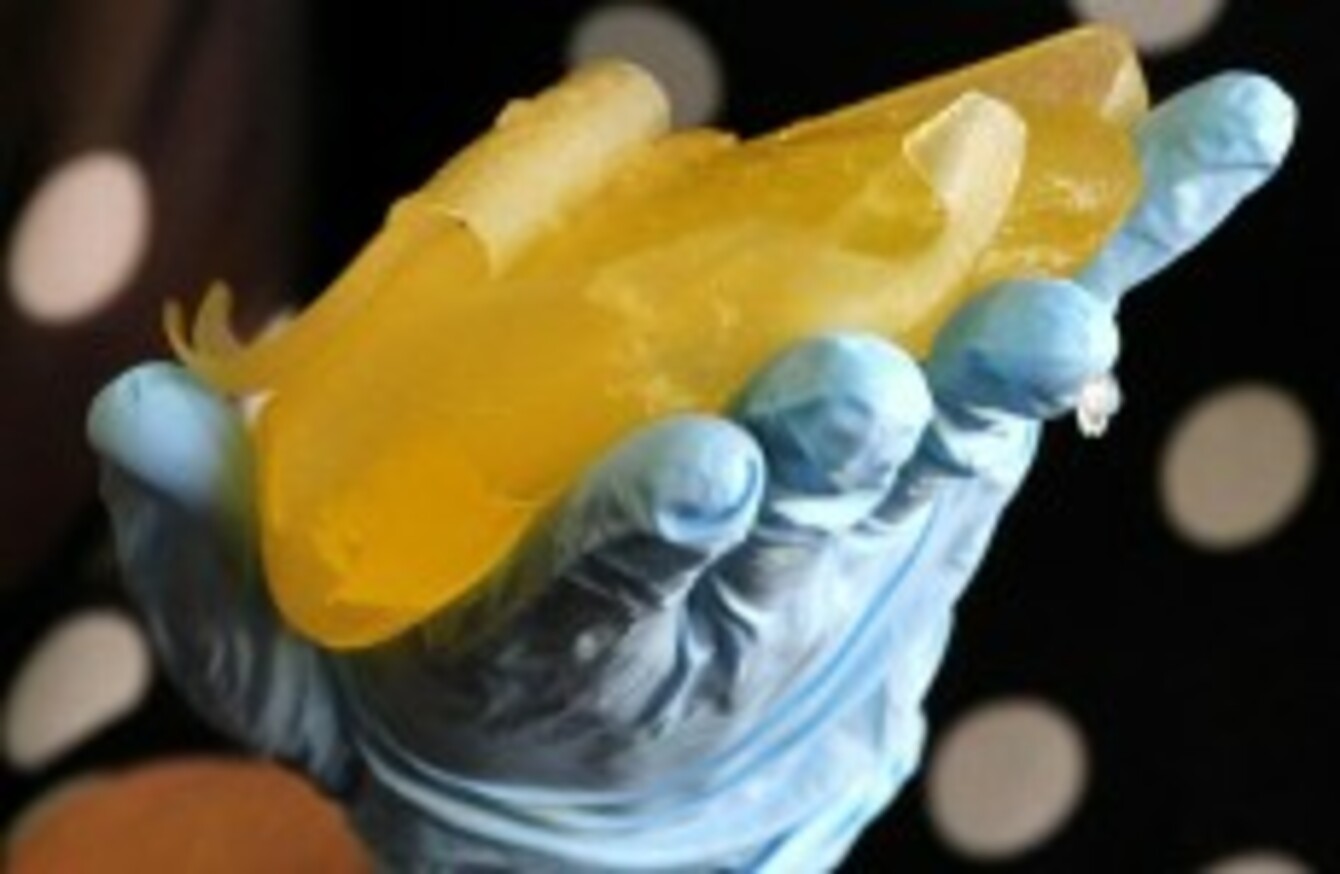 A ruptured PIP implant.
Image: Andrew Milligan/PA Wire
A ruptured PIP implant.
Image: Andrew Milligan/PA Wire
A EUROPEAN COMMISSION report has found that defective breast implants manufactured by Poly Implant Prothèses (PIP) contain no potentially toxic compounds.
The report, compiled by the Scientific Committee on Emerging and Newly Identified Health Risks (SCENIHR), confirms that the implants manufactured by the French company are more likely to rapture than those from other manufactures,  but states that "there is currently no convincing medical, toxicological or other data to justify removal of intact PIP implants as a precautionary approach".
Significant anxiety
However, removal of the implants should be considered for women who are experiencing "significant anxiety" due to the implants.
Fears circulated in late 2011 that leakage from the PIP implants was potentially carcinogenic due to the presence of low grade silicone.
While the SCENIHR report notes that "mild irritancy" was reported in one trial, the findings of which could be be reproduced, it confirms that the gel within the implant is non-toxic:
PIP implants have also been subjected to chemical analysis in an effort to find organic and inorganic compounds (including heavy metals) that may be potentially toxic, but none have been found even at very low levels.
Speaking to TheJournal.ie, solicitor Simon McGarr, who has represented women who received PIP implants, said that it was "very good news that the additional materials (cyclic siloxanes) not previously examined have not been found to have any, additional, harmful consequences over the above existing recognised problems".
'Failure of Health Minister'
He added that the release of the report highlights the failure of Minister for Heath James Reilly to "implement the promise to the victims of the PIP scandal made in July 2012 to 'make suitable arrangements with appropriate facilities to provide such consultation and follow-on support as required', limited though even that promise was".
This was to involve a consultation with a surgeon on whether or not the implants posed a risk and so should be removed.
Regulation
The report also recommends the implementation of a registration system of breast implants "on a national or European level" in order to identify potential faults as soon as they arise:
Further work is needed to identify how leakage of small molecules can be minimised and mechanical robustness ensured without compromising the performance of breast implants.
The findings echo that of a previous NHS report which said that the routine removal of the implants was not necessary.