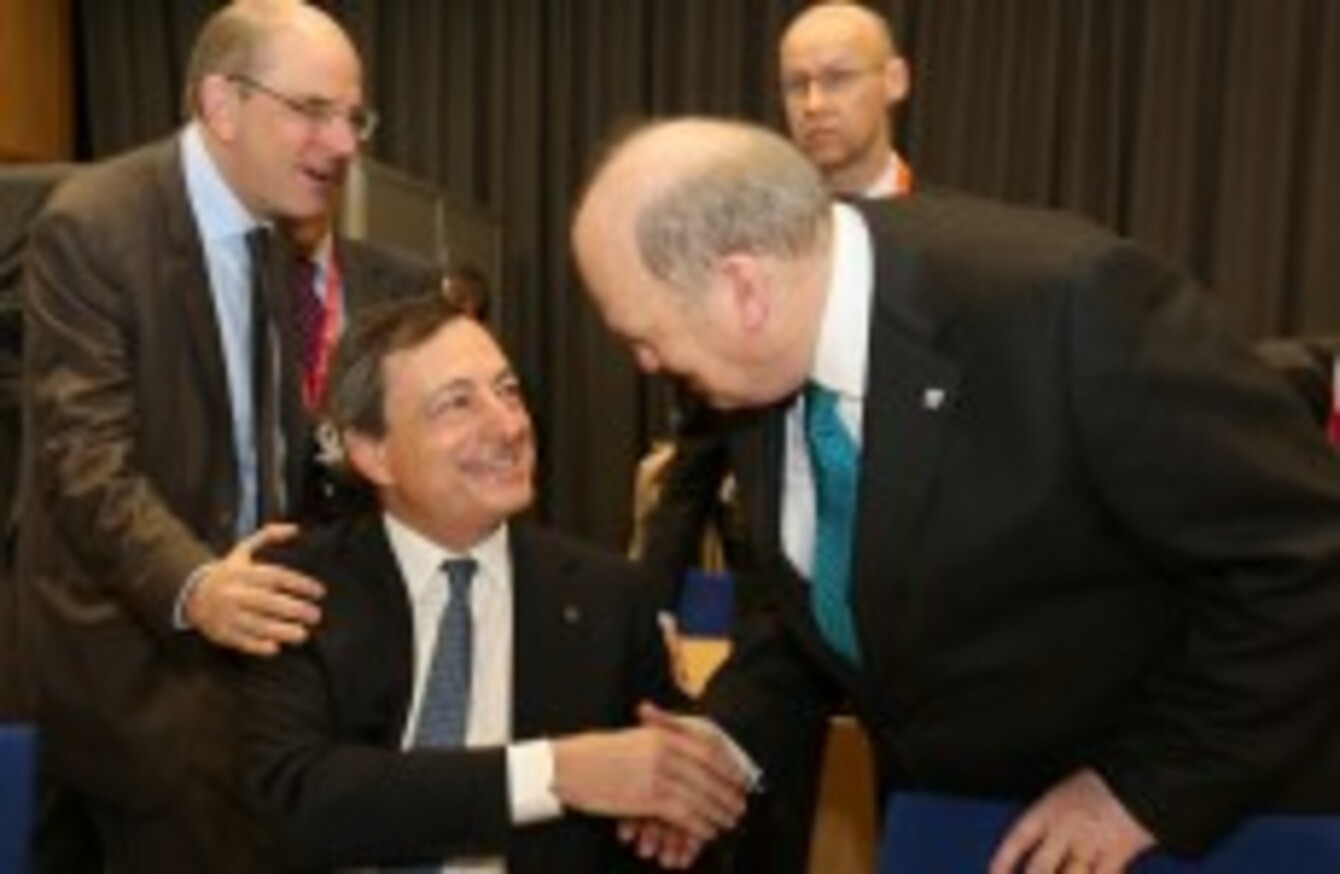 Michael Noonan greets ECB president Mario Draghi ahead of this morning's Eurogroup meeting at Dublin Castle.
Image: Irish Presidency
Michael Noonan greets ECB president Mario Draghi ahead of this morning's Eurogroup meeting at Dublin Castle.
Image: Irish Presidency
Updated 5.10pm
ALL OF THE European Union's 27 finance ministers have now agreed to extend the repayment dates of Ireland's European bailout loans.
The Eurogroup, meeting in Dublin Castle this morning, agreed to extend the maturities of Ireland's loans from the EFSF and EFSM bailout funds by an average of seven years.
This was followed by a meeting of all 27 member states' finance chiefs – Ecofin- who agreed in principle and "subject to national procedures" to lengthen the maturity of the loans by seven years.
Earlier, Jeroen Dijsselbloem, the Dutch finance minister who chairs meetings of the Eurogroup, said there had been no major opposition to the proposals.
Approval was needed from all 27 ministers as the EFSM is funded by all 27 members, whereas the EFSF is funded only by the 17 countries who use the euro.
The agreement means Ireland will have longer to repay its loans, and reduces the cash that Ireland would have needed to supply in the forthcoming years in order to begin repaying the European arm of its €67.5 billion bailout.
The deal is expected to have a positive impact on the prospect of Ireland being able to borrow enough money from private investors that it will not need any further funding from the EU or IMF when its bailout funds run out later this year.
A similar extension has been granted for Portugal, but remains provisional until parts of its 2013 Budget – which were struck down by a domestic court last week – are revisited.
A joint-statement issued this evening by Eurogroup and Ecofin ministers said that they took note that extending the maturities of the loans "would, in the broader context of regaining market access, be confidence-enhancing for market participants and thereby protecting Portugal and Ireland from refinancing risks stemming from developments in other euro area programme countries like Cyprus."
'No significant push back', says Noonan
Before the summit, Michael Noonan had said discussions with his European counterparts had seen broad approval for proposals to extend the loans.
Portuguese finance minister "Vitor Gaspar and myself had a long exchange of views the night before last; I spoke to [EU economics commissioner] Olli Rehn yesterday; I spoke to Vittorio Grilli of Italy and some other colleagues last night," Noonan told reporters.
"There doesn't seem to be any significant push-back" against the proposals, he said, though conceding that it was impossible to predict whether any national parliaments could oppose the deal.
Italy is without a functioning parliament since last month's elections, while Germany is gearing up for federal elections this September – meaning it may be difficult for Angela Merkel's coalition to sell a deal that would delay the repayment of German loans to Ireland.
#Open journalism No news is bad news Support The Journal

Your contributions will help us continue to deliver the stories that are important to you

Support us now
Noonan said, meanwhile, that a final decision on whether Ireland would be able to recoup some of its banking costs from the Eurozone's bailout fund would not be made until next year.
Today's meeting would host the last of three discussions on how the European banking union, and a single supervisory mechanism for Europe's banks, would operate. Those discussions would be used to guide a committee which is preparing a document with proposals for how the system could work.
"Direct recapitalisation [of EU banks by the bailout fund] is the last piece of a series of policies that need to be decided before there is a banking union," Noonan said.
"In terms of a time line, we're looking at next year. We're not looking at this year for direct recapitalisation – but then again, we never were. It's not a question of a delay, it's a question of things being put in place eventually."
- additional reporting from Hugh O'Connell